The respondents of a recent Women In Optometry Pop-up Poll were split down the middle on the topic of open-toed shoes in the office. Nearly 50 percent said it's OK for the doctor to wear, while another 36 percent said no, the doctor should not where open-toed shoes, and 13 percent said maybe.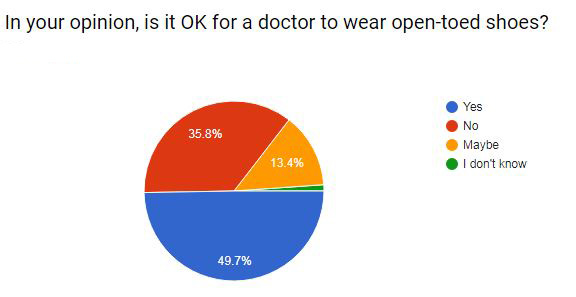 Sixty-seven percent of poll participants said that their policy on dress does include
a statement on appropriate footwear. Another 21 percent have a written/understood dress
code but it does not address footwear, and about 11 percent do not have a written dress code.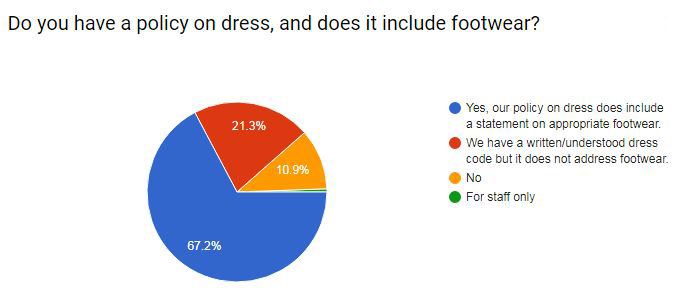 When asked if open-toed shoes are allowed in the office, 41 percent said that open-toed heels or nice sandals were OK to wear, and another 25 percent said that peekaboo shoes were fine. However, 28 percent said that they should not be allowed anywhere in the office, and 16 percent said just not in clinical areas such as the lab. Responses added up to more than 100 percent, as respondents could select all that applied.
Several respondents shared additional comments and incidents that led to a change or adoption of a policy on footwear.
They need to be dressy.
As long as the rest of the outfit is professional, it's ok for nice, stylish, open-toe sandals, no flip flops, toes must be neat and clean, no gnarly feet.
OSHA does not allow open toes where they are bodily fluids. We perform minor surgeries in our office so, no toes.
I was taught in optometry school that it was unhygienic to wear open-toed shoes in a medical environment and have stuck with it. #oldschoololdfart
The doctor and receptionist have tattoos on their feet so we follow the policy of covering tattoos in the office.
In optometry school clinic, no open shoes were ever allowed. I adopted that policy.
In our clinic where we do more than the comprehensive eye exam, we do dry eye procedures and others, I dont feel it's appropriate to wear open-toed shoes.
Our policy on showing toes or heels includes the stipulation that feet are appropriately groomed and manicured, no flip flops or rubber soles. Management reserves right to veto any style shoe that does not reflect the professionalism of our clinic.
Your feet and toes must have a pedicure and look amazing or no open-toed shoes.
Open toe ok if nylons worn, not sandals with bare feet.