Despite the huge number of cases of COVID-19 in this country, almost 60 percent of respondents to a Women In Optometry Pop-up Poll, that the Review of Optometric Business also shared, said that they have not been infected with the virus. Fifty-nine percent said that they have not gotten sick, and another five percent said that they are not sure. 
Just as with the general population, the omicron variant has been more widespread. Overall, 10 percent said they were infected with coronavirus early on in the pandemic, and 10 percent said they caught it during the delta variant phase. Nearly 20 percent said they were infected during the omicron phase. Overall, six percent said that they have certainly or probably been positive more than once. 
HIGH VACCINATION PERCENTAGE
Seventy-two percent of the respondents to the poll said that they have been vaccinated and boosted, while another 15 percent said they've had at least one vaccine or taken the initial course but not the booster. Nine percent said they have not been vaccinated, and nearly four percent said they preferred not to share their vaccination status. Among those who said they had not been vaccinated or preferred not to say, 52 percent said they have been positive for coronavirus at some point in the pandemic. Among those who said they were fully or partially vaccinated, 31 percent said they became coronavirus-positive. 
Despite the surging number of cases and the disruption to patient flow, the majority of respondents said that they've been able to keep the doors open once the initial wave of closures ended. Fifty-three percent said that they have not had to close and 25 percent said they were able to limp along.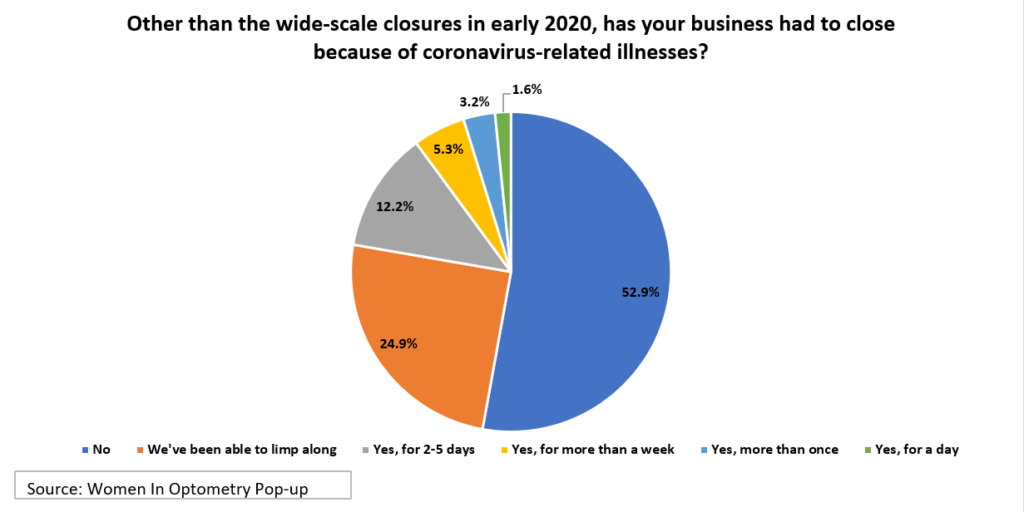 For the 22 percent of respondents who had to close their business due to coronavirus-related illnesses, 70 percent of respondents experienced closure because of staff calling out sick, while 30 percent of respondents closed doors due to sick doctors.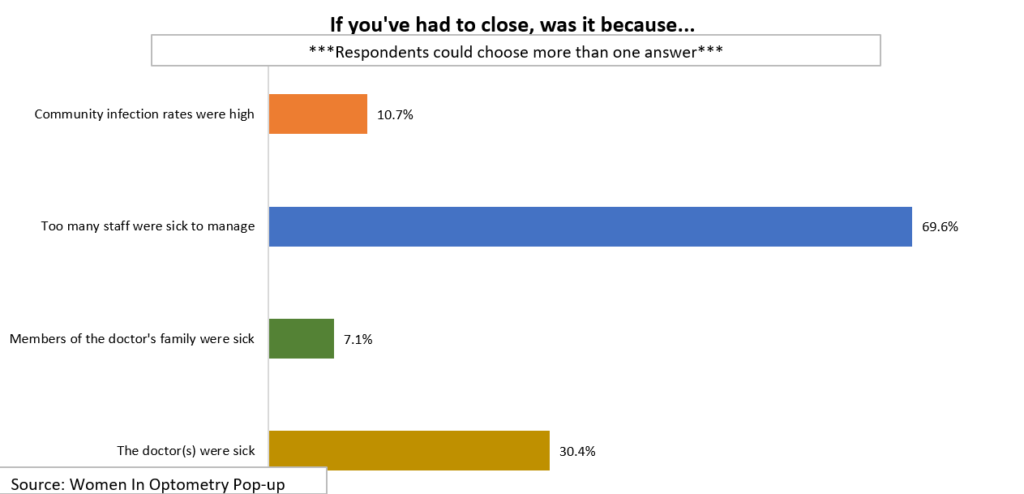 ADDED STRESS
Determining whether to close a business is no easy choice for an owner. Respondents have shared that cancellations, sick staff and doctors and the process of waiting for test results have added greatly to their stress levels. One female OD expressed that this has brought her nearly to the breaking point: "I am not managing this well and am almost certainly selling. This is a nightmare that is harming my health – financial, mental, emotional and physical. With all the other challenges to owning a business, I'm done."
One OD shared that he had to close his practice for a while because his manager recently tested positive, which required all staff and doctors to undergo testing and quarantine. Additionally, it's not only staff and doctors experiencing coronavirus-related illnesses, but patients are also calling to reschedule and cancel, which are also affecting scheduling and profit. 
Some practice owners showed precaution by closing down their businesses when their community had high infection rates or if the members of the doctor's family were sick.
COPING AND MANAGEMENT STRATEGIES
WO asked respondents to share their coping and practice management strategies to alleviate coronavirus-related stress. 
One female OD noticed that implementing a strict mask policy helped reduce the number of COVID-19 cases in their office. "Our office has always required full-time masking in the office. Despite some staff and doctors out with COVID-19 at different times throughout the pandemic, I firmly believe that not becoming lax with the mask in the office has reduced the number of cases in our office," she said.
Another barrier method is the use of filters. "The GallatinAIR filters I have been using in my office have kept any transmission from occurring in the office, even though we have had multiple positives come through the office. I practice in an area that has always had high COVID-19 numbers. I am hoping they stay effective against omicron," an OD respondent said.
Patients are in the same boat. In order to reassure patients who feel hesitant to visit the office due to fear of being diagnosed with COVID-19, a respondent shares, "Please take the time to talk to your patients regarding being vaccinated if they have not done it yet. Some are hesitant to take them due to false information or are not sure. Communication will hopefully open doors for them and may impact positively." In addition, another respondent shares that having non-OD staff conduct virtual vision therapy helps make patients feel safe while also limiting in-office visitors.