In the summer of 2021, Women In Optometry asked readers their opinions on scrubs and office wear. At that time, 87 percent of respondents said they and their staff were wearing scrubs and would continue to do so, even after the coronavirus pandemic concerns subsided.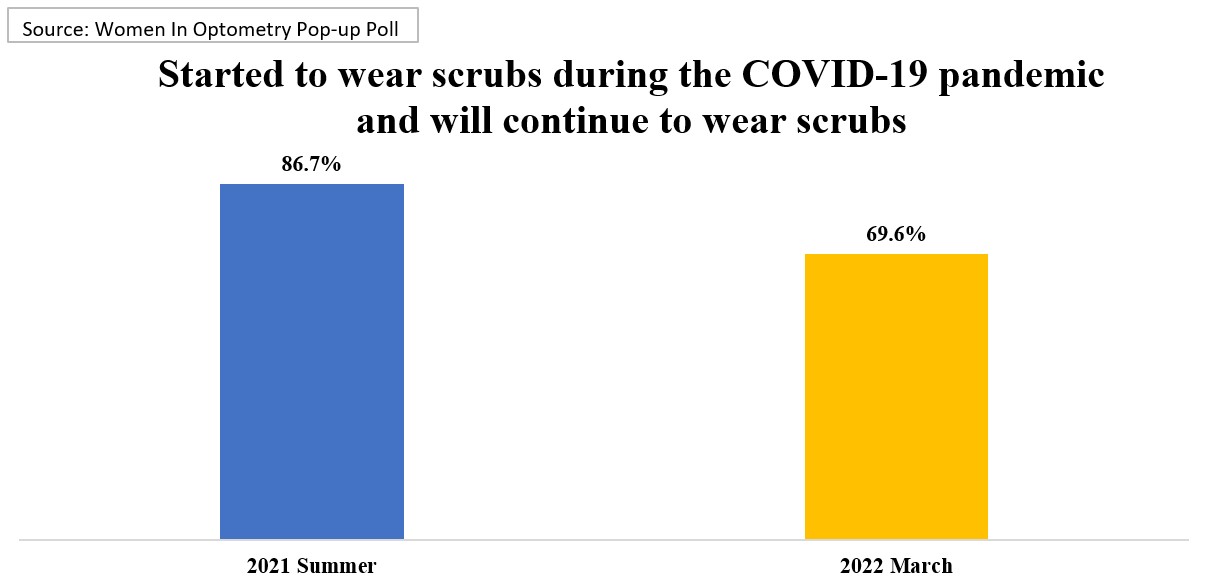 That enthusiasm for scrubs has faded just a bit; in a March 2022 poll, 56 percent of respondents shared that they're sticking with scrubs after it became their choice during the start of the pandemic. One respondent shared, "We love scrubs in our office! We all look so uniform and more professional. It looks like we're connected in some way, and it's really nice."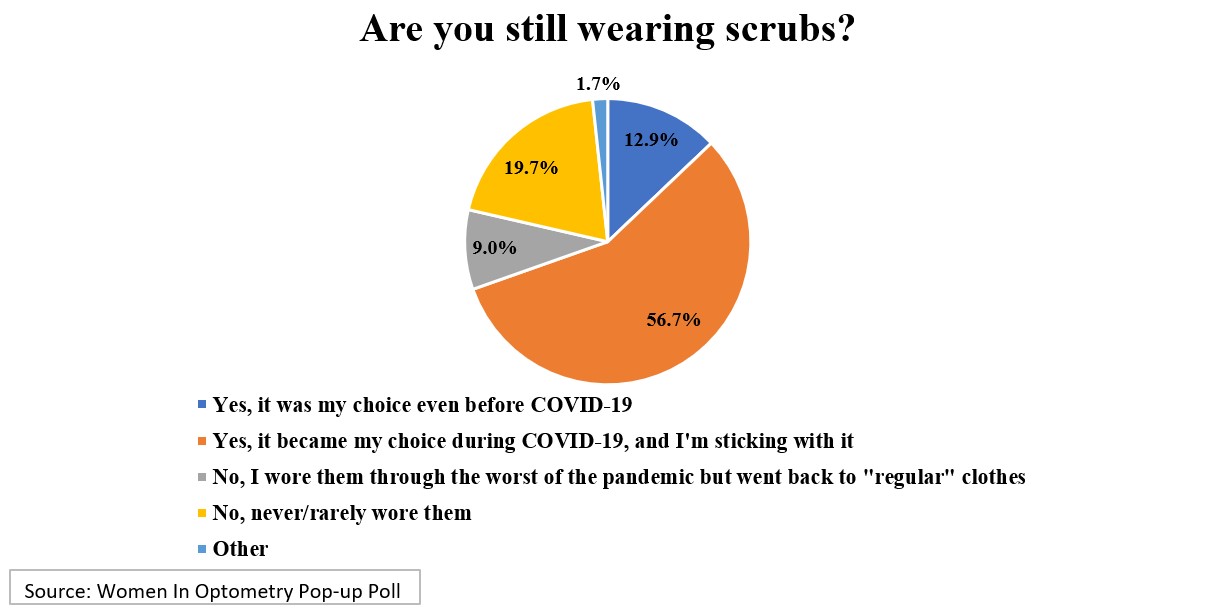 The common denominators for scrub-lovers were "ease" and "comfort." The best things about scrubs are "not having to worry about choosing what to wear. I haven't shopped for clothes for a while, which allows me to save money," said one female OD. Many others agreed on the quick morning routines and commented on the simplicity of cleaning – "no trips to the dry cleaners," a female OD said.
Uniformity was an important factor as well. "Everyone matches and no one has to worry about dress code," a female respondent said. 
WHY NOT?
Scrub-love didn't last for nine percent of respondents, who shared they ditched their scrubs and reverted to their "regular" clothes and approximately 20 percent said they never or hardly ever wore scrubs.
One female OD shared she's thinking of transitioning back to regular work attire to maintain a "professional appearance." Several others agreed, saying they missed dressing up for work. "I wear scrubs part-time. Otherwise, some days I like to dress up and look the part of a 'boss lady,'" said a female OD.  
Respondents also shared that they don't wear scrubs to distinguish them from staff and technicians. "I think it makes a better impression to separate the two roles," said one female respondent. A female OD agreed and said, "Our technicians have always worn scrubs. Wearing them as a doctor made me feel less professional."
THE PANDEMIC EFFECT
Several respondents expressed that they lost a lot of "bling" in their footwear because of the coronavirus pandemic. One female OD says her choice of footwear became simpler: "Less bling, less complex, sneakers!" Another female OD commented, "Now I'm in tennis shoes, and dress shoes are collecting dust." 
One other impact that seems to have persevered for now is the choice to go makeup-free and wear hair up in simple styles. The majority of respondents were female ODs.