Does it feel like everyone's in a bit of a slump? If so, you're not alone. In a recent WO poll, slightly more than half of the respondents said their workplace has been more glum than usual. That's not the case for everyone; more than a third of respondents said they haven't seen a noticeable change in staff morale, and approximately 10 percent of respondents also witnessed an increase in engagement and invigoration within their staff.

EFFORTS TO INCREASE STAFF ENERGY
To put some pep back into staff step, respondents shared that they're offering perks and bonuses. Offering in-extra office extras such as coffee runs and delivered lunch was a popular method, while another common step is to spend more time talking and listening to staff. Some respondents also said they're offering chances for staff members to get together outside of the office. 
One female OD shared, "All doctors and our office manager are taking a few extra minutes every day to personally speak with each of our 15 staff members to offer praise, when appropriate, and ask about non-work-related topics. We're hoping that emphasizing personal connections will help keep staff morale up as well as determine if someone is struggling and needs extra support. Our staff members are like extended family and we don't want to lose any of them."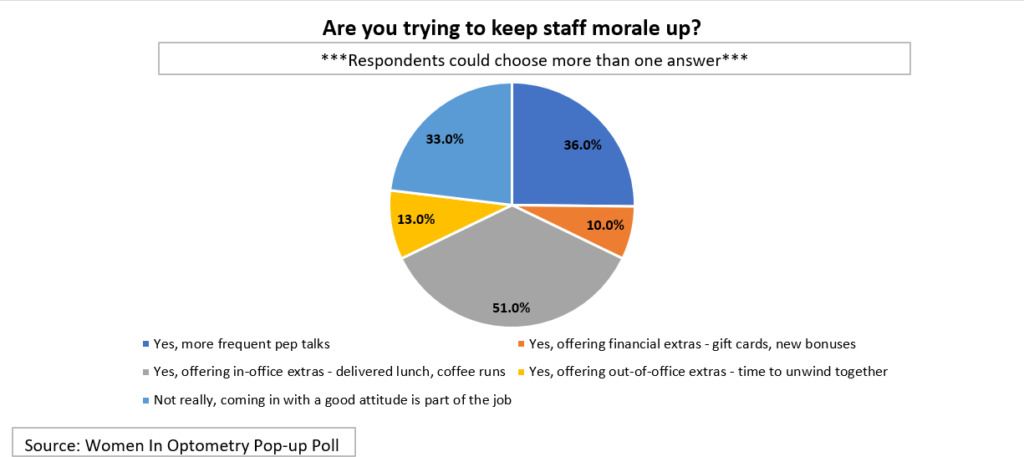 About a third of respondents shared that they didn't implement any office extras because coming in with a good attitude is simply an expectation.
IMPACT ON STAFFING
Fifty-five percent of respondents said they've experienced a change in staffing due to the coronavirus. Approximately a third of respondents said they saw a decrease in staffing due to difficulty in filling time slots, while about a quarter of respondents said they've added staff.
Thirty-five percent of respondents said they haven't witnessed a change in staffing.
The majority of respondents were female ODs.