Dr. Manveen Bedi, OD, FAAO, FSLS, worked as an associate for almost three years prior to starting her own private practice in Mississauga, Ontario, Canada. Her goal was to develop a practice that focused on providing advanced management options for keratoconus, dry eye and myopia, in addition to managing routine eye care for patients and their families in the community, in a clean and comforting environment.
She opened the doors to Toric Optometry & Optical in November 2022. The practice is surrounded by medical clinics, restaurants and stores in a newly-developed complex, and heavy foot traffic often brings new patients into the 1,500-square-foot practice. Dr. Bedi designed the clinic herself and envisioned creating a relaxing and welcoming environment for the patients that incorporated natural elements of wood, leaves and a lot of light. It provides a warm and calming atmosphere for her patients and reduce stress and anxiety levels of patients in a clinical facility.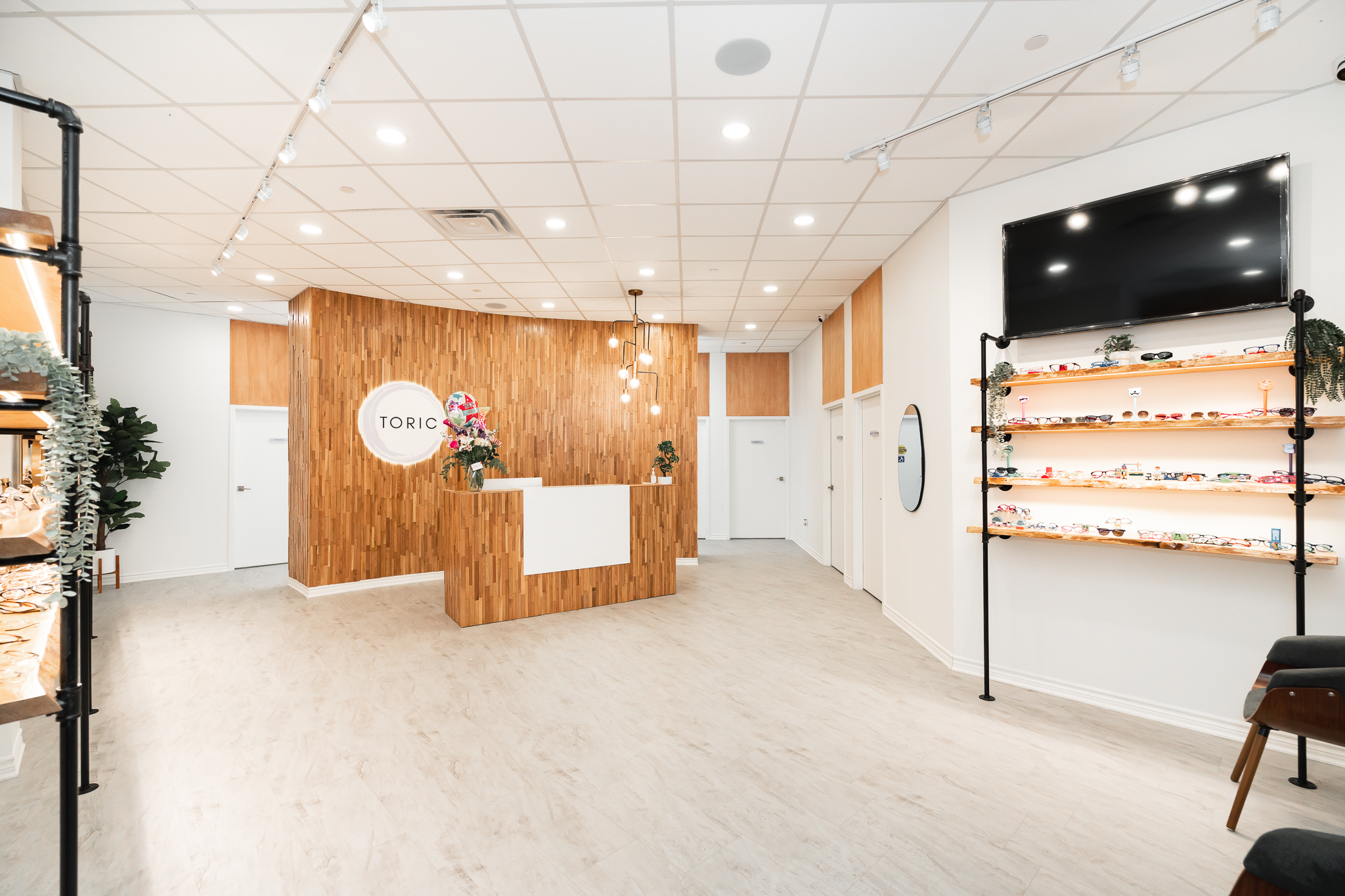 She utilized real wood with live edges and reclaimed wood panels for the optical shelves and accent walls, adding warmth and texture to the space. The use of plants adds a pop of color and freshness to the space. A modern chandelier ties in with the elements of the minimalist and sophisticated design of the practice. The wood tones continue through the practice into the exam lanes and dry eye suite, where the leather chairs are customized in color to reflect the overall palette of the practice.
The facility was designed to be completely paperless, with minimal clutter. "The goal is no clutter at any point," Dr. Bedi says. "You won't even really find stacks of papers on the reception desk." The only time she makes an exception is when it's for the kids.
A SECTION FOR THE KIDS
One common complaint Dr. Bedi says she's heard from parents is that pediatric frames don't come in a wide variety of styles or colors. So, Dr. Bedi offers more than 100 frame options for kids, all of which have extensive warranties.
The kids sectioned was designed to be playful. If you look close enough, you'll notice an easter egg amongst the pediatric frames: an optometry Lego® set. It's one of her "favorite" parts of the practice, Dr. Bedi says.
"It was one of the pieces that fit perfectly in the kids section. I knew I had to have it, and people love it," she says. "It's fine to have a little fun!"
Check out Toric Optometry & Optical and Dr. Bedi on socials:
Website: toriceye.com
Instagram: instagram.com/toriceye
LinkedIn: linkedin.com/company/toric-eye
Facebook: facebook.com/toriceye
To read more practice design stories from WO, click here.