Ever since Howai (Jenny) Chan, OD, was an optometry student, she had always dreamed of opening her own private practice. Since her graduation from Nova Southeastern University College of Optometry in 2013, she reached her destination by opening Clarity Eyecare in Baltimore, Maryland.
After coming to Baltimore for one of her internships, Dr. Chan quickly fell in love with its historical background and small-town neighborhood. "I was searching for a neighborhood that would be open to a boutique-type practice, and Baltimore was the perfect place. It's small yet close to everything, and the market isn't super saturated and competitive," she says.
TURNING THE PAGE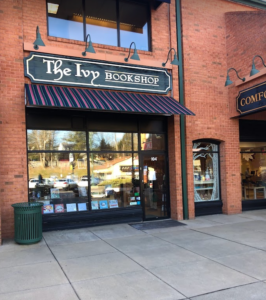 While scavenging for spaces, she stumbled upon a popular and long-running bookstore that was closing in the middle of a shopping center. It was a perfect place to bring in foot traffic and establish a strong local presence in the community.
She signed the lease in June 2020, and construction ran until the end of October 2020 due to a one-month delay. "The COVID-19 pandemic slowed a lot of the processes. A one-day permit review took a month, and custom-ordered wood furniture was delayed because the wood mills had a shortage of labor," she says.
But the extra time proved handy because Dr. Chan could focus on creating the practice's social media and internet presence in September. "It was a great tactic to increase our presence in the community and garner attention," she says.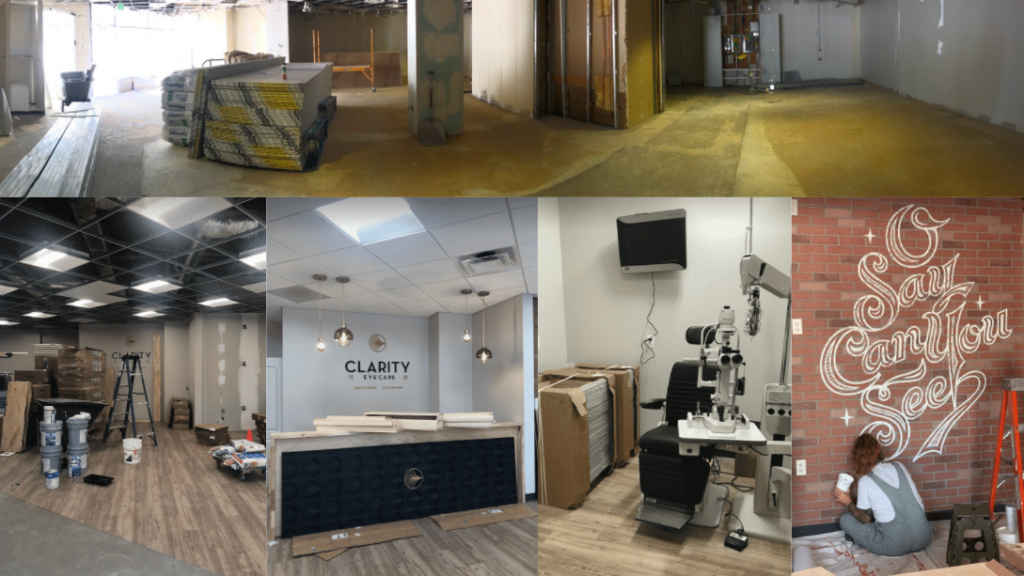 A WINDOW WITH WOW FACTOR
The location, with 2,271 square feet, features two exam rooms, a contact lens room, a pretesting room and a break room (also used as a lab). "I wanted the practice to have a boutique style and be warm and welcoming while incorporating Baltimore's unique modern industrial theme," Dr. Chan says. Mixing these three themes was not simple, but she created a beautiful palette of brick red, gold lights and maple wood.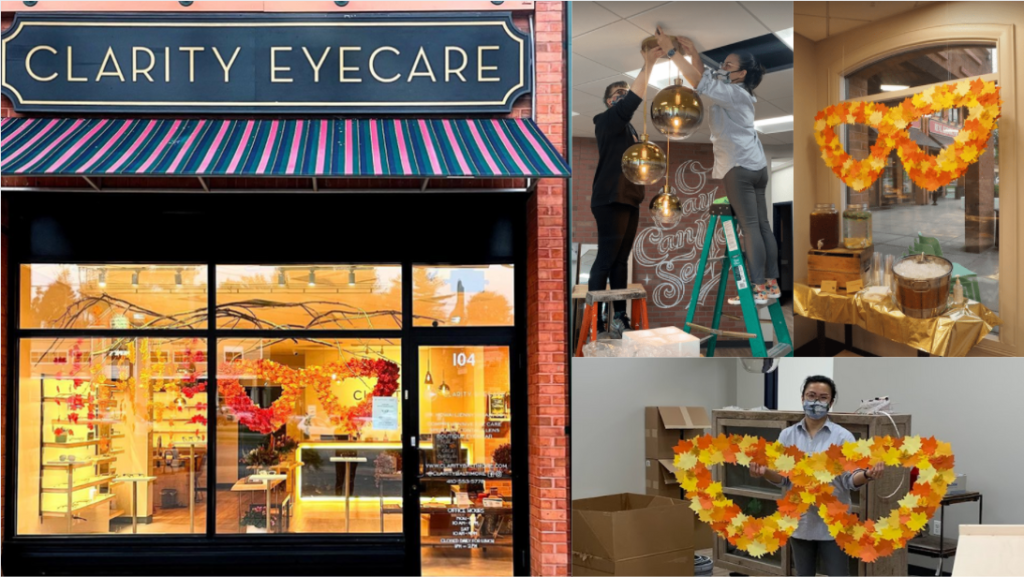 The huge display window is meant to lure passersby to Clarity Eyecare, just like the old bookstore did. The fall window is decorated with leaves of red and gold that resemble a pair of eyeglasses hanging from an array of branches. It's the perfect dive into autumn and the warm colors complement the red brick walls.
"Every seasonal change or special holiday, I change the displays accordingly with the help of my staff and family," she says. Previously, Dr. Chan decorated the window with colorful, mini hot air balloons and pinwheels to express the nostalgia of summer activities. "It was also a quirky nod to optometry because our pretesting screens have a photo of hot air balloons," she says.
Although the display window decorations take time and effort, they function as a great marketing tool. "The window is a great photo opportunity and brings in a lot of foot traffic. About a third of my patients are people who have walked by our practice before," she says.
WARM AND COZY WITH A HINT OF HISTORY
Once inside the practice, patients notice the maple wood shelves and tables with chestnut-colored chairs that evoke the feeling of the warmness of a fireplace. "Maple wood is a fairly uniform grain and neutral in color, which would allow the glasses to stand out more easily," she says.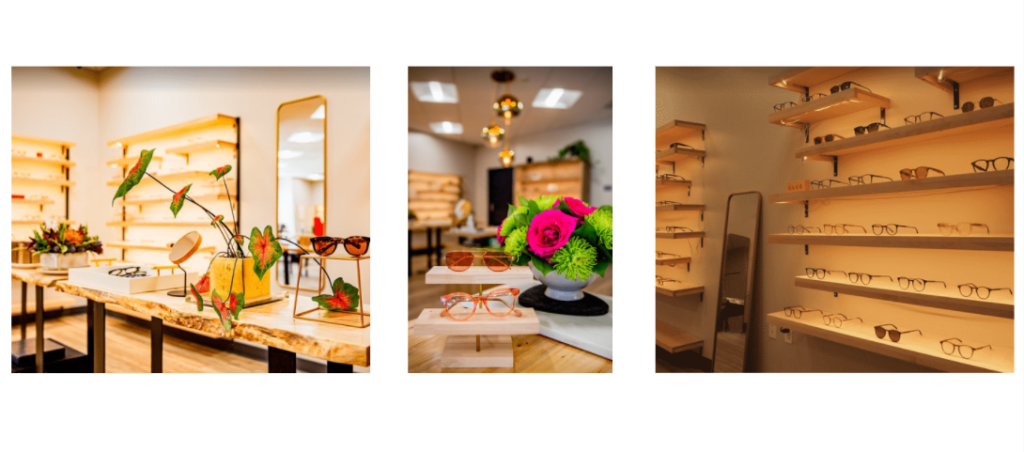 The shelves display the frames without confining them behind glass. "Instead of frame boards, I placed all the eyewear on open shelves so patients feel welcome to try them on. I didn't want any glass cages to stop their paths," Dr. Chan says.
Near the front desk, a scripted saying "Oh, say can you see" decorates the wall as a tribute to the national anthem. Francis Scott Key wrote the poem The Star-Spangled Banner after watching the bombardment at Fort Henry, located a few minutes from the practice. "Not only is it commemorating Baltimore's history, I love how it also has an optometry pun in it," she says.
INSPIRATION
Much of her window displays and warm color schemes were inspired by her colleagues, Dr. Chan says. "Inspiration from colleagues has been really important in terms of trying to solidify what I was looking for and how I was to design a space that goes outside the box. I especially want to give a shout out to Faye Gamboa, OD," she says.