Lisa Heuer, OD, spent the first decade of her professional career working for a large orthopedic medical device company.  With a degree in biomedical engineering, she started on the knee implant design team, but also held roles in operations and project management.  "It was fantastic, and I worked with wonderful leaders and mentors," she recalls. "But as you move up in that world, you move away from the operating room to the conference room, and I couldn't look at anyone above me and say, 'I want that job.'"
She began a soul-searching journey, she says, seeking a position where she could do something clinical, own her own business, and have a flexible lifestyle. On Labor Day in 2004, she lost a contact lens and paid a visit to her optometrist. "As a high myope, I had been going to an optometrist since I was little, and I had always been fascinated by the equipment.  As I asked my usual barrage of questions, the optometrist turned to me and asked, 'Have you ever thought about being an OD?'  I hadn't, but it was a true lightbulb moment. Optometry checked all of the boxes."
Even though she had just received a promotion at work and was doing two jobs, Dr. Heuer started preparing for the OAT, which was just a month away. "I was trying to develop relationships with a new team and studying at night while only a few people knew what I was pursuing," she says. The OAT was intimidating because ten years had passed since she took the basic science classes, but the work paid off when she was accepted into University of California, Berkeley, School of Optometry.  She began her first year the following August.
BECOMING A BUSINESS OWNER
Dr. Heuer spent the first few years after her 2009 graduation doing the new grad shuffle, as she calls it, shuffling between a few practices and providing a few days of fill-in work for Lenscrafters.
Then in 2011, she purchased one of those practices, Valley Vista Eye Care in Woodland, California. Dr. Heuer is the third owner of the business, which has served the area since the World War II era. When she took over, the practice was located within two historic houses that were built in the 1800's, then merged in the 1970's to form the office. "The building had a ton of charm and creaky floors—I miss that," she recalls. But the houses and its rooms made the space feel closed off, like a maze, she describes it. When the building was sold in 2020, Dr. Heuer had just six months until her lease was up in May 2021 to relocate.

It took until February 2021 to find a suitable place to move. A friend who is a realtor and tenant in another historic building knew that a space in her building was going to be available. While the building is more than 100 years old, the inside had been fully updated in 2017 and it was just what she needed.
MOVE WITH NO TIME TO SPARE
By the middle of the February, Dr. Heuer had signed a lease. Based on square footage, the move was a downsize from 2,200 square feet to 1,200. Yet because of the closed-off design in the old space, the new space feels bigger with an open layout. She sacrificed having a smaller lab area and less storage space in her scramble to find a new home, and she still has two exam lanes.
The next few months came down to the wire, as Dr. Heuer had to make sure her architecture and designs were ADA-compliant. "Our permits were approved on May 20, and I had to be out by May 31. The walls were finished two days before my move, and they were painting as we moved in our stuff. It was total chaos, and it looked impossible. But we did it." She moved in before Memorial Day and stayed closed for one week before reopening for patient care on June 8th.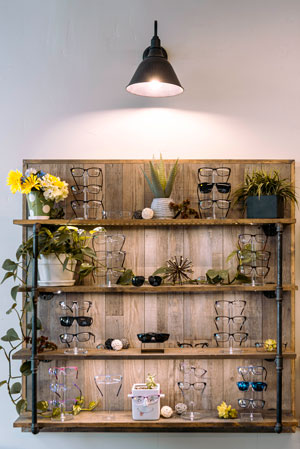 Dr. Heuer says that she's thankful to so many who helped her make the process run a little more smoothly, starting with her contractor, Kevin Hawkins of Stonycreek Construction, who was a patient who has become a friend. "I am forever indebted to the backflips Kevin did to make us functional to open in time," she says. By the time her construction started in May 2021, her budget had tripled due to supply shortages. It was shocking, and Dr. Heuer had to keep costs down wherever she could. Hawkins recreated frame boards she saw on a Pinterest page—a rustic look that used wooden slats and pipes—at a fraction of the price it would have cost to outsource the project. "When Kevin's crew  walked in with that first frame board, I got teary-eyed. I knew we could pull this off."
Her team also stepped up to help with packing, unpacking, and errands.  One of the team members volunteered her handy husband to help take down old frame boards and hang new shelves for our contact lens fitting sets.
Another patient who works for the local library loaned Dr. Heuer 10 card tables to use so they could function as work surfaces until their cabinets arrived in July. They even had the wrong countertops arrive twice, only to have to send them back and wait for replacements. "I'm a total neat freak, so it drove me crazy," Dr. Heuer says, laughing. "We got it functional with those heroes along the way. It was messy, hard and super stressful, but they made it possible. There were so many little miracles."
The work continued for many months after she moved in. "There was always something to do next—the floors, the counters, etc.. We were working around the patient schedule to not be disruptive. Kevin was really amenable to that."
Dr. Heuer finally received the last material deliveries in February 2022, a full year after finding the space. The new office location, which is bright and cheery with a combination of shades of green and blue, was finally starting to feel complete in the spring of 2022.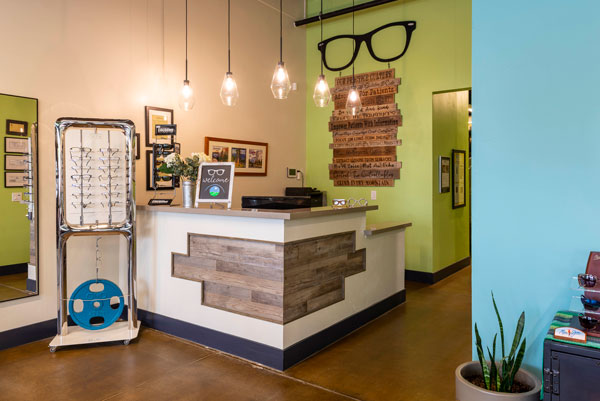 NEW OPPORTUNITY
Dr. Heuer's long-time patients are pleased with the new space and comment that they love the new look when stopping by.  Most of them think it's bigger than the old space.  Her new location, just off Main Street, gives her more visibility than ever before and a great opportunity to expand her patient base. "People walking by for dinner stick their heads in to ask if we carry Maui Jim or take their insurance," she says.
She's thankful for accommodating new neighbors, who have been welcoming despite a few mishaps. The day she moved in her ophthalmic equipment, a short in her exam chair caused the whole building to lose power.  In the fall of 2021, her edger had a water leak and 12 gallons of water went into her neighbor's space. "They were super gracious and helpful, but they had every reason to be jerks," she says.
Dr. Heuer says that she's finally starting to feel at home in the new space. "When people have asked me, 'Do you love your new space?'—for the longest time, I was so beaten down from the stress and the difficulty of the move that I couldn't love it.  I felt numb," she admits. "But that is starting to lift and I'm enjoying it now."  A recent victory helped when they got final sign-off for the construction permit on October 14, 2022.  She can finally file away the large blueprints and close this chapter.
Dr. Heuer shared many details of the long process of finishing the office in this post on her practice Facebook page.