On June 1, 2020, Brenda DeForrest, OD, celebrated 13 years of practice ownership at DeForrest Eye Center in Orlando, Florida. It's a particularly meaningful anniversary, now that she's spent an equal amount of time as an owner as she did employed in her previous position.
THE RIGHT JOB FOR THE RIGHT TIME
Practice ownership was always her ultimate goal, Dr. DeForrest says, and her path from her 1990 graduation from New England College of Optometry was helpful in paving the way to get there. From working closely with ophthalmology, she learned a great deal clinically as well as about working efficiently at a fast pace. She ran three franchise offices for several years, becoming accustomed to the business side of practice and also filled in at a large, high-volume practice eventually working there full-time for 13 years. "It was the perfect place at the time"—her daughter was young, and she made many friends within the team there.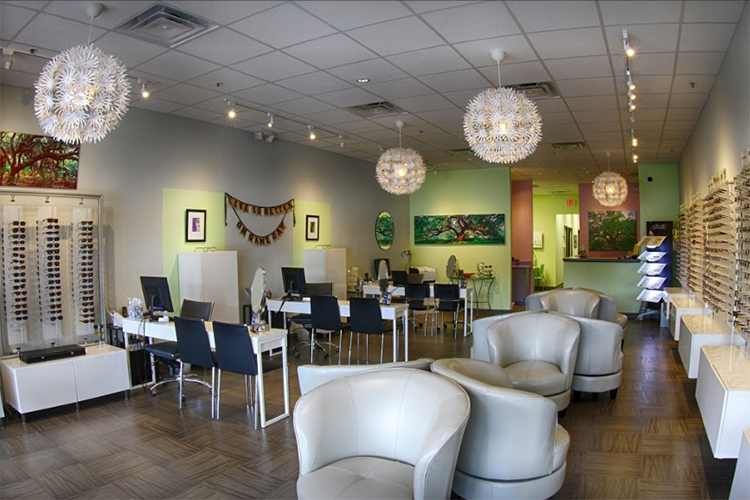 But she knew it wasn't forever. When her daughter had grown old enough, Dr. DeForrest responded to an ad for a practice for sale from a retiring doctor, Burton Ersoff, OD. The practice had been established for 30 years, and the transition was super easy, she recalls. "I went to see the office; he told me the price. I said it sounded fair and we made the deal happen." She's thankful for those who followed her from her previous office but also for the patient base she inherited, which allowed her to be busy from her first day. Thirteen years later, she's nearly quadrupled the revenue. "It's been an uphill curve." Dr. DeForrest brought one staff member, Megan, with her from her previous office, and now they've been together for 26 years. Dr Ersoff's only employee stayed on staff and helped her hire two people with whom she had previously worked. "We are all very interconnected personally and have been together a long time," Dr. DeForrest says.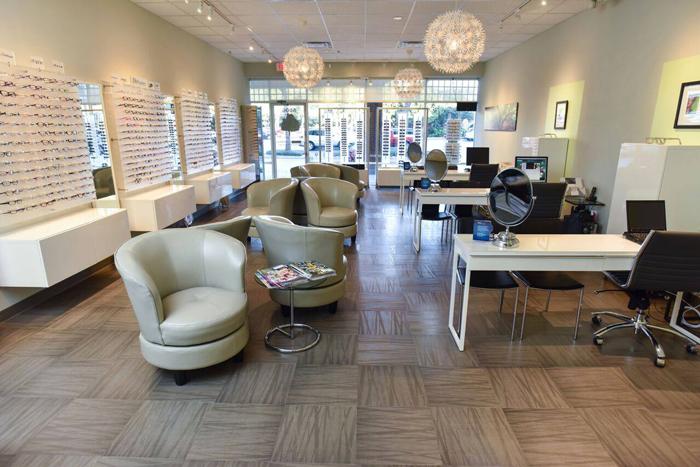 DOWNSIZING FOR LOCATION, BETTER USE OF SPACE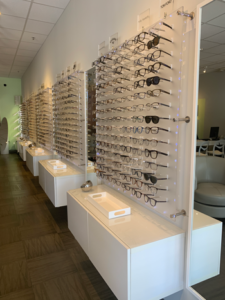 In 2013, Dr. DeForrest downsized her space. Her former location was too big with a large back office space that went unused, she says; for example, the exam rooms were 20 feet long. "There was a lot of wasted space," she says. A friend who works in real estate helped her find her new space about a mile away in a plaza with a high-end grocery store as its anchor. She used the previous layout as a basis as she built her new one, and while she previously had two large exam rooms, she now has four smaller ones. She left behind the purple carpet, formica counters and artificial flowers, but she did keep a toned-down version of the purple and green color scheme. Now there are modern accents of those hues that are familiar to patients and tied to her practice branding. She also kept the large photographs of oak trees, which are native to the Orlando area, that were displayed in her original space.
A MARK ON THE COMMUNITY
"I'm so grateful for to see same people year after year—it's remarkable," Dr. DeForrest says. The thorough, educational medical eye care experience she provides keeps patients coming back and referring others. She also receives referrals through Grace Medical, a local service for people who are employed but without medical insurance. "They can come right to our office, and they require surgical treatment, we have surgeons on board who will triage them accordingly." She's been providing exams and vision correction for this population free of charge in her practice, seeing several patients per month for the past 10 years.
---
A Fresh Approach
Dr. Brenda DeForrest has been using air-purifying Lampe Berger lamps in her home for some time, but she had not brought them over to DeForrest Eye Center in Orlando, Florida, until she learned about the airborne nature of the coronavirus earlier this year. She says that she knew that these French lamps, which burn 90 percent alcohol with scented oils, would be a great addition to cleanse the office air space as they were originally designed for use in emergency rooms. Three lamps have been placed around the office space—one in the front office, one back by the exam rooms and another in the break room. "They diffuse the air in 20 minutes, and it smells really clean in here," Dr. DeForrest says.
It's just one of the steps that she is taking now that she's reopened for routine care, along with using masks and shields, taking temperatures, disinfecting frames before they return to display and wearing a disposable, polypropylene lab coat from Grainger. "They're cute, button-up lab coats that I wear for the day, and at the end, I take it off inside out and throw it out."