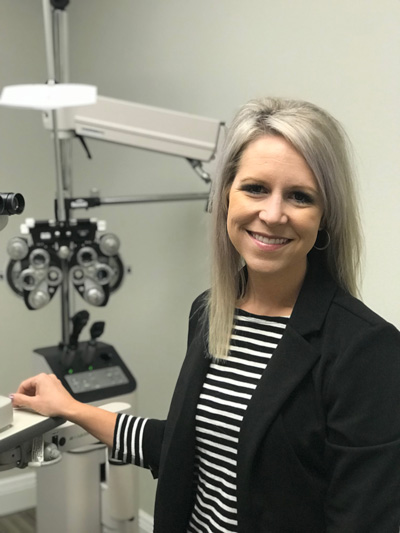 On June 7, Denise Hill, OD, celebrated two milestones in one celebration: the 10-year anniversary of her practice Hill Vision Center and its brand-new location, just 150 yards away from where she opened its doors back in 2008.
While the practice's volume could have warranted a move sooner, Dr. Hill's lease agreement was for 10 years, which seemed like a good deal when she was getting started. "I thought that if I made it, we'd be good," she says, laughing. "You don't expect the growth you will have."
Dr. Hill knew that the second time around that the best financial decision was to own her building. In early 2017, she started her search and by July 1, 2017, her team was breaking ground on the new space in Van Buren, Arkansas. There are several other optometrists in town, so in addition to being close to her existing office, great visibility and growth potential were important factors. "It was very frustrating when I was in my other location in a professional building for eight years and people didn't know I was there," she says. The new property is on a corner lot near the main highway, and shortly after she selected it, she heard news that an elementary school and bank would be built across the street.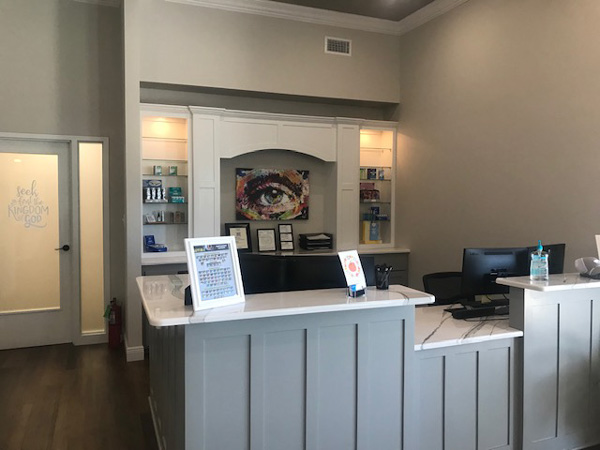 The new building is 8,000 square feet, and Hill Vision Center accounts for half with room for leasing out the other side. She's doubled her exam lanes from two to four and more than tripled her frame dispensary offerings to around 1,000 frames. There's a different style in the new space, as well. Her original space had also been a new construction, so she had selected a modern look there with dark grays and black counter tops. "This time I went with more of a residential look," Dr. Hill says. "I wanted a professional balance without feeling like a doctor's office." There are plenty of windows and open space as well as a fireplace, which adds a nice homey touch. "It's flattering when people come in and are in awe over the design of the office."
Dr. Hill added a few new pieces of instrumentation with the move, upgrading the Optos technology to the Daytona and bringing in an Optovue OCT. Three exam lanes are set up for use now, and when Dr. Hill is ready to add an associate, she can finish the final one.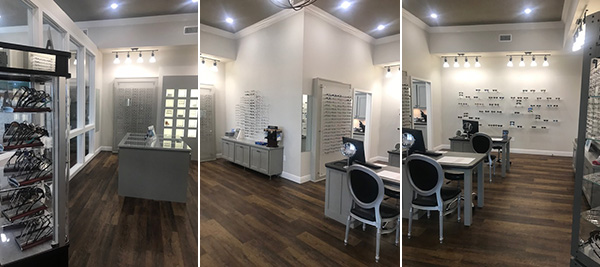 By May 1, 2018, the doors opened to the new location for Dr. Hill and her staff of five, which is soon-to-be six. That's quite a difference from her first opening day in 2008, where she did it all—from pretesting to eyewear selection. And she continues to envision ways to make it bigger and better, possibly expanding into building's extra space down the road to add another doctor for specialty care like vision therapy or expanding upon her low vision services.