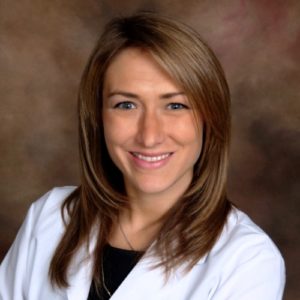 Erica Perlman, OD, always wanted to move to Montana and open her own private practice, having grown up visiting the G BAR M Ranch outside of Bozeman her entire childhood. When she found Big Sky, a small but growing ski town nestled in the Gallatin Mountain Range between Bozeman and the West Entrance at Yellowstone National Park, she immediately felt at home. She loved the natural beauty of the mountains and the tight-knit community of Big Sky.
What she found in Big Sky was a very small space—just 560 square feet—completely vacant. She and her husband outlined the dimensions on their driveway and then kept drawing and erasing the chalk lines of walls and furniture to see how she could fit an exam room, pretest area and optical. "We kept moving the walls until I felt like I had enough space everywhere to feel comfortable in the space," she says.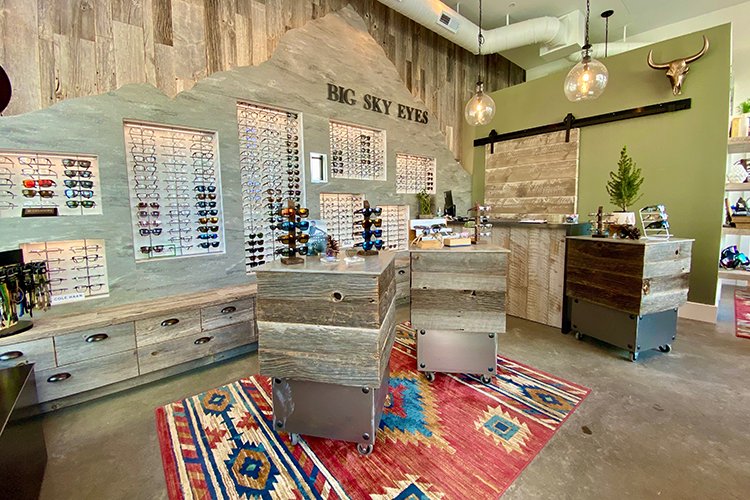 When she had the general layout for Big Sky Eyes, she contacted Gina Dee, a designer who knows how to make small spaces work. "As soon as I started talking, she started drawing. She came up with frame displays inside panels that look like the local mountains," Dr. Perlman says. That display glows at night, adding attracting attention through the plate glass windows.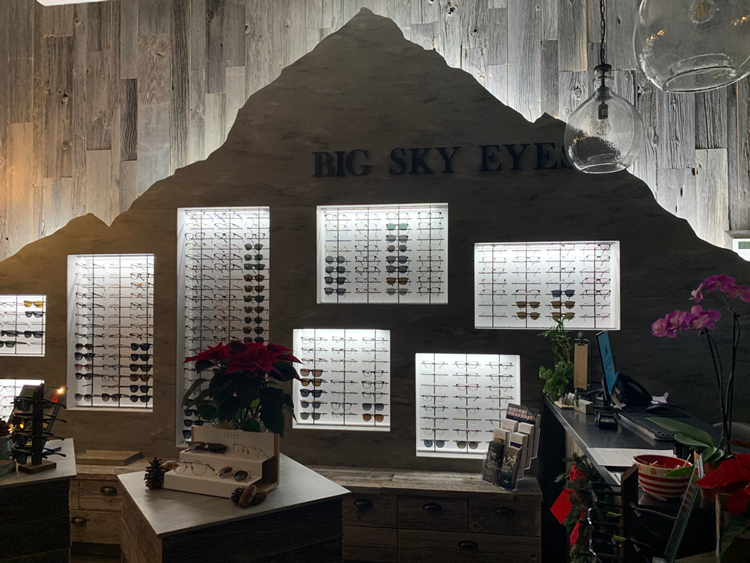 In addition, she loved Dr. Perlman's ideas about integrating reclaimed barn wood and lumber. One of the displays is made from local weathered fence posts.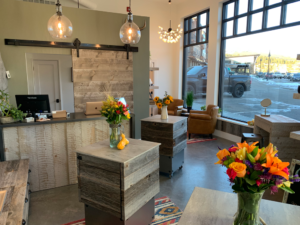 It helps that the tiny space is surrounded by the big outdoors. "The gigantic windows open up the space," she says. "I can have a patient in the back, and it doesn't feel too crowded if someone is in the homey reception area. Patients have told us how beautiful it is. We wanted it to have that warm, fuzzy feeling to mimic the wonderful community we are in," she says.
If Dr. Perlman ever feels like she's been stuck inside too long, she can fix that in a heartbeat. "I love opening the door and stepping outside to see all that beauty around me."
MEDICAL SERVICES
The next closest eye doctors are about an hour's drive away. So Dr. Perlman says that being able to provide as much medical service as possible was important. "If patients don't have to drive the canyon drive for an hour, especially if they're in pain or have been dilated or are counting on someone else to bring them, that's a great service. We have an OCT and I was practicing medically based optometry before I came here, so I'm comfortable," she says. She is also able to provide emergency care for patients who suffer an eye injury in a mountain sport. "We also have a great selection of frames, with boutique lines. Patients are excited that they can get the services and products they want locally."