It's turning into a year of firsts for Tamara Mendez, OD, who opened her practice Chevy Chase Eyecare in Chevy Chase, Maryland, on February 1, 2021. Dr. Mendez headed out on maternity leave in early March, and between balancing parenthood and learning how to be a business owner, she is approaching it all with a can-do attitude.
Dr. Mendez attended Pennsylvania College of Optometry at Salus University. Following her 2015 graduation, she did her residency in Primary Care with emphasis in pediatrics and binocular vision at Nova Southeastern University in Fort Lauderdale, Florida. Following her residency, Dr. Mendez returned to Maryland to be near family and began working as one of two ODs at an ophthalmology practice. "After 4.5 years at that practice I grew confident and excited to create my own practice," she says. "That's when the idea started." Of course, COVID-19 threw hurdle after hurdle in her way, and almost 11 months were added onto the process.
HOW'S IT GOING?
It's April 2021, and Dr. Mendez is back from maternity leave. "I'm very excited about the energy in the office, every week patient encounters have increased," says Dr. Mendez. "So far, it's been steady and continues on a positive trend. A positive development has been treating patients with Binocular Vision Dysfunction. Because of this I have now developed a vision therapy room where I see a few patients a week. "It's exciting and also scary to be completely responsible for the entire patient experience in my own office," she laughs.
Dr. Mendez spends most of her weekdays at her new practice. She has set up a nursery in her office where her son spends three days a week with his grandmother. Currently, the office team is small and close. "I have my sister who is employed full time as practice manager, front desk and billing," she says. Her other staff member, her brother's girlfriend, is training to be a technician. "I'm also training her on contact lenses and introducing her to optometry. I feel like I'm creating a practice where my staff will experience a lot of professional growth."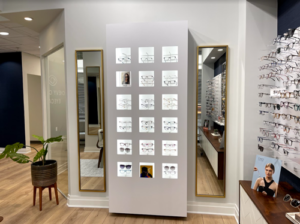 Dr. Mendez's philosophy on staffing comes down to happiness and comfort. "I don't want the staff to feel overworked and unhappy. I want them to feel appreciated and if I need to add more staff so that our days are focused on quality care for our patients, I'm OK with that," she says. "That's what I want to translate to my patients and the staff. I want them to feel as though they're part of the group and they're growing with the practice. Their input is making changes for the practice and for themselves."

DESIGNING WOMEN IN OPTOMETRY (WO)
Dr. Mendez made most of the choices herself for the design of her space but with a little help from her friends. "Actually, because of WO I was very inspired. I didn't hire a designer; my husband and I chose the office colors and created the office setup," she says. While most of Dr. Mendez's shopping took place online due to COVID-19 restrictions, she was able to make her vision come true and stick to her combination of clean minimalist plus cozy. "I know they don't always go together," she says. "I wanted the patient to come in and feel like it's clean and modern… but with the feeling of someone's living room," she laughs. "I hope I accomplished that."