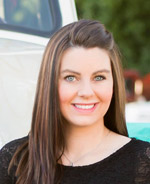 Amber Gatti Dunn, OD, did not plan on owning a practice immediately after graduating from optometry school. But she heard about an ophthalmology practice moving from one location to a larger one in King City, Oregon. The landlord of the building wanted to find a young, motivated OD to start a practice in that location. While some might consider that a risky proposition, especially since the ophthalmology practice moved across the road, Dr. Dunn saw it as an opportunity. The ophthalmology practice is not accepting new patients for primary care; it only wants patients who need surgical care or are already a patient. Plus the location was perfect, right in a large retirement community.
"Even though I've been here for nearly two years, I still have several people a week who walk in thinking it's the old practice," says Dr. Dunn, who was residency trained at the Roseburg VA in Roseburg, Oregon. If the patient has an appointment with the ophthalmologist, she'll point the way. But if it's someone who stops by to see about getting an appointment or purchasing eyewear, she's happy to help.
It's clear from the moment a person steps in that there have been changes to the practice. "Before, it was very clinical in appearance. The walls were white; it wasn't particularly inviting," she says. She was pleased to see, however, that the existing carpeting had purple tones in it, so she brought out that color and the wood framing of the windows by painting some of the walls and cabinetry in shades of purple.
She spruced up what furnishings were there, including the front desk and the cabinets, and she supplemented it with antiques and unique pieces repurposed. "My grandmother passed away a few years ago, and I inherited a lot of her paintings and other pieces. I've placed a coffee bar on top of an antique armoire. I've put some displays on an old dresser and old sewing machine table. People from the retirement community like seeing these old pieces," she says. "The reception area feels like a living room."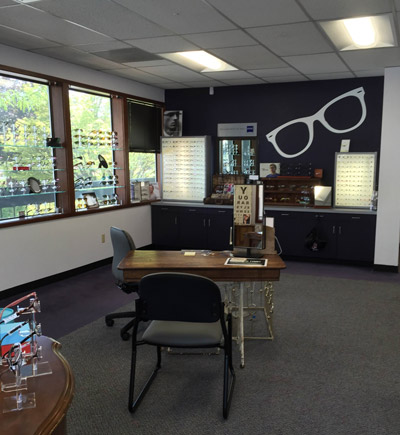 Two walls of her optical and reception area are completely made up of windows. The old setup had been that the frame displays were pushed up against the windows, blocking a lot of light. Dr. Dunn's husband built glass shelves into the window frames—and those shelves now display about 85 percent of the 600 frames she carries. The result is that passersby and visitors in the optical can browse the display easily.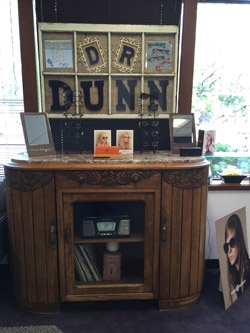 The other difference that people who knew the old practice note is that it's so much quieter in Dr. Dunn's office than it had been. "We have light music playing, and when patients come in, they feel welcome and relaxed—not like the fast pace of a high-volume ophthalmology practice."
Dr. Dunn has hired an office manager, but for now, she's doing her own tech and optical works. "I had some interns working for me over the summer doing a practice management internship; sometimes they would scribe for me to help out, but I do enjoy doing it all for now. That level of personal care is a good way to build the business and make sure nothing gets forgotten," she says.
She has the space to expand since she's only using about half of the 3,800-square-feet of space available. "The back section has two empty exam lanes and a large room that will eventually become a vision therapy room," she says. She is already working with a few brain injury patients, and children come into the practice every day, so she says that the demand is there.