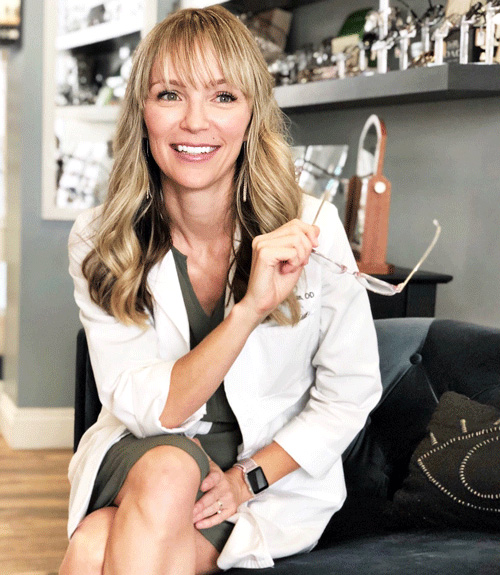 After her 2008 graduation from the Southern California College of Optometry, Jennifer Wademan, OD, moved back to northern California and started working part-time in three offices. One of them was Jonas Optometry & Associates in Folsom, which was founded in 1981 when the community was much smaller. Since then, the office had gained a trustworthy reputation and a well-established patient base.
Dr. Wademan says that of her three places of employment, this office showed the greatest potential on her path to practice ownership. Thomas Jonas, OD, wanted to find someone he could transition the practice to, and "I was an associate for a few years, and my heart grew fonder of the practice," Dr. Wademan says. "As I committed more time to the business, I saw it could be a good fit for both of us. I liked the ability to build genuine relationships with patients year to year, watching the kids grow up and connecting with patients."

Dr. Wademan bought into the business as a partner 2011, and they changed the practice name from Jonas Optometry to Bidwell Optometry for an easier transition. "It was nice to come into a practice with existing patients," she says. "I was a familiar face in the office, and Dr. Jonas was great about shifting patients to my schedule. All new patients would see me."
Dr. Jonas also entrusted Dr. Wademan with staff management responsibilities when she became partner. "He handed over a lot at our partnership because he wanted to cut back, and I had the freedom to make decisions and changes and implement procedures," she says. "It was nice to have him there as a mentor and coach and have our two minds working together."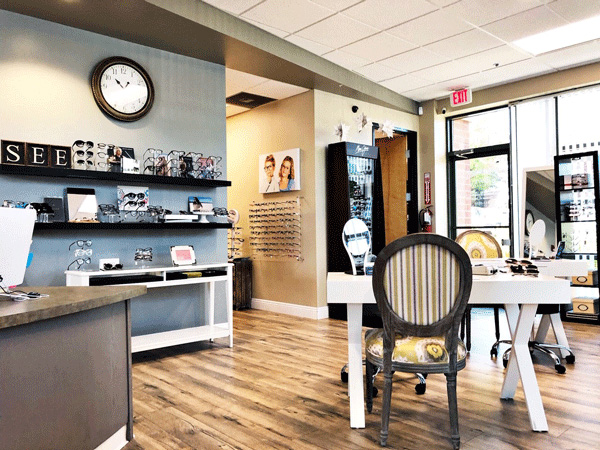 In 2015, Dr. Wademan became the practice's sole owner. She made plans to transform the space. "I wanted a more inviting, modern look," she says. With the help of her husband and other family members, she refreshed the darker paint colors—green, taupe and brown—with softer blue, grey and teal. She hired a professional to replace the commercial carpeting with a light-colored laminate to keep the project on schedule. There are some pops of color here and there dispersed among her décor, such as velvet blue couch in her reception area. She added new displays, tables, chairs and lighting, as well. "I really enjoyed it all from the decorating to picking out chairs and colors," she says.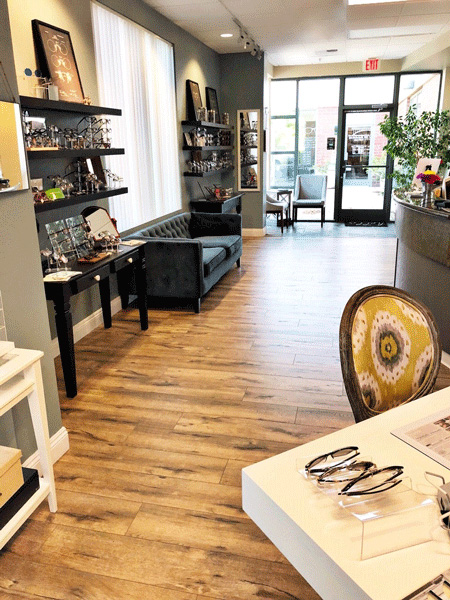 She also added some technology including an upgrade of Optos instrumentation and a new topographer and lensmeter. Dr. Wademan also made a transition to electronic record and patient engagement systems and added more computers and iPads for check in.
Dr. Wademan most enjoys the flexibility of making her own schedule, which is a wonderful benefit with her two young children, ages 4 and 7. She sees patients three days per week and is home for the rest so she can cherish the extra time with her kids. Now as her youngest will be in school full-time soon, she's been adding a few more days per month to build patient volume and for special events.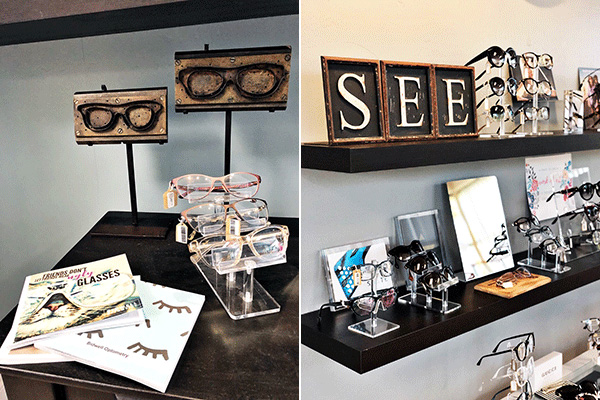 The former owner still sees patients a few days a week as he transitions to retirement, and Dr. Wademan continues to see most of his patients as her own now and is always looking for ways to enhance the practice's wow factor. "You don't want patients to leave looking for something different. I have so many ideas that I want to test and implement, but I have to find the time to do it," she says, laughing.
Her next goal is adding ocular aesthetics and another doctor to fill more time on the schedule to increase patient flow and practice growth. "This practice was a great opportunity and personality fit, and it all just fell into place," she says. "My only regret is that I didn't do it sooner."