Buying an existing practice and changing it means more than just updating paint colors and design. It requires explaining to patients what kind of practice you are going to be.
Tiffany Pincombe, OD, and Keith Willis, an optician, had worked together for over 10 years before purchasing a 20-year-old practice in South Burlington, Vermont, in 2014. The practice had opened in 1993, and the original owner, Thomas Meaker, OD, was semi-retired by the time he sold the practice, Dr. Pincombe says.
So, she and Willis set about changing the look, the frames offered and the scope of care the practice provides.
The color scheme of the practice had a lot of pink—dusty pink walls, pink chairs. Today, it looks more contemporary with walls of mostly medium blue and brown, with some cream coloring.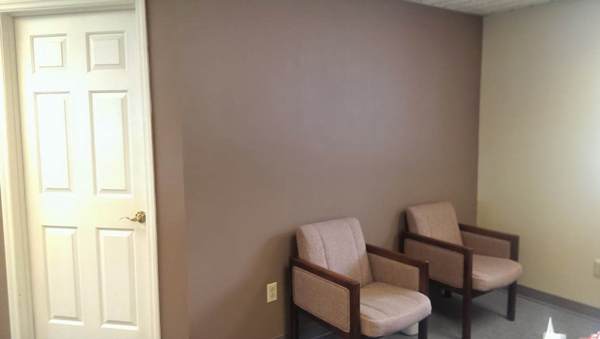 The variety of frames offered has increased, a lot. The previous owner hadn't put much money into frames, "so we changed that quite a bit." Its optical offering now includes more than 60 brands of frames or sunglasses, either in stock or by order, and a wide variety of contact lens brands. The owners also brought in an Oakley display about six months after opening.
Another key change was the emphasis on providing eye care for the whole family. Under the prior owner, the practice didn't have many children as patients. Now anyone walking in will see that the practice welcomes children. There's a wide variety of frame choices just for kids, in a colorful display, created by Willis, that looks like colored pencils. He also brought in an old school desk, and inside the desk are books about eyes and some little eyeball toys.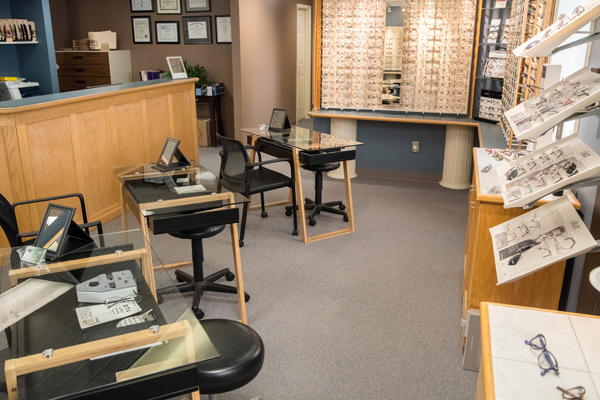 Dr. Pincombe also brought in a whimsical touch: a wall hanging of a pair of yellow frames, which her sister gave her upon her 2003 graduation from the Indiana University School of Optometry. It hangs in the hallway to her exam room. "Patients really like it and someone comments on it almost every day," she says.
There's also new equipment: the practice bought an Optovue OCT and recently added a new chair and stand and slit lamp. The owners also added equipment to the lab so many lenses can be cut in the store.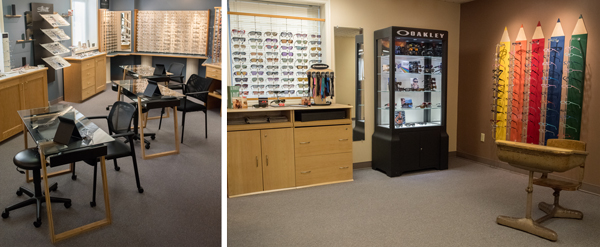 They also expanded the office hours to include evenings and Saturday appointments.
Dr. Pincombe says the practice has been able to keep the patients that its previous owner cared for. "Even some people who found other doctors came back and gave us a try again," she says. It is adding new patients, too. The practice hired two optometrists to work part-time, one day a week each, to keep up with the demand and the extra hours. "We're booked about 10 days out now," she says. "Last year we were almost booked a month out, and that was too long."
Before launching the practice, she and Willis worked together in nearby Williston, Vermont, inside a Walmart. "This is a good opportunity," she says. "I have been interested in opening my own practice since I decided to become an optometrist."