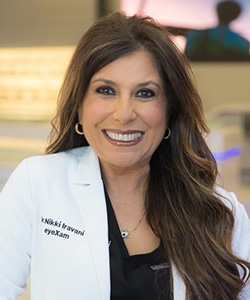 In November 2022, Nikki Iravani, OD, opened a second location of her practice eyeXam in Newport Beach, California—400 miles away from her first office in Santa Clara. She opened that first office five years ago after spending most of her career focused on the industry side of optometry, as a vice president with CooperVision, and on an entrepreneurial path, creating the patented eyeXam app. Dr. Iravani says that expanding her office brand wasn't the plan when she got started. However, when the right opportunity presented itself, she couldn't turn it down.
GAINING INSPIRATION: BEHIND THE BRAND
The Santa Clara office was born from her desire to create a technologically oriented office in the heart of Silicon Valley, something she wasn't finding when searching for eye care providers for her family. "I saw that there was room for improvement with all of the amazing technology that our industry has," she recalls. In 2017, the 2,400 square foot space in Santa Clara was transformed into a high-tech environment coupled with a customer service experience modeled after shopping experiences in high-end, designer stores such as Cartier, Louis Vuitton and Chanel. Patients and customers often refer to the Santa Clara office as an Apple store for an eye exam.
Her holistic approach to eyecare, incorporating the exploding area of aesthetics, plus specialty contact lenses and the ocular surface and dry eye treatment, was well received in Silicon Valley. Patients were willing to travel 30-60 miles to Santa Clara on the recommendation from a friend or due to social media posts. Dr. Iravani was frequently asked  "Where is your other location?" She says that the question is a testament to the strong brand and appeal that had been built; patients were convinced that the eyeXam brand had to be in more than one location.
Then developers from local shopping centers and malls started to recruit Dr. Iravani to bring her brand to their locations. There were many opportunities to consider. Yet it wasn't until Irvine Company, a top developer in Orange County, inquired about the eyeXam brand a second time that Dr. Iravani says she came around to consider the offer. The company worked in Southern California and presented a completely different market for the eyeXam. The affluent community of Newport Beach would appreciate that "we could bring the advanced technology and vision care, high-end fashion and tie that into aesthetics."
With a choice of several locations, Dr. Iravani says that she "reached for the moon and the stars" when she selected Crystal Cove Center, a premier location that is nearly double the size of her other office at approximately 4,500 square feet.
Dr. Iravani admits that she was intimidated by the larger footprint when she first visited the space in the spring of 2021. "I thought it was larger than I could ever chew on," she says. "But the developers felt this community was lacking an elevated eye care experience," and that spacious design would allow her to bring her complete vision to life. "The brand can shine and perform to its fullest capacity."
DREAM BECOMES REALITY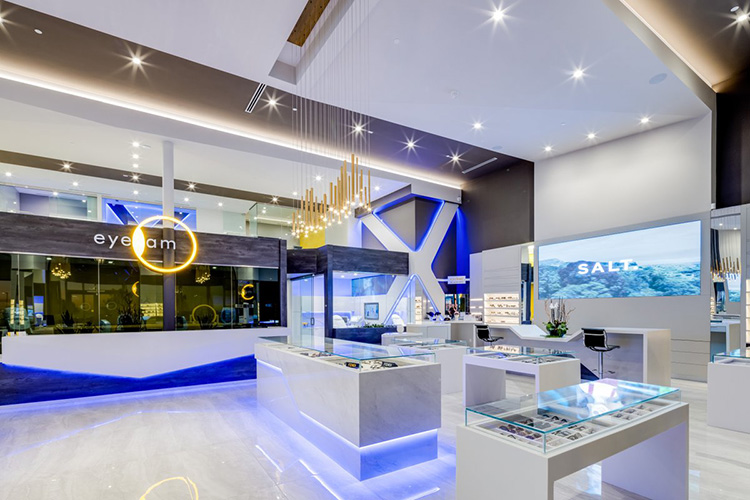 The office flow and layout was carefully designed while considering various needs of an optometry practice.  A large optical retail space is in the front and the clinical area is in the back. There are two exam rooms on each side of the pretesting room. Behind the giant X from the eyeXam wording is the eyeSpa, where dry eye treatments take place.
Next to that area is the eyeBar, where skin care products and sun visors are available for sale after treatments are done. The contact lens bar is a dedicated space for learning how to insert and remove their contact lenses. An iPad is built into the backsplash, and counters are lined with sinks and mirrors. All contact lens fitting sets are nicely stored in the built in cabinets referred to as the contact lens vault.  There's also a VIP room for private eyewear styling appointments.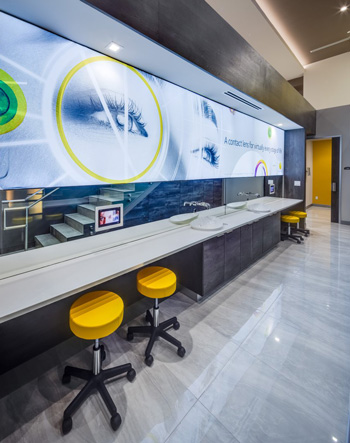 After months of design and construction, Dr. Iravani hosted her grand opening in November 2022. It was a vibrant celebration and welcome to the community, complete with the Chamber of Commerce, mayor and even childhood friends who Dr. Iravani met growing up in Orange County.
Dr. Iravani is working with a creative marketing agency outside of the optometry field to help generate a buzz about the new office. It's a big investment, she says, but it needs to match the commitment she's put in on the technology and aesthetics side. She's focusing on Google and Yelp ads, search engine optimization and social media. "It's a lot of overhead, but very necessary for the business to grow."
FINDING BALANCE DESPITE THE DISTANCE
Dr. Iravani splits her time between her two offices on alternating weeks. She has two associates who help hold down the fort serving established patients in Santa Clara, as well as an associate in Newport Beach when she is not in town. "I am grateful for my team and our growth has been due to the team's commitment to our practice and our patients."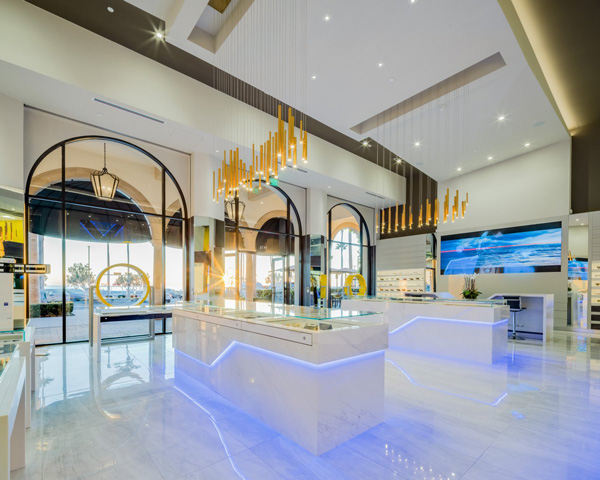 Visit Dr. Iravani's practice website here.
To view more practice design stories from WO, click here.