Back in 2014, as Melissa Richard, OD, was approaching the birth of her third son, her two part-time positions provided her the flexibility she desired as a mom. Dr. Richard took three months of maternity leave when he was born and returned to her employed positions, but practice ownership was never far from her mind. "I've always wanted to open my own practice, and in 2015, I was approaching 10 years out of optometry school, and I felt if I was going to do it, I needed to do it soon," Dr. Richard recalls.
Dr. Richard hadn't even started an active search when she came across the future home for her practice in Chalfont, Pennsylvania. She was taking her oldest son to soccer practice when they drove by an old farmhouse built in the 1700s. It had been turned into a commercial office space, and she had passed it many times before, but this time, a "For Sale" sign caught her eye. She called to set up a visit.
After taking a closer look, she says that she saw great potential even though its addition felt disconnected from the original farmhouse. It was broken into several smaller offices that didn't match the historic style. "It was hard to picture what it could be, but I had a vision." She decided to go for it, adding that her husband was excited about the opportunity, as well. Dr. Richard and her husband had dreamed having an old farmhouse for their home. "We never found it, but it was the dream for us, and it could be ours for my practice," she says.
The longest process was purchasing the building, followed by three months of gathering permits and three months of construction leading up to her March 1, 2016, opening of Spectrum Vision Care. "Our goal was to keep the character and charm from the old building and connect it with the addition," Dr. Richard explains. They brought a blueprint design to meet with Alan Winig of Eye Designs, and they selected optical furniture and cabinets for the office. "Alan looked at our floor plan and he moved a few things around for us with his expertise, and we went with that informal design that he put together," Dr. Richard says, adding that they were appreciative of the suggestions.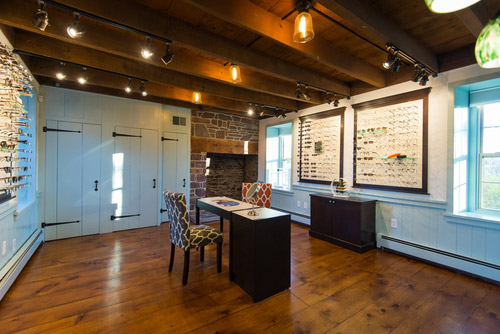 They opened up the space by knocking down several walls in the addition section of the building that had once created multiple offices. The optical area is in the old farmhouse section, where there's a gorgeous stone fireplace and huge windows. "A big project was getting everything ADA-compliant," Dr. Richard says. They converted one staircase into an elevator for access to the second-floor exam rooms, and they had to redo the outside front walkway to remove the stairs and make the entrance handicap accessible.
Dr. Richard and her husband picked out décor and paint colors, and they kept the old hardwood floor in the optical and replicated the floor design throughout the rest of the office space with varying-width wood panels. A farmhouse blue-green color was selected as a focal color with accents of white. Dr. Richard's husband constructed the reception desk countertop out of old barn wood, and in addition to shopping with Eye Designs, they also picked up some pieces online and at local antique stores.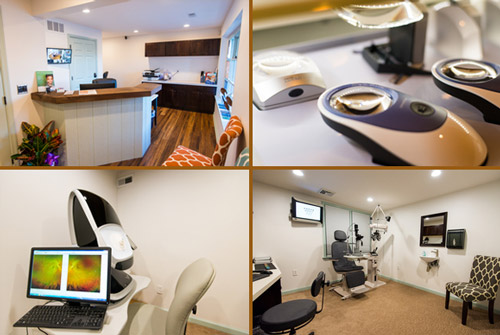 The practice offers primary care with an optical, and Dr. Richard specializes in low vision care and neuro optometric rehabilitation. She invested in equipment for that segment of the office as well as the latest technology for detecting and monitoring conditions such as age-related macular degeneration.
As she approaches her one-year anniversary, Dr. Richard says that her referral network is growing as more local ophthalmologists refer to her for low vision care, and she recently started working with a local hospital in the stroke rehab clinic. Some patients from her previous places of employment have also found her in her new office.
Dr. Richard advises her colleagues thinking about a cold start to start a business plan right away. "You can always add to it," she says, but it's an important step to have underway when approaching banks for loans.