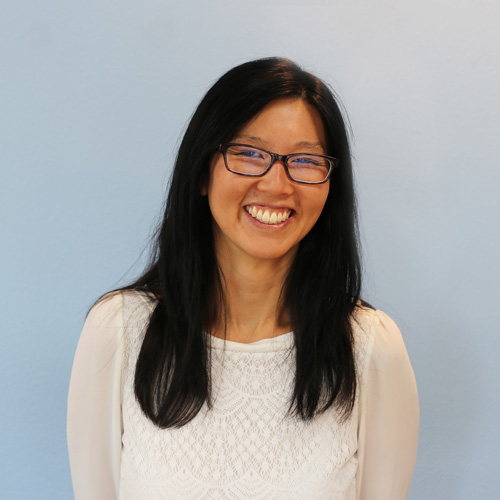 The three neighborhoods in Portland, Oregon, that Myoptic Optometry + Modern Eyewear calls home are just a few miles away from each other, but the personalities of the communities are so different, says practice owner Summy To, OD. When she found her first office space to lease leading up to its opening in 2010, some of her friends were a bit concerned in the part of town that she chose. But all Dr. To could see was the potential to build exactly what she envisioned. "They were worried about the location, and about five years later, it became a trendy part of Portland," she says.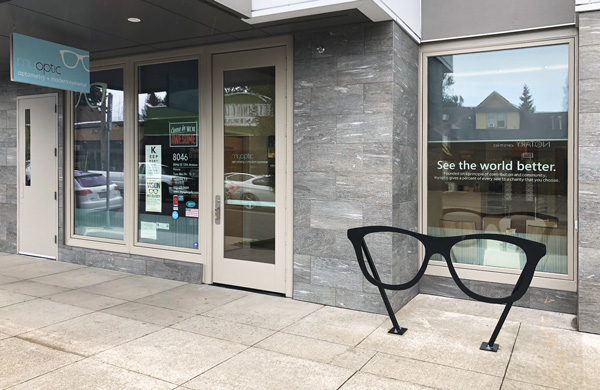 Now the flourishing neighborhood where the Williams office is located is full of retail shops and restaurants along the street level with condos above them, and the patient demographic there is a range of individuals in their 20s to 40s. "We built it the way we wanted with lots of windows," she says. It's bright, modern and welcoming without a typical clinical style. Technology was important for making a statement as well. "We started with a lot of technology that many practices around us were not using at the time," Dr. To says, such as an iPad for check in and one of the first Facebook pages for an optometry office.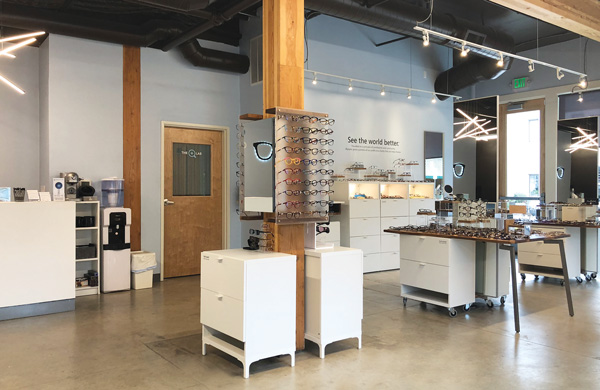 Three years later, the small lab in the office space wasn't cutting it anymore, literally. "Part of it was luck—we opened at great time in a great neighborhood, so we figured we better buy the bigger lab space and expand," Dr. To says. The fast growth there fueled her desire to expand, but when she couldn't find a large enough space, she did come across a perfect spot for another small location. The Burnside office was opened next in a former Pilates studio that also needed some renovation.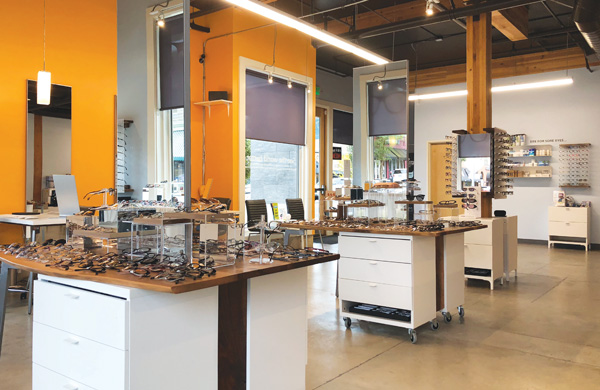 Now with a second location putting pressure on the small lab, Dr. To needed to make another smart move for the business. After Burnside was open for about 1.5 years, she began a search again for a large space for the new lab. In June 2017, she added Sellwood as the third and largest Myoptic location. "Sellwood is in a more established neighborhood, and many people have lived there for decades. It was a test arriving there—they would either welcome us or not," Dr. To says.
Each of the offices carries high-tech equipment—an expectation for all patients—and there's an overall similar look. But each office distinguishes itself with a feature line in the optical, Dr. To says. "The space dictates what we offer but we want the experience to be very predictable—like a Starbucks—you know what you are going to get."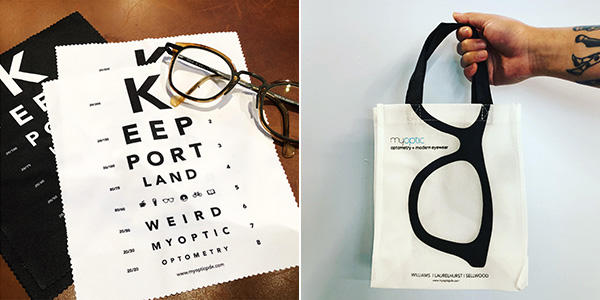 In fact, Dr. To's husband John Schreiber used to work in branding for Starbucks and Coca-Cola, and he's brought his experience to Myoptic over the past decade. His impact on the practice has been long-lasting, starting with developing the name of the practice in the early days. "My request was a name that was kind of cute but spoke to having a personal experience," she says, and they decided on Myoptic. He's also the man behind the clever branding mashups you'll find on the practice's social media, combining the Myoptic brand with popular logos, the unique dispensing bags for eyewear where the handle is half of a pair of frames, the gumball-inspired dispensing machine in the optical the gives out limited-run cleaning cloths, activity books and much more. "He's always creating, and I can't hold him back."
2020 will mark the 10-year anniversary of the Williams office; the practice has expanded to five doctors and 26 staff members across the three locations, and Dr. To remains loyal to her patients in the Williams location, but fills in where needed. Their newest venture was opening the Dry + Red Eye Clinic at Myoptic at the Sellwood office with the addition of a LipiFlow Thermal Pulsation System. She is looking for more specialty services that her patient bases could benefit from, such as vision therapy and specialty contact lens fittings. Plans for a fourth Myoptic location are not off the table. "We're currently incorporating services where we are, and expansion would be likely for our lab and specialty clinics."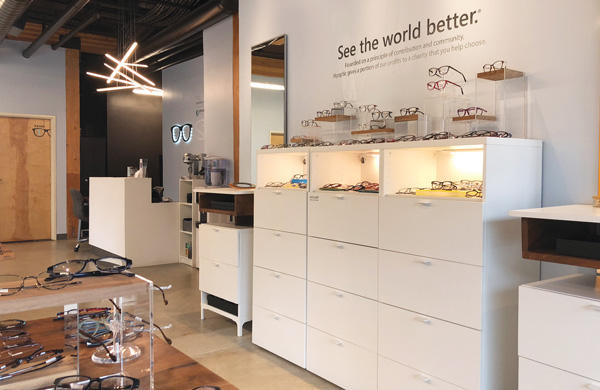 About a year ago, Dr. To hired a general manager to alleviate the stresses of her leadership responsibilities, which had grown tremendously. "It's not easy to delegate until you see the benefits," she says. One of the top benefits has been spending more time as a mom—she and Schreiber adopted their daughter, now age 3, from China last year, and with her stepdaughter, who is 12. It also gives her time to continue to make a positive impact on her community. Her nonprofit business philosophy has led her over her years of practice ownership and even before as a leaseholder in a commercial setting. Click here to read more about Dr. To's charitable efforts.