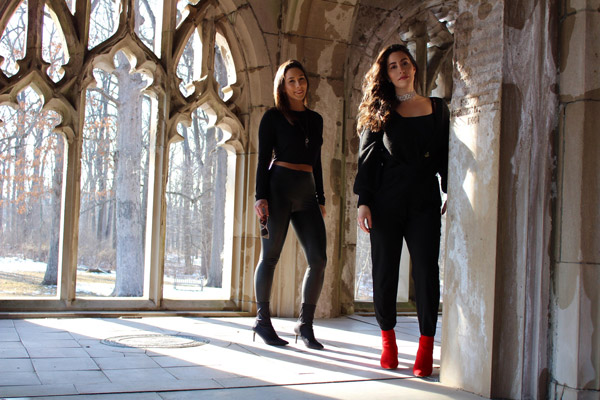 Sisters Giulia Tinari, OD, and Paola Tinari grew up admiring the work ethic of their parents, who immigrated to the U.S. from Italy as teenagers. "Our parents have always put our welfare first and worked extremely hard to put us through school," Dr. Tinari says. Now, together, Dr. Tinari and Paola Tinari are putting forth their own efforts as they dedicate their new practice, Sorella Optique and Eyecare, to their parents.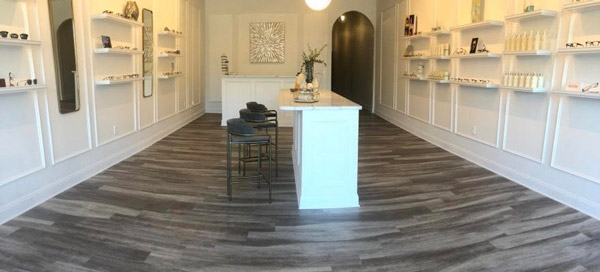 This practice has been a dream in the works for many years. Dr. Tinari started working in the industry at 17 as an optician, and when she went to attend the Pennsylvania College of Optometry at Salus University in 2010, her sister Paola Tinari stepped in and filled her position at the optometry office where she had been working. Both sisters fell in love with the idea of a boutique optometry practice and decided that one day they'd have their own. "She worked well alongside me, and we made a great team," Dr. Tinari says of the time they spent together transitioning her sister into the role of an optician and tech. "We knew we wanted a business together."
In the months leading up to Dr. Tinari's 2014 graduation, the duo began actively searching for an ideal office location and space, and Dr. Tinari secured a position in an OD/MD practice. They grew up in the King of Prussia, Pennsylvania, area, and together they searched locally for the perfect spot for their practice. "We wanted a place where you walk in and it feels like home," says Paola Tinari, the practice's eyewear consultant. The process took some time—about five years total—but they found just what they were looking for in a small strip of five storefronts along a busy street in the town of Paoli, Pennsylvania, that, coincidentally, they drive by nearly every day. "It was a perfect blank slate for a fresh start to make it our own," Paola Tinari says. All five stores are female-owned, which was also a major draw. "We loved that, too."
They signed their contract in June 2018, and by the end of August, construction was underway. Their vision was a non-traditional private practice in regards to both the physical look and also in its portfolio of offerings. "We knew we wanted to be different by incorporating independent eyewear, skin care products and aesthetic services," Dr. Tinari says. "We are young but we are knowledgeable, and we're changing up the game a bit and incorporating many different ideas," Paola Tinari adds. "We're focusing on providing the highest level of eye care and also making sure you are seeing the best version of yourself."
The clean, modern space is inviting, bright and comfortable yet professional. The style is refreshing, nearly all in white, and the crown molding and quartz countertop give the space a homey feel. While they pulled inspiration from here and there, the sisters designed the office all on their own specifically to be attractive to patients around their own ages in the Millennial segment of their patient base. Paola Tinari has clients sit at the dispensing bar where she shows them eyewear and caters to their needs, offering them a coffee or sparkling water. She also introduces them to the ZENTS bodycare line, a company she and her sister discovered on a retreat to the Poconos and inquired to bring into the office in collaboration. "Many patients ask about products and creams to use around their eyes with anti-aging benefits and it's nice to be able to offer the products or have someone perform the service here without sending out."
In the 1,400 square foot space, the sisters have one typical exam lane and a second room is being set up for special services that they hope will set their business apart. They are working out the details with a local board certified dermatologist, who they hope to have come in a few times a month to offer services such as Botox and dermal fillers, and Dr. Tinari also would love to bring in an oculoplastic specialist for lid procedures. She routinely manages dry eye patients and is in the process of adding new technology like Intense Pulsed Light dermatology services, also known as IPL, in order to better serve her patients. The sisters envision opening up their optical space to host community events such as yoga sessions and art exhibits with local artists as well as host their own trunk shows.
Sorella Optique and Eyecare opened its doors in late October and celebrated its grand opening just before Thanksgiving 2018. Dr. Tinari continues to work in the MD/OD office, where she typically sees about 20 patients a day and practices medical optometry.
They give thanks to their parents for inspiring them and for lending their hands on this initiative. "We owe all of this to them," says Paola Tinari. They are also appreciative of each other, even naming the practice as such since Sorella means sister in Italian. "Working with my sister is such an honor, and we have so much fun," Dr. Tinari says. "It's so gratifying seeing all of our hard work pay off and owning a business of our own. I hope that all of our patients and clients see just how passionate we are about what we do."