Annie Curttright, OD, MEd, says that there was an opportunity for practice ownership on the table for many years before she was ready to make the move. Her Pacific University College of Optometry classmate Tony Turin, OD, FAAO, and his wife Kim Turin had built a flourishing practice in Sandy, Oregon, and they wanted to invest in another office but didn't have the time to run or manage it.
In 2020, Dr. Curttright says it was time to take them up on their offer. She was tired of commuting one hour each way to Portland, and as a mom, it was a priority to be closer to home. "Being employed out of school was a good thing, but it was time for the next adventure."
LESSONS LEARNED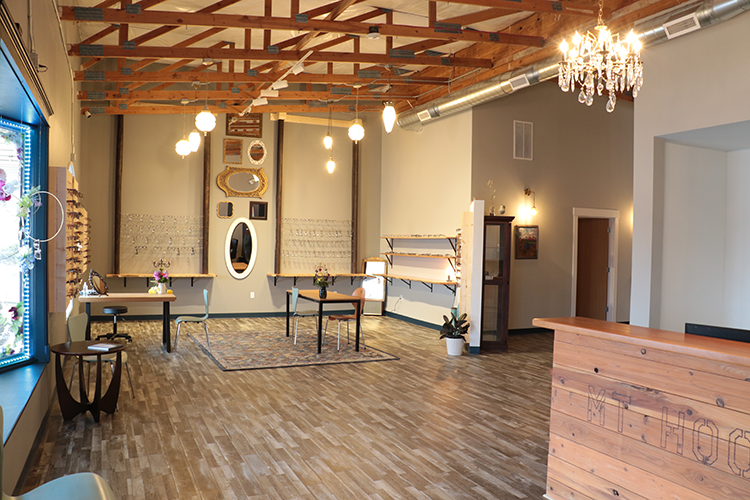 With the Turins' support, Dr. Curttright began taking steps to open a second location for Mt. Hood Eye Care in Gresham, which was very close to home. She appreciates that they gave her the freedom to make the office her own, while she could also "ride on what made them successful with their open."
That advice shared was invaluable, Dr. Curttright says. "They encouraged me to be on every insurance panel, and I had been resistant to that." Now, she sees the opportunity in gaining patients who are already on these plans and ensuring individuals in her community are getting quality eye care.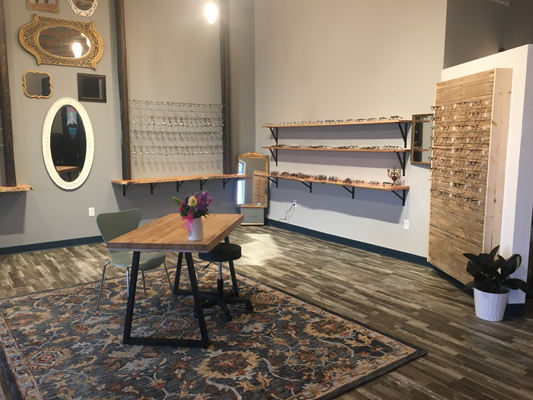 They also showed her how to save money—"do you need a faucet in the break room right away when there's one in the bathroom?"—and focus funds on quality technology, her computers and IT system. "I'm a bare bones kind of girl, but state-of-the-art technology leaves a good impression." Her favorite instrumentation splurge: her fundus camera. "Everyone gets a photo, and we can make that a revenue driver."
The Turins also introduced Dr. Curttright to her staff member, Amanda Scheffler. "It's so important to invest in the perfect staff," she says. Dr. Curttright is thankful for the skill set that Scheffler brings to the table, from credentialing and helping to set up the office to her approach to patient care and her passion for all things lenses and frame lines. "There is no way I could do this without her."

DELAYS ALLOW TIME FOR PERSONALIZATION
Dr. Curttright found her location fairly quickly in the summer of 2020. It's located right off of a main road that goes into historic Portland with great visibility to foot and drive-by traffic. One large unit was being split into three, so she designed her 2,000 square foot space from the ground up with plans to open by the end of the year. She has two exam rooms set up with room for a third, and the rest of the space is open. Dr. Curttright did preserve the exposed beams on the ceiling, a feature that she loved when she first viewed the space.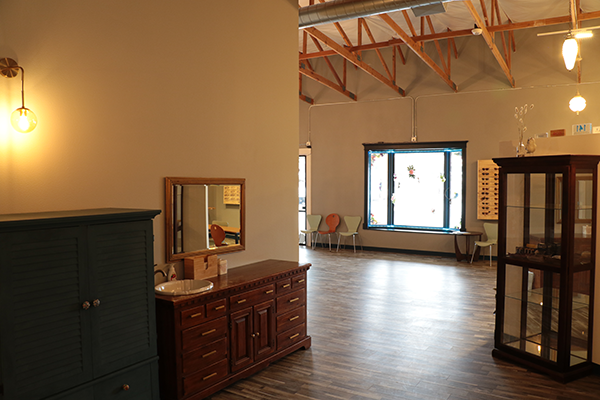 As construction got underway, the national lumber shortage caused a delay, followed by the raging wildfires causing destruction in the Portland area. Dr. Curttright's contractor, who also serves as a firefighter in the small community, had to push pause on her project.
The extra time wasn't what Dr. Curttright had planned for, but it did give her the chance to carefully pull together the look for her new space. The physical walls may be new, but inside there is a wonderful collection of reclaimed pieces that were given new life in her eclectic design. "Being in Portland, I wanted to be as ecofriendly as possible," she says.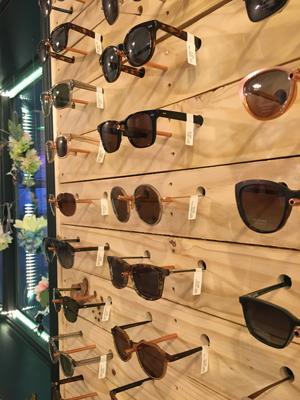 She scoured Craigslist and Facebook Marketplace for unique pieces, traveling up to an hour or two for a good find—a vintage table, a desk from the 1930s, furniture from the 1950s, light fixtures that are more than 100-years-old and a heavy dresser vanity used for contact lens trials storage, to name a few. There's also wood from local trees, recycled paint on the walls and she even repurposed the wooden pallets that were used to deliver her flooring by drilling holes and adding wire for frame displays. It's a unique way to showcase the independent eyewear that she carries, such as locally Portland-founded Shwood as well as 141 Eyewear, MODO and ECO, all which have purposeful missions of supporting the environment and charitable efforts.
Dr. Curttright was also the creative force behind the captivating Mt. Hood illustration that she painted behind the front desk. "It was a 3 a.m. idea, and it was a good one," Dr. Curttight says, laughing. It started as a sketch on her son's iPad of the sunrise behind Mt. Hood—one of the most beautiful landscapes she's ever seen.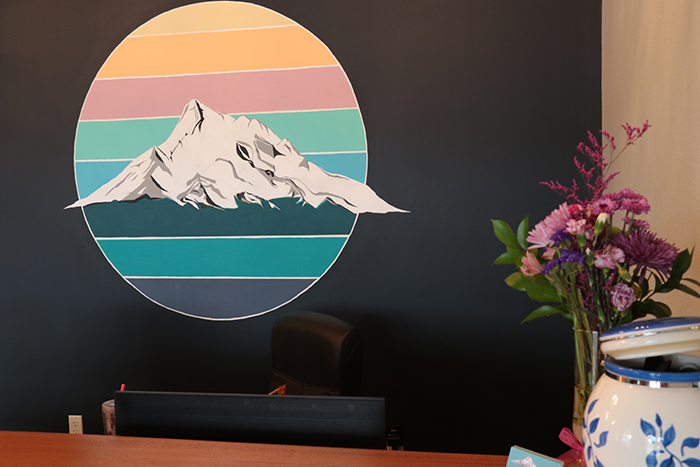 BUSINESS BOOMS DESPITE DELAY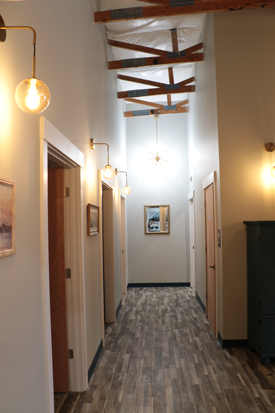 When Dr. Curttright finally opened her doors in March 2021, her schedule was fuller than expected in the first few days. Many of her first patients were individuals who Dr. Curttright purchased vintage pieces from for the space. As a thank you, Dr. Curttright had snapped photos of each piece and sent a personal message to the nearly 40 people to show them the finished products. "Now they are coming in as patients. It's all coming full circle."
Dr. Curttright has also been introducing herself to other local businesses to get the word out in the community, and she's asking for patient reviews and participating in social media to boost her reputation online. She says that she's looking forward to building long-lasting relationships with all of her new patients—an element that was absent during her seven years working in a refractive surgery center. "I missed seeing the families and fashion working with eyeglasses. Dr. Turin and Kim Turin are amazing partners, and I couldn't have asked for a better opportunity."