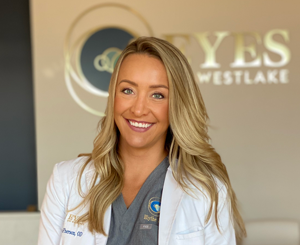 Blythe McPherson, OD, got married in October 2020, went on her honeymoon and returned to open her cold-start practice one week later, EYES on Westlake in Westlake, Texas. "I tried not to stress too much about it; I figured we would have two patients that first week," she says. To her surprise, she accepted a walk-in patient on November 6, a few days before she planned to open. Then she had a total of 18 patients her first week.
Her easily accessible location, right off of the highway and next to the anchor of Starbucks, has been the biggest blessing, she adds. The center, Entrada at Westlake, is not your average shopping center with its architecture inspired by the Catalonia region of Spain. "I couldn't have picked a better spot," she says. "When I come in each morning, there is usually a line of cars with people waiting to get their Starbucks. They have nothing else to do but look at our sign."
It's a warm welcome after months of delays and waiting; both Dr. McPherson's wedding and practice opening were originally to be in May, but both ended up weeks apart from each other in the fall instead due to COVID-19 restrictions.
MOTIVATION BREWING
Dr. McPherson says it took about six months of working as an associate OD after her 2015 graduation from University of Houston College of Optometry to realize that she would want to be her own boss one day. With her goal set, she spent a few years gaining valuable clinical experience as an employee and learning lots of the business side of optometry. Dr. McPherson's goal had been to purchase the practice she was building her patient base at over the years, however, that option ended up falling through.
Dr. McPherson began to look at other existing practices looking to sell and closely considered 3 other offices. There was the appeal of an immediate cash flow and patient base, however, in the end there were still too many changes and updates that she would have to make that none of them felt like the right fit. It was time to move full steam ahead on opening her own practice.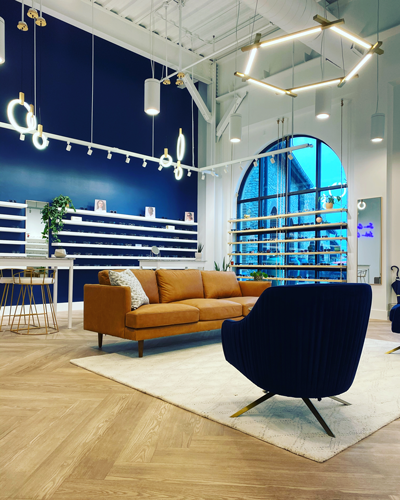 When she learned of availability in the northwest suburb of Dallas, she tapped into her network of real estate friends and "they said if I could get into Westlake, to go. So I went!"
PATIENCE IS A VIRTUE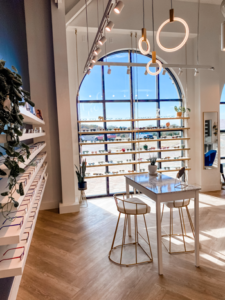 After seeing the plot of land in June 2019, she finally signed her lease in December 2019—revising her floor plans three times along the way as the landlord moved her space to different units. The original plan was to get the keys in January and prepare to open for May.
Her consultants from iCare Advisors had warned about extra wait times with new construction, but no one could have expected the delays that would be caused by COVID-19. Finally, on July 20, 2020, she got the keys in hand. The transformation began on the 1,464 square feet to create a space that was truly her own where she could focus on the areas of optometry that she's most passionate about: dry eye, ocular surface disease, ocular emergencies and scleral lens fittings.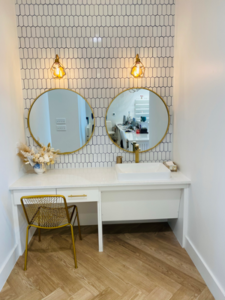 She's thankful to her sister, who spent months combing through décor and style options with her to pull all of the details together. "We started ordering fixtures as early as May anticipating delays with COVID, and by early January, we finally got everything installed." EYES on Westlake has a modern and eclectic style that is warm and welcoming, Dr. McPherson says. The space is open and bright with a large, statement arch window letting in lots of natural light in the optical. There is also a signature navy blue accent wall, unusually named Gentleman's Gray, and the space includes a mix of different textures, wood and greenery. Dr. McPherson and her sister planned to get one large plant statement piece and ended up leaving the nursery with 12 instead. "I'm now also the gardener, watering plants all day at the practice," she says, laughing.
BUILDING A NEW FOLLOWING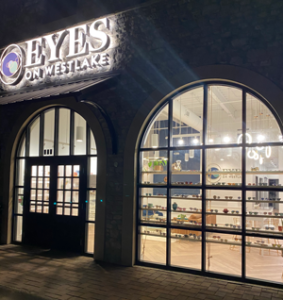 Dr. McPherson had started her practice's social media in January 2020, expecting to open in a few months. So while she was delayed, it gave her extra time to get her name out in the community. She was also pleased to find out that some of her former patients had followed her from offices that were 45 minutes away.
The support of her two staff members has been essential for the early and unexpected patient volume. Dr. McPherson says she got really lucky with her team and had one technician, Kimberley Pilz, follow her from her previous practice and found a great optician, Kyia Lyons through Indeed, the online job site. "The three of us mesh so well together, and we're all perfectionists, which means the office is kept tidy and organized."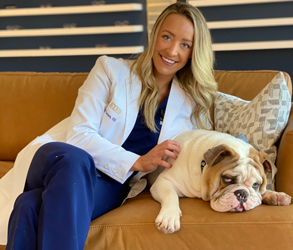 The final team member that really steals the show is her English Bulldog, Boudreaux, who serves as the office greeter and makes the space feel even more like home. He keeps everyone laughing with his loud snores that bring an element of surprise and fun to the practice.