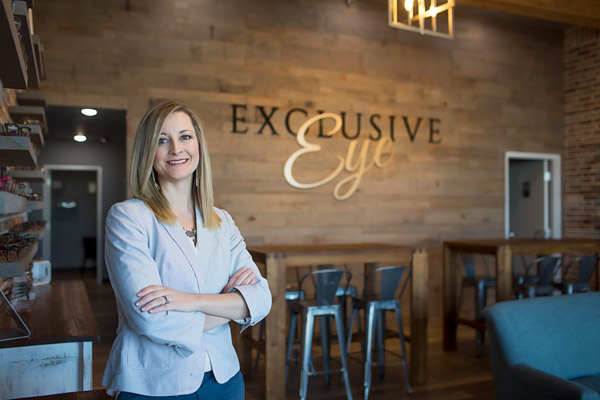 You won't see the front desk when you arrive at Exclusive Eye in Rogers, Arkansas, and that's by design. "I took off my doctor hat and asked myself what I wanted when I go into a space," says practice owner Jessica Dinwiddie, OD. "When you come in and see a front desk, right off the bat, you think of a clinic. My goal was a destination where patients wouldn't come just to see me as the doctor but also to see what we carry in the optical."
Dr. Dinwiddie envisioned a retail-style atmosphere as she mapped out the blueprints for her practice, one where "the space helps patients feel comfortable to stay and look around at what we have," she says. As a doctor, she know there's a tendency to approach eyewear selection in a clinical way. But her former experience as a tech and a fashion lover led her to an emphasis on making it a fun experience for patients who are picking out a new pair of eyeglasses. "I want patients and customers to come in and want to get the best products, but it's hard for them to get excited about it if we are treating that situation in a technical way." The inviting, shopper-friendly environment would also let passersby feel welcome to just drop in. "I don't want people to feel that they can only come if they have an appointment."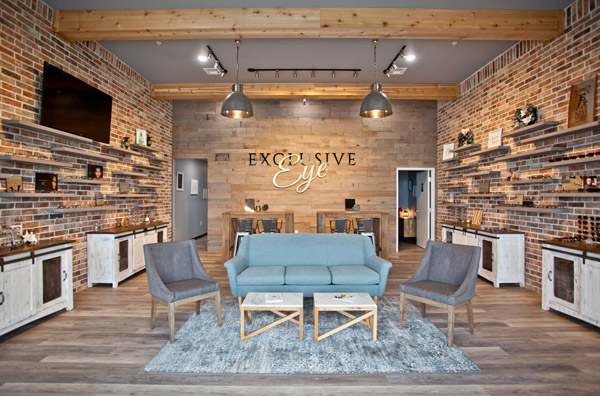 Dr. Dinwiddie started pulling together all the pieces for this practice in the spring of 2016. She was on maternity leave and considering the next step—becoming a future partner in the practice where she had been working or setting out on her own. "I have always considered opening my own practice and the more I thought about it, I realized it can be hard to mold someone else's practice into your own."
She considered a few communities in northwest Arkansas, and she ultimately found that Rogers was the best fit. Its central location among several affluent towns in the area would provide access to a wide range of potential patients. Dr. Dinwiddie's husband has his own real estate brokerage, and he helped to her to negotiate and secure a space that fit her vision. The cost was a bit more than she initially considered spending, but it was a prime location among several restaurants, high-end boutiques and a fitness center, with lots of cars driving by. "People come here to work out or have lunch every day, and when they walk by, I wanted this to look like another store where they could come in and get eyeglasses." Dr. Dinwiddie adds that it's worked, and in fact, it's created an opportunity to have a lot of people come in with their prescription. "I am happy to help anyone's patients—not just mine—find exclusive eyewear and premium lenses that they love."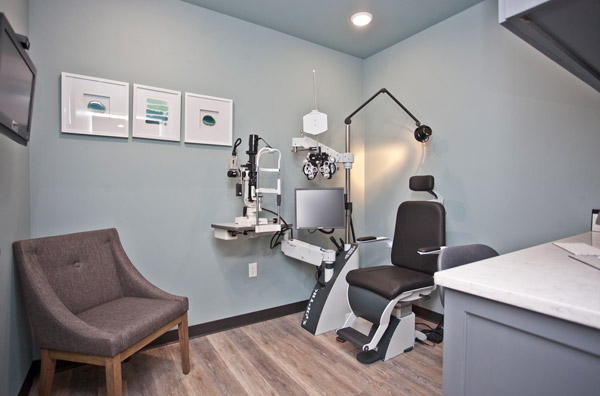 There's a blue sofa and chairs situated around two coffee tables, just like a living room, as the focal point of the space. Rustic wood paneling covers the entire wall that is a backdrop to that scene, and other walls throughout the space are brick, providing a great contrast to her frame display shelving. Her frame offerings are unique and exclusive, as the practice name states. "I like to carry brands with high quality and work with companies that have goals that align with mine, such as a frame donation with each sale," Dr. Dinwiddie says. As a small business, she likes supporting these independent frame companies.
She opened her doors in December 2016 and continues to be pleased with the turnout of her office spaces. "It was a trade-off because I pay more for where I am, but I wanted the access and location," Dr. Dinwiddie says. There's a high volume of people traveling by her office visiting local malls and outdoor concert arenas, and the space is just outside the gates of a very popular local country club. "The area is booming, and things are going on all around us."
And, in case you were wondering, the practice does have a front desk. It's tucked behind the back wall as you enter the clinical side of the practice. Dr. Dinwiddie says that she planned to cut into that wall to bring the front desk out to the front if the concept didn't work. But it did.