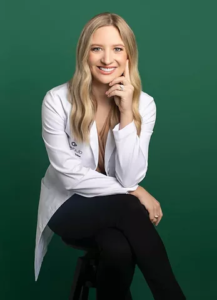 The process for Erin Koetter, OD, to open Eye Hub Optometry in Houston, Texas, took about a year – but on Valentine's Day 2022, the doors opened to patients. Dr. Koetter, a 2020 graduate of University of Houston College of Optometry, worked in corporate practices after graduation. "It was a great experience. I saw nearly 7,000 patients in my time there, so I felt prepared to handle the clinical encounters," she says.
And if she didn't feel quite as prepared for the barrage of business decisions that followed her decision to open a practice, she at least felt supported by iCare Advisors and by Vision Source, a network she joined even before opening. She encourages ODs new to business ownership to take advantage of affiliations like this. "If I have any questions, I can send an email or text my group, and I get multiple responses. There's peace of mind in hearing the perspectives of people who are more experienced and so willing to share their guidance."
Indeed, these affiliations began to help her long before she opened. She worked with a real estate company recommended by iCare Advisors that helped her identify a location in the lower section of the Houston Heights district, and up-and-coming area with high foot traffic and great visibility. And she purchased most of her equipment at The Exchange, the annual Vision Source meeting in 2021.
Approaching her first three months in practice, the flow is much like she anticipated. "I've been ramping up the number of patients we see every day. We launched a new website and have our Google ads up," she says. She has decided to participate on all the major managed vision plans because the demographics support it; many of her patients are young employees of business that offer managed vision plans. To maximize the impact of drawing these patients to the practice, she also has hand-selected her independent frame lines. "I want patients to find something different here than they're used to wearing. It's fun to see them loosen up and try on styles or colors that they may not have tried before." She is also in the process of getting credentialed on medical plans and expects that to happen later this year.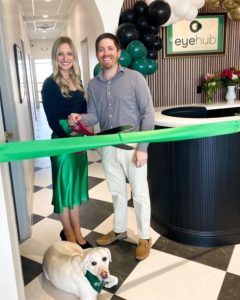 "I invested in great technology," she says. Much of her equipment is from Essilor, including the Wave Analyzer Medica 700 Wavefront Aberrometer (or WAM), which performs seven measurements in 90 seconds. It's a combination wavefront autorefraction system, pachymeter, topographer, tonometer and more. She has an in-office lab and cuts most of her lenses in house. "I want to make the patient experience as positive as possible, and not having to wait long for their new eyewear is a benefit," she says.
Located on the second floor of a brick building, Eye Hub has floor to ceiling windows along two walls, allowing natural light to flood in. The color palette is mostly black and white, with dark green and gold as the accents. "We have a beverage center and TV; we encourage patients to walk around and try on frames. It doesn't feel like a sterile doctor's office at all."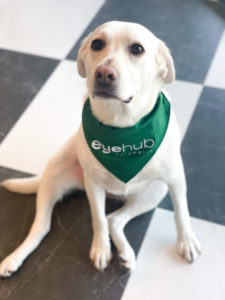 Jetti, the golden lab, makes sure of that. She has a dog bed up front, and she's happy to greet patients if they approach her. "We call her our patient support specialist."
For the rest of her first year in practice, Dr. Koetter is focused on building her patient base and adding more services, such as dry eye. Right now, it's her and two staff members – plus her husband Bryan who handles the financial and accounting aspects — but her longer-term goals include building additional Eye Hub locations in the Houston market.