When Laurie Sorrenson, OD, FAAO, decided it was time to expand Lakeline Vision Source®—again—she decided she wanted to put some ideas she had about patient flow and patient experience into practice, a kind of a running experiment to look for improvements from a typical optometric practice. In five different, previous expansions, she had added onto her existing building—up and to the sides. But the five doctors had maxed out the space. In late April, Dr. Sorrenson opened her new location, and they'll soon be adding a sixth doctor (the first man to join this all-woman contingent).
In addition to more space (8,300 square feet now compared to 6,000 square feet before, and 10 exam lanes, compared to six before), Dr. Sorrenson also implemented some of her ideas.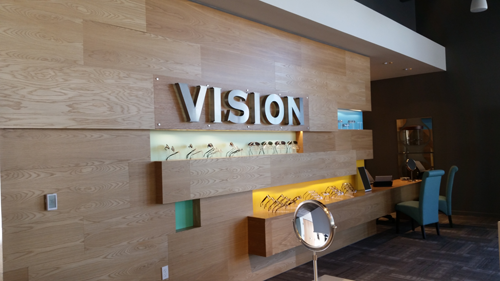 Reception area: Counter-height reception pods were created to put the front desk greeter closer to eye height of the patient for a better, friendlier feel. The desk was also made into three pods so that the staff manning the front desk can move around and get in and out from behind the desk more easily.
Slam button: She installed a button to open the front doors automatically with a button for wheelchair patients.
Coffee area: Dr. Sorrenson did away with the Keurig and leased a Starbucks machine. It grinds two different types of beans and brews coffee and fills the cup as you watch. It is serviced twice a month and has ended up costing the same per month as the Keurig.
Countertop dispensing areas: Private countertop areas at the ends of modern frosted glass frame display to create a private and collaborative space for opticians and patients. This has a similar feel to the Apple stores where salespersons and customers work from a countertop area with a tablet. Each display area has a tablet for opticians to use.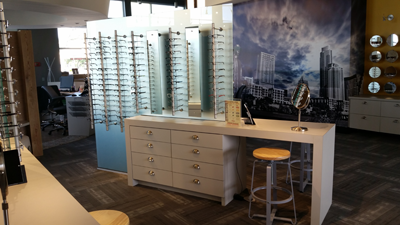 Sliding glass barn doors: Sliding doors into the exam rooms keeps hallways unencumbered by opening and closing doors. The builders used window tints to create a design that allows you to be able to tell if someone is in the exam room but still allows privacy. The doors have a cool artistic design along with having the room number incorporated into the design.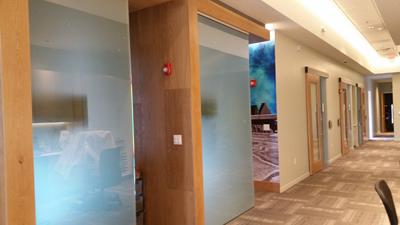 A drive-up doorway: Dr. Sorrenson had heard of a drive-through window where patients can pick up contact lenses or other supplies, but she went a step further, creating a drive-up doorway. "There are so many times when a mom has a sleeping child in the car or a caretaker is bringing an elderly person for an eyeglasses adjustment. Now one of the technicians can just step outside and do the adjustment or dispensing right there, under an overhang. It's so much more convenient for patients," she says. It is starting to become really popular, even in just the few weeks that the new location has been open. "I anticipate that half of the patients picking up contact lenses will start using the drive-thru while adjustments for eyeglasses will be a rare occurrence," she says. But for the person who needs that service, it's a real bonus.
An outdoor space: This practice features a courtyard that can be used for events. Dr. Sorrenson had lights professionally strung across the courtyard, which gives it a really cool vibe at night. Outdoor speakers will provide music for the planned outdoor grand opening and other office celebrations.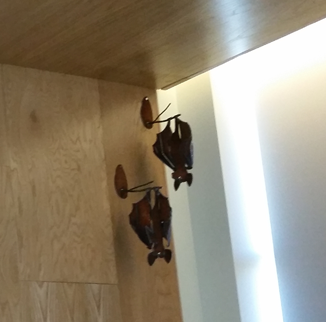 Austin-focused theme: In her former practice, Dr. Sorrenson had different pieces of art depicting Austin landmarks. She brought that same idea with her to this practice and created giant murals. There is an extremely large mural in the optical along a 25-foot wall. It was created with a perforated section so that the business office can still see the front desk. The mural in the optical has the Austin skyline along with a Stevie Ray Vaughn statue. The mural in one of the history rooms is a different skyline of Austin, with another notable landmark and yet another Austin landmark is the feature of a mural near the restrooms. One of the history rooms even has bats hanging from the wall. (Austin is known for its bat population!)