In the late summer of 2019, Keylee Brown, OD, opened Key Optique, an online business that offers curated eye-inspired jewelry. What she didn't know was that it would become the name of her own private practice two-and-a-half years later.
THE PERFECT SPOT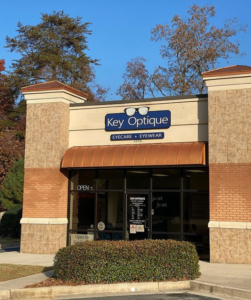 Opening a practice was always Dr. Brown's goal, so much that she scouted for possible locations years before. Along the way, she stumbled upon an opening near a busy roadway in Gainesville, Georgia, in 2020. "It was a nice building to open my first office – the structure had an easy buildout, and there were minimal construction barriers that prevented me from trying out various interior designs," she says.
With the location covered, she had one more thing to cross off on her list: naming. She came up with a list of cute, approachable names, but they were either taken or had copyright issues. That's where Key Optique came into play. "It was an easy segue – I already owned the copyright and had everything established," Dr. Brown says.
UNCOMMONLY LOVELY
Fortunately, the entire construction process did not take long. It was a total of six months: three months of construction, six to eight weeks of buildout and an additional month to gain permits. Although there was a slight delay in receiving permits, the entire process was relatively smooth.
Dr. Brown did not hire an architect or designer but instead gathered inspiration from fellow women ODs. "Dr. Melanie Dombrowski, an expert at designing and fully using small spaces, played a pivotal role," she says. In order to use all 1,000 square feet of space to their utmost and allow for changes in the future, Dr. Brown bought easily replaceable and movable furniture. She even allotted space for a live edge wood table in the nearby future.
The goal was to make the practice look far from commonplace — a space that exudes high-end glam yet also comfort and gender-neutral options. She chose distinct wallpapers for each of her main rooms. The business area features blinky eye wallpaper. The main exam room has a chevron, stone-textured wallpaper, and the second exam room, which is primarily for dry eye and esthetics services, will have a calm, spa-themed wallpaper. "My patients will be able to see a wow factor at every angle of the office. I want people to enjoy the different vibes, excited enough to share it on their social media and with their friends and family. It's different from the norm, but it's not strange," she says.
DIY PROJECT
The greatest eye-catching display in Key Optique is a neon yellow sign hanging in the optical area: "See Well, Be Well." It stands out against its deep green background. Together with her friend, Dr. Brown scavenged Amazon and Etsy to assemble the sign. "I knew I wanted an eye-catching sign even before Key Optique opened. It was a non-negotiable factor, and I'm satisfied with the results," she says. It functions as a great marketing tool for the practice. Passersby can see it from the road, and it's a great cornerstone for a social media background for patient photos.
GIVE IT A TRY
While Dr. Brown was developing the layout, many people advised against dedicating space in a small practice to a business room. Yet she felt she wanted a separate space to focus on paperwork and have solitude, and creating a business office is one of the best decisions she made. "It's a tiny space, but it does wonders. I really recommend it for anyone who needs the push," she says.
Another useful tip is to outsource your medical billing. "It's always a big debate, whether you should keep the billing processes to yourself or have a third-party involved. I personally highly recommend it, because it has served as a huge learning process for me and been a gateway for helpful connections," Dr. Brown says.
Since she opened in December 2021, her primary goal is growth. In the future, she wants to implement cutting-edge dry eye treatment equipment to build on specialty services.