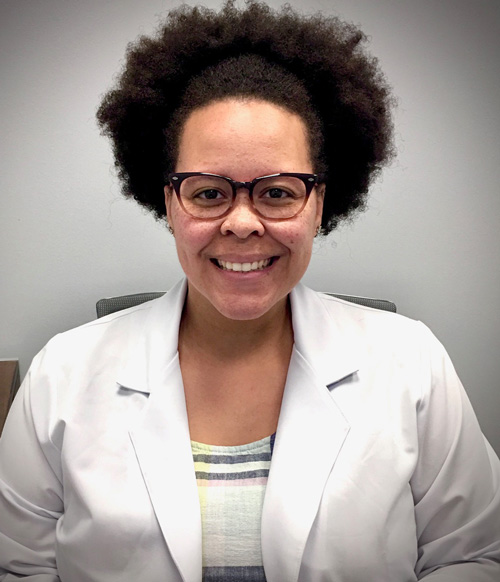 The schedule at C Klear Vision Optique in Little Rock, Arkansas, maxes out at 10 comprehensive exams per day. Those 45-minute time slots allow Celina Watson, OD, to dedicate her full focus to each patient in the exam room. "I want to get down to the nitty gritty and know my patients just like my childhood optometrist knew me." As she and her husband Kristopher Watson, COA, who is also her office manager, celebrate their first year in business, Dr. Watson shares how a series of events have led to where they are today.
THE INSPIRATION
Dr. Watson started having routine visits after a school vision screening at age 8. "My eye doctor was my buddy," she says, laughing. But as her myopia progressed, she became worried. "There was a doom and gloom each time it was a little bit worse," she recalls. "At one point, I thought, 'Would I go blind?'" Her childhood optometrist George Haas, OD, took the reins, comforting her that while it was a scary situation, ultimately, she would be fine. "I was always science-oriented, and I decided at age 16 what I was going to do," as optometry presented the chance to have a medical career and also develop a caring patient rapport.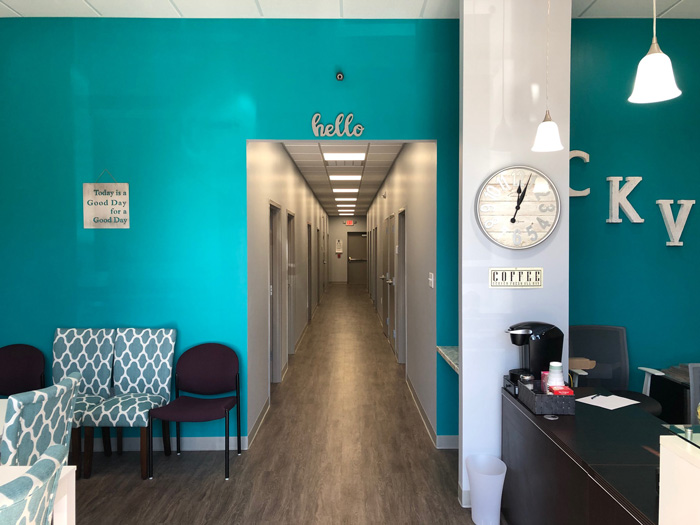 PLAN ADJUSTED
With her experiences as a patient, volunteer and part-time employee in a small optometry office, Dr. Watson imagined she would end up there, too. Yet she joined a group practice after her 2010 Northeastern State University Oklahoma College of Optometry graduation; she says the thought of taking on a business loan on top of her student loan at that point was overwhelming. As fate would have it, that place of employment is where she met her husband Kristopher Watson. He was working part-time as a tech as he finished his undergraduate degree, and they got married in 2013, around the same time that Dr. Watson took a clinical director position at TLC Laser Eye Centers. There she was the only doctor in the surgical center in Little Rock on the daily basis, and she also worked in conjunction with the off-site medical director and MD surgeon. Kristopher Watson transitioned to a position at a university hospital with consideration of becoming a PA.
Dr. Watson says that her confidence grew in her abilities as a practice owner as she ran that office location with the office manager. And while they had never planned to work together, Kristopher Watson kept facing hurdles on his own career journey. "I wanted him to have something of his own, but maybe that wasn't the way things were supposed to go," she says. They started talking about all the elements that they felt were amiss in the office where they had previously worked together, as well as the tremendous opportunity in getting to know patients, engaging their families and taking the time to talk about ocular health education. "We share a philosophy of how we want to practice, and it just fell into place."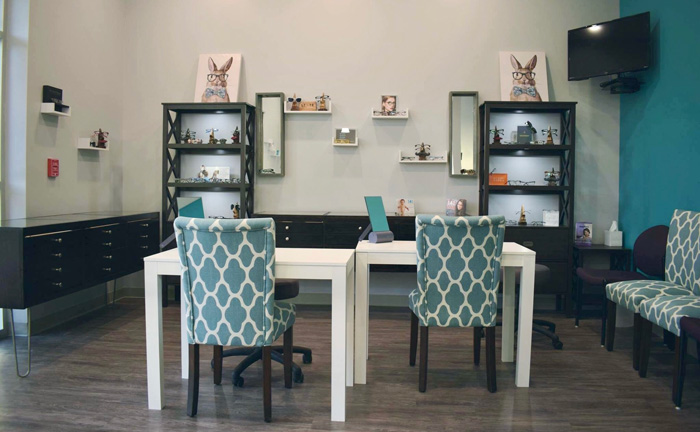 A PLACE TO TREAT PATIENTS LIKE FAMILY
Planning began in 2016. Dr. Watson and her husband determined that they would stay in Arkansas to open, but hit pause for a few months when they found out they were expecting their son. Then the search continued for an office location and was narrowed down to two openings. When their inquiries on their plan B space went unanswered, and they knew their plan A was the one. The office is located in a brand new shopping center with a health and fitness theme complete with a dentist, gym and sauna. They signed the lease in December 2017.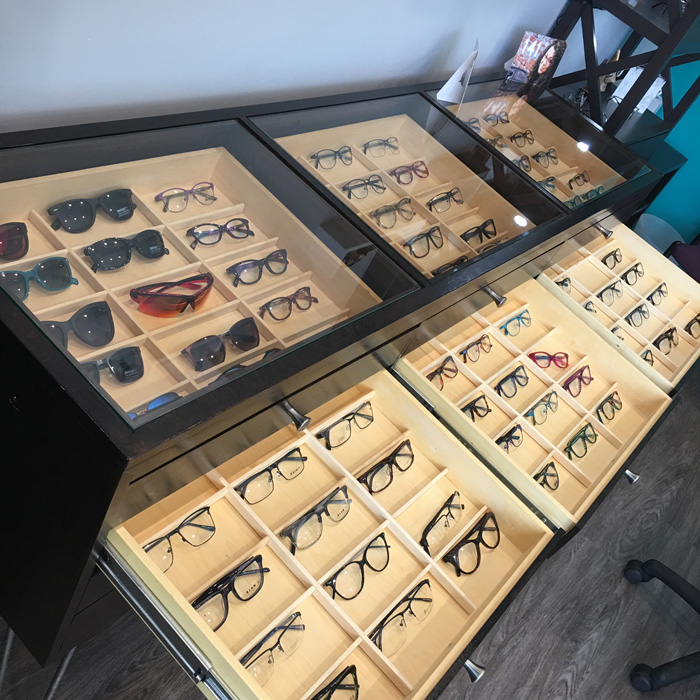 The space needed to be welcoming with a color scheme that was clean and modern but also relaxing. They chose a shade of silver gray as the main tone throughout the space with accents in turquoise and purple. The optical boutique is small and intimate with bookshelves and jewelry cases for displaying eyewear from all independent frame companies. "It's fun, funky and unique, and we wanted different options that customers won't see everywhere else," Dr. Watson says.
The doors opened to C Klear Vision Optique in November 2018, and family and friends were among their first patients. Dr. Watson became a partner doctor with TLC, where she continued to work per diem through August to train the new clinical director, so she also had some patients who have followed her for their annual exams. She also made a bold decision to not accepting any vision plans from the start. Instead, she plans to selectively add plans that apply to most of her patient base as it grows. "It would become an added benefit instead of stripping it away," as often happens in some offices when they decided to cut out plans of least reimbursement.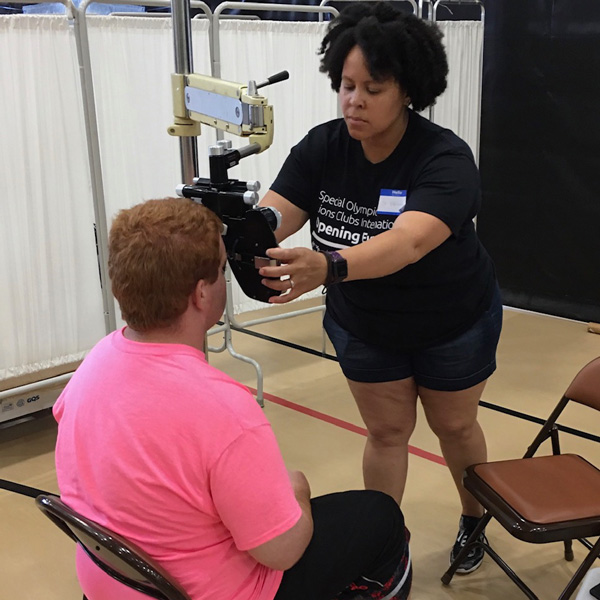 They thank the community for their patronage by giving back, dedicating time outside of the clinic at least once per quarter with these philanthropic initiatives from participating in local school screenings and health fairs to supporting the local girls' backpack drive. They're also networking with the other small businesses nearby to learn how they can support each other.
THE FUTURE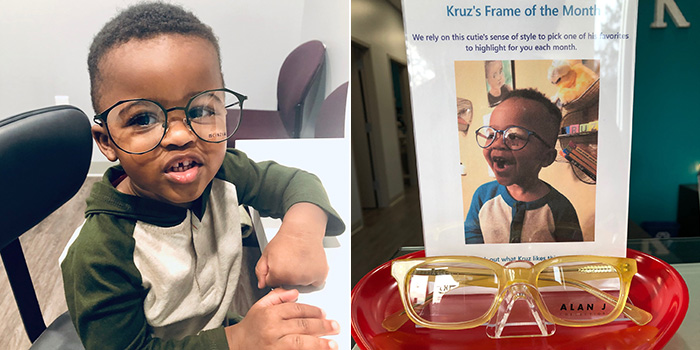 Dr. Watson is thankful for the patient base they've grown so far and all the new potential patients they can serve in the future. "We grew up here, and this is our family business as a husband and wife and our son is even a part of our promotional materials," she says. They are focused on providing the type of care that they would expect and appreciate through their love of the local community and what they do.
She hopes her story may inspire others, too, as she is one of the only female African American ODs and private practice owners in her state. She recalls never seeing an optometrist who looked like her as a child, but says that she didn't let that stop her from becoming one when she grew up. As a parent, she says that it's more important than ever for her to set the example that the sky's the limit, and you can achieve your goals.