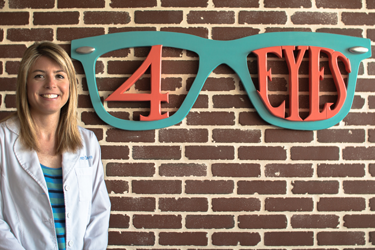 Courtney Dryer, OD, set out on her own to open her practice in Charlotte, North Carolina, just a year after her 2011 optometry school graduation. She had earned her undergraduate degree in business, and even completed a small business project on opening an optometry office, but there were still many lessons left to learn about running a practice. Dr. Dryer's been gaining on-the-job experience since day one, and she says that she's appreciative of the great advice she's received from her family members, many of those who work in banking.
Her plan from the start was to keep costs down. "When you have student loans, it's more difficult to open a practice, so the more you can do yourself, the better," she says. Dr. Dryer mocked up an office design on her iPad before consulting with an architect who created the blueprint. "Do your research," Dr. Dryer says. "I saved money by designing the layout myself." She incorporated office flow concepts into her design that she had experienced in other practice settings.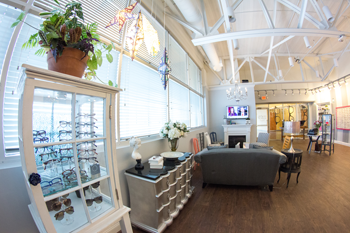 The creation of 4 Eyes Optometry was a family affair. For example, her brother created the practice logo, and her family helped repaint, reupholster and repurpose furniture and décor found at antique centers or other resale outlets. These expenses were minimal compared to hiring someone to design and decorate. "You can hire design help, but it doesn't always express your individuality and what your practice is about," Dr. Dryer says.
Dr. Dryer's vision was a boutique style shop—different and unique from the competition in town—inspired by her favorite stores such as Anthropologie and Nordstrom. With the whimsical, artsy design, "we wanted to create an environment where patients want to shop," she says. Dr. Dryer admits that she was a bit anxious to see how it would all coordinate, as she and her family worked on projects piece by piece. However, she says that she's pleased with the turnout, and the quirky elements tie together in the final design.
Her target demographic includes women making health care decisions for themselves and their families. Dr. Dryer and her one staff member focus on a high-impact, low-volume approach by providing thorough education and a personalized experience from exam to optical dispensary. "I don't want to see 20-30 patients a day," Dr. Dryer says. "I try to capture those patients with multiple-pair sales and high-end eyewear. I can reinforce messages about antireflective treatment while we talk about frame selection." Dr. Dryer says that a large percentage of her income comes from the optical. Dr. Dryer recently left behind fill-in work with a corporate location nearby to dedicate full-time effort to 4 Eyes Optometry. The practices is turning a profit after just two years.
Dr. Dryer shares insights and passion for style and office design as an author on newgradoptometry.com. She hopes to empower new grads to take on projects on their own and to tap into their networks for help. "Be resourceful and creative—and if you aren't, you probably know someone who is."