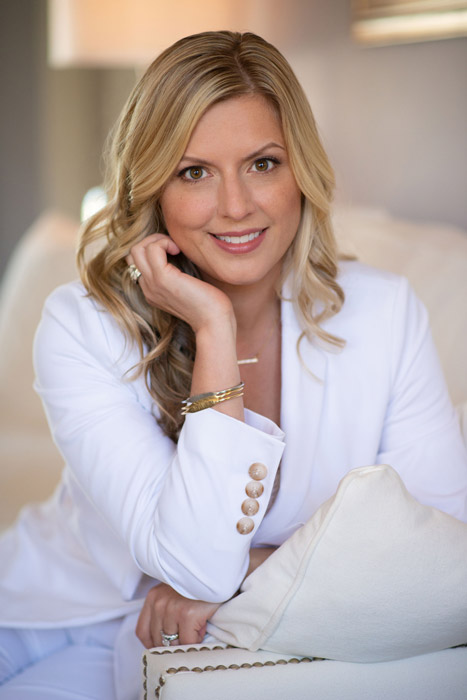 Sarah Johnson, OD, always knew she wanted to have a career in caring for patients, a desire which stems from her strong humanitarian love that she possesses. After practicing as an optometrist for ten years, Dr. Johnson knew she wanted to start her own practice but the timing was never exactly right. After a health scare a few years ago, she took some time to reflect and re-evaluate her life goals. She came to the realization that there may never be the perfect time to take that leap, and she says that she wondered if she would reach her retirement years and look back on what could have been. So she began to put a plan in motion to make her dream of starting her own practice a reality.
Dr. Johnson first saw the space that would be the future home of her practice about two years before she pursued it. Since it wasn't precisely what she was looking for, it got pushed to the back burner. Dr. Johnson says that her original goal was to be along US 41, one of the busiest streets in Fort Myers, Florida. As she got deeper into her research, she took note of super expensive rent and landlord fees that were double the cost of other locations nearby. Dr. Johnson decided to expand her search.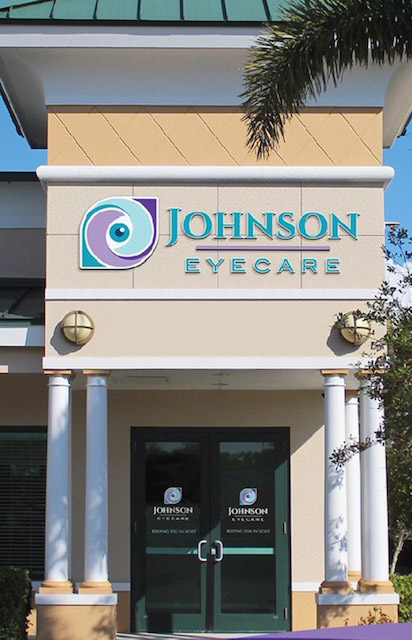 Then in September 2018, as she was coming out of a Target store, she spotted that space once again across the street. "The office was there, was built out well and would just need some different colors and minimal work," she recalls. There strip mall is on a well-traveled road, and her location is near a professional company, realtor and family medicine practice. This second look convinced her it had potential as a great starting place.
Her contract was contingent on securing her loans, and everything aligned over the next few weeks. She had keys in hand in October, renovations were underway to transform the space into Johnson EyeCare by November. Dr. Johnson tapped into her Costa Rican roots and her close proximity to the beach with the nautical theme in the optical space, yet the office still has the professional look of a medical facility. "I wanted a hybrid medical practice with a unique style in the optical." She used light grays and whites throughout the space with accents of a deep blue such as in her shiplap wall and seating. The purple and teal colors in the Johnson EyeCare logo pop on the wall behind the front desk.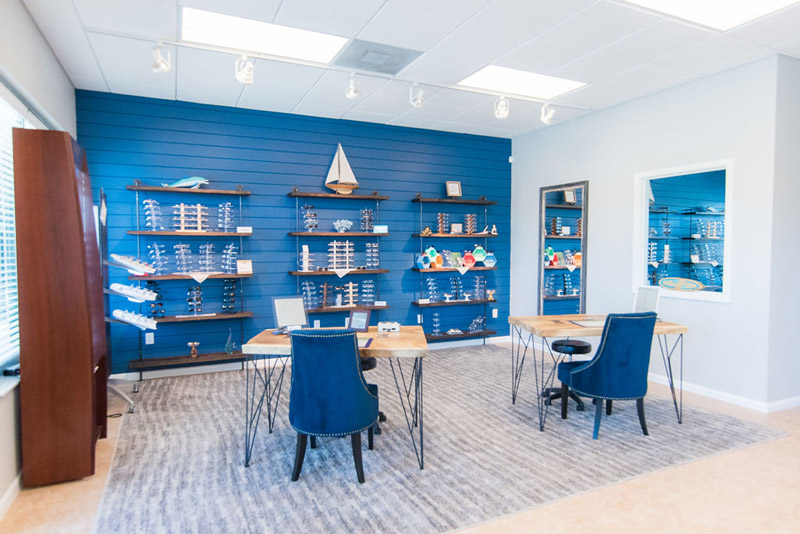 She found a lot of her artwork for the space on Etsy, and she collected other local and nautical details. Her tables, for example, are made of local wood that feature a live edge. Decorative sailboats and corals add visual interest and can be used to display eyewear. Dr. Johnson teamed up with her friends and family to paint the office and also the countertops, which offered great savings vs. re-laminating them. A handyman made her shiplap wall and installed shelving.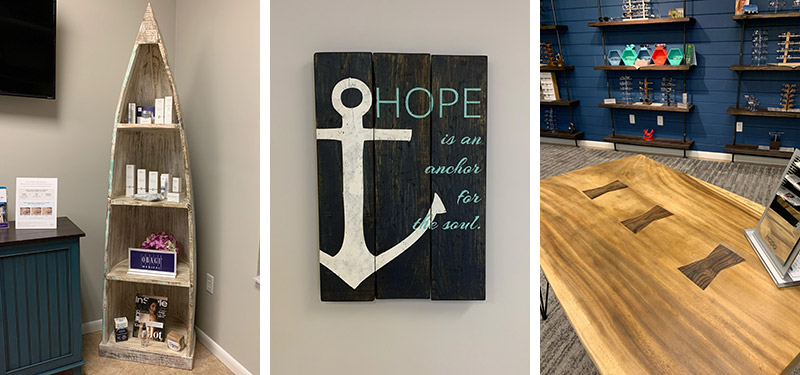 Since Dr. Johnson didn't have to invest in a big build-out, she allotted resources for much of the technology on her wish list including an OCT, retinal camera, visual field and topographer. After working in ophthalmology offices and fitting scleral lenses and difficult fits for a decade, she saw the value in adding this instrumentation from the start to offer a wider scope of care.
As the practice approaches its first anniversary, Dr. Johnson says that she has been pleased that patients react well to the clean, relaxing and beautiful space. Her business networking group meetings and introductions to local specialists have increased her referrals. She's also working with the Bonita Springs Lions Club each week.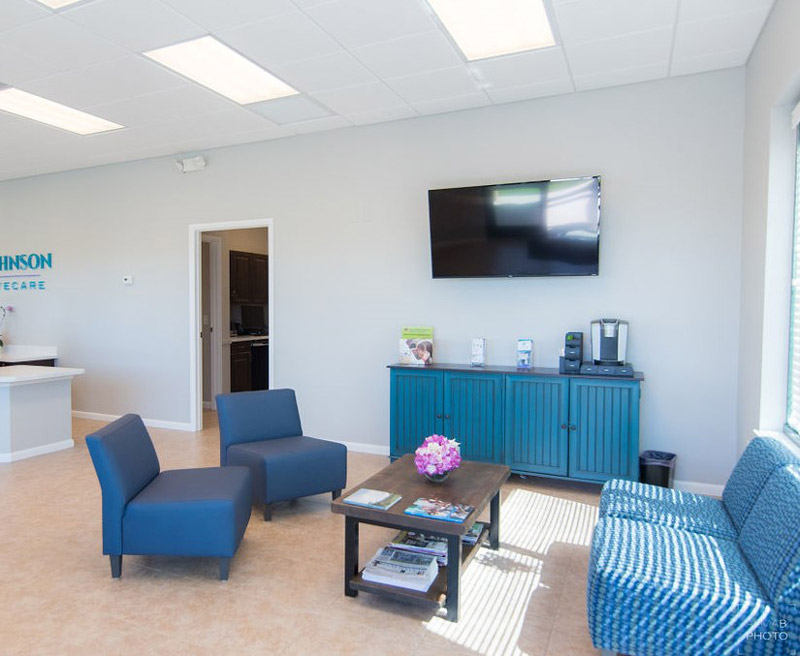 Dr. Johnson says that she is grateful for the independence she's gained as a practice owner. She had planned to work in the health care field since she was about six years old. "There was no other career in my mind," she says. But after her undergraduate studies, during the early years of her son's life, she first started out as a teacher. Dr. Johnson decided it was time to pursue her path in health care a few years later after going through a divorce, even though it meant attending school and being a single parent to a young child. "I realized I didn't have to stop my dreams as a single mom." She graduated from Nova Southeastern University College of Optometry in 2008.
For the next seven years, Dr. Johnson worked in an ophthalmology office in Massachusetts as her then-boyfriend completed law school. The couple returned to Florida in 2014, and that's when Dr. Johnson became serious about this venture. While there are many ophthalmology and corporate-affiliated practices nearby, Dr. Johnson saw opportunity in bringing her family-friendly office to the community. "We offer more of a personal touch with the exam so that patients feel happy and comfortable in sending me their kids and family and friends. We are a phone call away, and their eye care needs are met."