Sometimes, you just need to do things your way. When Mei Fleming, OD, was crafting plans a for a new practice a few years ago, that was the only way she wanted to go.
In August 2017, she opened Luminance Vision Optometry in a relatively small, sunny space in a new building in Lafayette, California. The location is just a few miles east of Berkeley, where she graduated from the UC Berkeley School of Optometry in 2001.
This isn't Dr. Fleming's first run at ownership. In 2003 she bought an existing practice, in nearby Alamo, California, but she sold it in 2007. "Taking over an existing practice was rewarding, but I noticed myself immediately wanting to make changes," she says.
Her new practice reflects her passion for two things: optometry and fashion. Besides the practice, she has also run a fashion blog called EyeLikeFashion.com. Helping patients find frames that fit their particular style is a big part of her practice. "I had this vision that I've always had since I was young: to help people feel good," she says. "Optometry naturally falls in line with that—and fashion, too. I love it when people feel good about themselves."
The practice's interior design looks more like a boutique than an optometrist's office, and that's no accident. "I'm the first tenant in this building, and it started as pretty much and empty shell," she says of her space. "When I designed it, I didn't want it to look like a traditional optometry practice."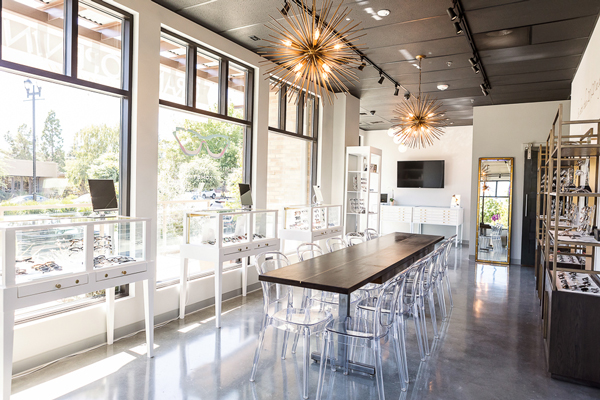 There is a wall of windows lined by white display cases, and more frame displays on the opposite wall. In the middle is a long communal table and clear acrylic chairs, instead of separate dispensing tables. A lot of attention is paid to the lighting and frame displays. "I wanted a place where the vibe would be, 'You're going to get high-quality products and, also, customer service.'"
Dr. Fleming provides a full menu of vision care and puts special emphasis on the patient experience. There's no reception desk or sliding glass window. Instead, patients or customers are greeted, offered a drink bar where they can get coffee, tea or espresso or sparkling water. And importantly, there's no sense of being in a pipeline, where you check in, sit down and wait to be called.
Colleagues asked her whether she's sure the setup will work. She has told them, "I know this is very different, but I have to go with my vision," she says.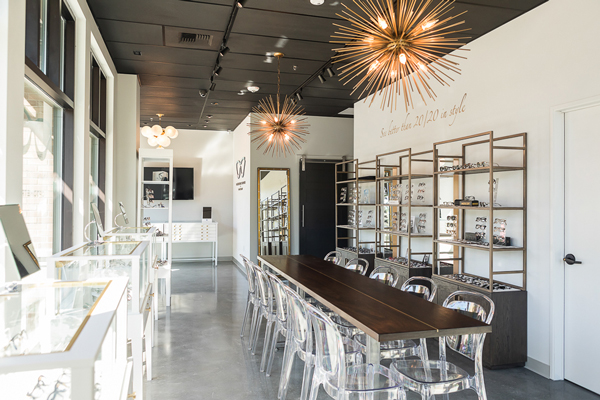 The communal table is her solution to what she saw as a needless isolation of patients. "Traditionally, there are small dispensing tables, and a lot of times we'd notice that patients would be sitting there, maybe with a couple of other people who came with them, and there would be this awkward silence between one table and another," she says.
The long, single table "lets people talk with each other about the frames they're trying" and gives everyone a place to converse. "I see that kind of interaction all the time now. One person will say, 'I love those glasses on you.' I wanted it to be interactive and feel very comfortable."
A big influence on the practice's look is Apple retail stores, she says. "It seemed that people found that kind of space inviting, where you can chat and converse."
Her fashion blog, which she started during the years after selling her first practice and starting this one, helped bring in patients. On the blog, she posts links to her favorite designers and models many of the fashions herself. "I didn't know it would give me a huge jumpstart on my practice," she says. "People come to my practice because they know about my fashion blog and want to be styled."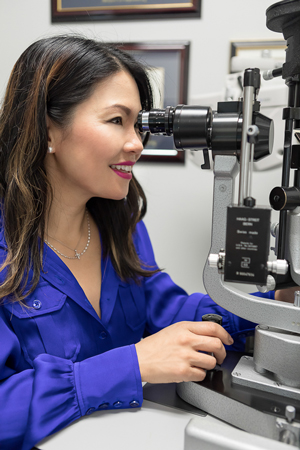 Her target market, based on local demographics, is a young mom in her 30s or 40s. That kind of client can lead to other family members coming in, too. And these patients want and expect some fashion expertise when choosing frames. Her optician is good at showing the options. "Everything we do is solution-based," she says. "I never want to sell someone frames that they have no use for." But many clients want a second pair; if they have a casual style and a professional style.
Plus, people come in wanting "a new look" and aren't sure what that means. The optician shows them frames in their current style and frames "a little bit on the edge. We'll tell them, 'Step a little bit out of your comfort zone. You'll thank yourself, and you will get a lot of compliments.' And we hear that. That's us doing our job."
Frames that lately are particularly popular at her practice include Face a Face, a French eyewear maker Face a Face, the German brand Mykita, and California-based Dita. Another frame maker, Jacques Marie Mage, designed based in France is also finding buyers.
Dr. Fleming has two children, one each in middle school and high school, and she's looking ahead to how she can handle a busy practice and parenting. She wants to expand her social media presence too, and that takes time. She has one lane now and a pre-test room that is already set up for another lane. "I feel lucky and blessed and that we're growing pretty rapidly," she says, but eventually she'll need more help, she says. "I learned from my first practice that part of being a successful entrepreneur is knowing when to delegate."