Vaugn Schneider, OD, spent a year after college working as an optician and paraoptometric to solidify her decision that optometry was the right health care path for her career. A research project on Lyme disease led her this way; while her investigation was underway, she had an annual eye exam and mentioned the project to her own OD. "He said, 'let me show you these pictures of the retina of a patient who had Lyme's Disease,'" she recalls, adding that seeing these images of how the blood vessels were impacted by the disease revealed how much more there was to optometry beyond glasses and contact lenses.
During her time at Indiana University School of Optometry, Dr. Schneider says that she enjoyed being a part of the private practice club and was interested in learning all she could about the business side of optometry. She joined a private practice after her 2016 graduation with the intention of buying the office, but the owner sold to private equity. She spent the next few years working in a variety of settings. "It was such a fun, unique way to experience so many different ways to practice," she says.
Mixing it up made her happy for a while and she enjoyed the people she was working with, but Dr. Schneider says that the pandemic forced her to pause and reevaluate where she was headed. "I realized this isn't what I wanted—and that was to get back to what drew me to optometry in the first place: the ability to practice the way I wanted and to offer patient care to my community."
SEARCH FOR A SPOT
Dr. Schneider spent some time researching offices of retiring doctors to see if purchasing would be an option for her, but there weren't many options available. "I was tired of waiting for it, so I decided to just make it happen," she says of her decision to open her own practice in June 2021.
A Wisconsin native, Dr. Schneider moved to the Milwaukee area after optometry school in 2016 and fell in love with the Bay View neighborhood. "I realized there weren't any optometry offices here, and there was a demand." The options for space were limited—the area is home to many historic buildings and older homes, but not many places for a medical space. Yet she kept up her search for several months until she found the future home of her practice in October 2021.
It was a brand-new construction of retail spaces that would be on the first floor below residential apartments. The space offers visibility from foot traffic as people visit the nearby cafes and restaurants, as well as those who live in nearby condos. It's also located at a main intersection not far from the highway, so there's lots of people driving by, too.
Construction was underway when she found the space, but it had just started. The retail area just had a gravel floor, so she had to wait for the buildout to be completed. While the timeline went about four months over what she had expected, Dr. Schneider was able to open her doors in late August 2022.
INTEGRATING INTO THE COMMUNITY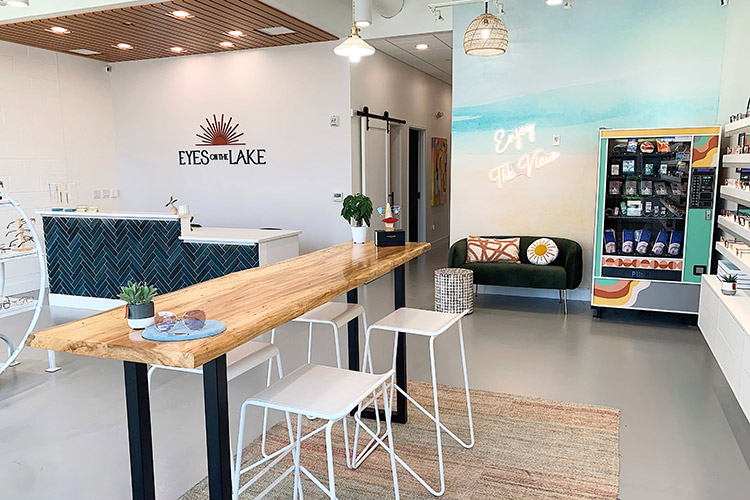 Dr. Schneider's number one goal and priority with the office was that it fit seamlessly into the community and would feel comfortable to the wide array of patients who live in the area, from the young families to those who have been there for 50+ years, as well as the young professionals who work downtown. She achieved that atmosphere with a light, airy and welcoming style brought to life from her Pinterest boards. "It's a space where people can walk in and not feel intimidated. They can have some fun looking at glasses." Since Milwaukee is situated on a giant lake, she wanted Eyes on the Lake to exude that "feeling of being relaxed and hanging out by the lake."
The Bay View area of town where the practice is located is very artsy, so Dr. Schneider wanted to tap into the local scene by offering her wall space to local artists. It's a rotating display, and she doesn't charge the artists anything to display their work. "It makes our space look beautiful," she says. There's a QR code listed for each artist so that patients or customers can purchase the art, as well.
MEET DONNA, THE VENDING MACHINE
Another unique addition to the practice is "Donna," a refurbished vending machine that Dr. Schneider added to the practice. She painted it to give it a fun and funky 1970s vibe. Inside is an array of featured products from eye drops to eye cleaning products, vitamins, lid wipes, doggie sunglasses and even quirky car air fresheners from local artists. "There's a little bit of everything to make it fun."
Dr. Schneider wanted to start lean, but she knew there was value in having two exam lanes, even if they weren't both furnished right away. She hopes to eventually add another doctor to the practice. A third room is dedicated to dry eye treatment.
Her technology wish list when opening the practice included optomap instrumentation for retinal photography, as well as meibography and anterior segment camera for managing dry eye. After a few months open, she's added Blephex treatments. She also plans to bring in radiofrequency treatments as she builds this segment of the practice.
SPREADING THE WORD
The local chamber of commerce has done some advertising for the practice, and they helped celebrate the office's grand opening in November. She's also dropped off gift baskets for local small businesses and delivered packets to other health care professionals in the area to let them know she's available for their referrals.
For now, Dr. Schneider is seeing patients on Mondays, Tuesdays, Fridays and Saturdays, and she works a part-time telehealth position on Thursdays, an opportunity with great flexibility as she builds up her patient base at Eyes on the Lake. She started with one full-time optician, and by the end of 2022, she had hired a full-time front desk staff member, as well.
Dr. Schneider encourages her colleagues with this dream of ownership to go for it. She's grateful to her colleagues in the profession who were supportive and helpful through the process. She also gives thanks to her consultants from iCare Advisors who opened her eyes to everything she didn't know, saved her money and answered her questions.
She offers some of her own advice for the journey. "Be comfortable being uncomfortable. If you want to do it, go all in and do it. It's only been a few months open, but I feel so happy that I did it, and I don't have a single regret."