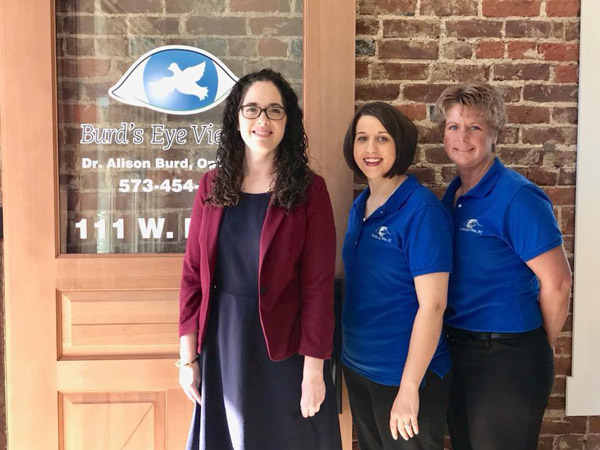 The leap of faith required to cold-open a solo practice isn't so much a leap as a series of smaller steps. Allison Burd, OD, has already taken some of the biggest steps—finding the right space and designing it—and opened her doors in late December.
The next step is full independence. She's building the patient base while working part-time at the independent practice that she has had for six years in a Walmart location.
Dr. Burd's practice—called Burd's Eye View—is in an old-fashioned storefront building in downtown Farmington, Missouri. It's not far from where she grew up, in tiny Perryville, a town about 45 minutes south.
The building has about 1,400 square feet, and Dr. Burd hired an architect to help with the design. Work started last July and she opened December 26, 2017.
"We gutted the building," she says. It had been empty for a decade before she leased it, and the owner helped with some of the upgrade to things like plumbing and electrical wiring.
She has two exam lanes, one of which is wheelchair accessible, a small contact lens office and a small pretest room. The lab area has a lens edger, and she also found room for a small office for her and a kitchenette area for the staff.
She made choices about the design coloring and elements like the frame boards, she says. "I spent a lot of late nights on Pinterest" searching for ideas. "I wanted the wall color to be kind of neutral but not institutional white or beige, just something that if we changed colors I wouldn't have to repaint."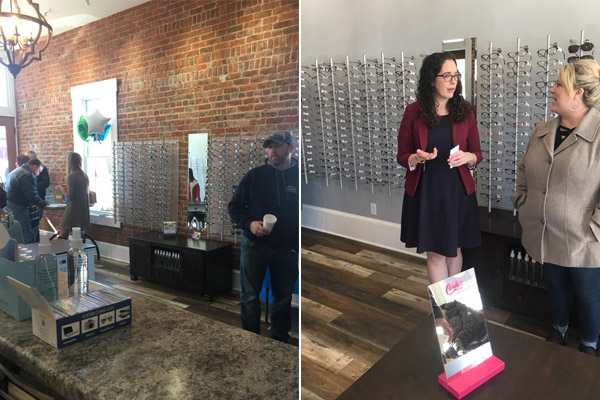 The wood-look flooring gets a lot of compliments and goes well with the exposed brick interior wall and big front windows. She hired a mason to install a new handicapped-accessible door on the brick-wall side, replacing one of two big windows there.
For frame displays, she wanted something "that was kind of simple" and wouldn't cover up the exposed brick. Plus, she's in a small space and didn't want it to feel crowded. "A lot of frame displays you see are big cabinetry, which are beautiful, but wasn't going to work for my space," she says. The acrylic boards she chose were made by a company in China to her specifications, and have stainless steel rods supporting the frames.
She's at her new practice three days a week, and works the other days at the Walmart location in Desloge, Missouri, a few miles north. "It allows me to have a little extra cash flow while we're trying to get busier," she says.
The launch has gone well so far. "With any new practice you're going to be slow, but I've been pleasantly surprised," she says. "We've gotten lots of good support from the local ophthalmology practice, and I'm getting a lot of referrals." The local business community is very supportive, too, wanting to see a new business succeed.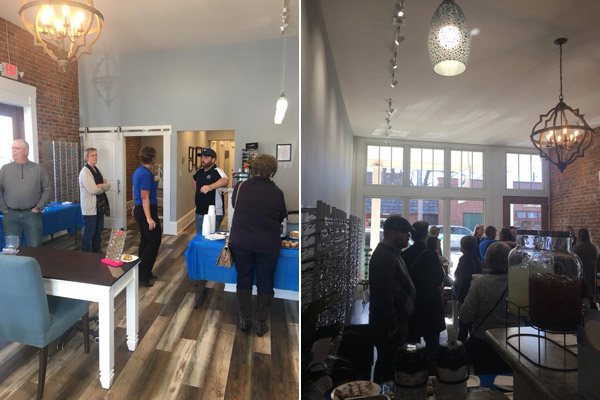 The decision to go into an older building and renovate was more complicated that a new space would be, but it was worth it, she says. The costs weren't that much higher, and she got the location she wanted. She equipped both lanes in her practice though she's using just one for now, so there's room to expand.
She graduated in 2009 from the Indiana School of Optometry and worked for a while in a large optometry practice in Missouri before finding the position with the Walmart location. That put her closer to her hometown, so the next step was opening her own location. "I've always wanted to do private practice," she says. She and her husband, Bradley, have three children. They go to a school just a few blocks from her office.
Before optometry school she'd worked as an optician for Walmart, and likes that part of the job too. "For me right now it's great," she says. "We have a lens edger and I can make glasses for patients. I love it."