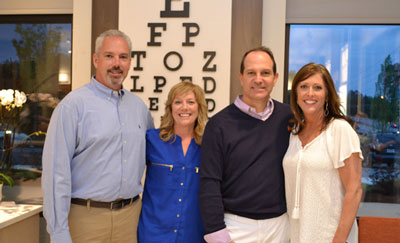 Shara Draper, OD; her husband, Brian Mays, OD; and partner, John Valle, OD, anticipated moving their practice to a new location for many years. They opened TrueVision Eyecare in Acworth, Georgia, in 2006, in a 1,500-square-foot space, and they knew a move would be necessary in their future. The good news: there was a potential space just across the street. The bad news: the recession hit. However, the doctors remained determined; TrueVision Eyecare made its move after years of planning, opening its doors in the new space on March 1.
Last year, the doctors began preparing by expanding their team of staff while still in the old office. "We started hiring several months prior to the move, and we were crowded," Dr. Draper says of that time, when the doctors gave up their office spaces to make sure everyone was thoroughly trained and ready to hit the ground running once the move was made.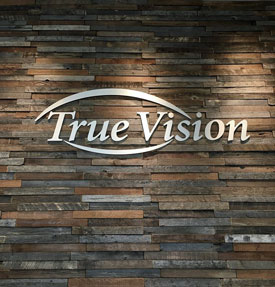 Dr. Draper and Dr. Mays, along with Dr. Valle and his wife, Barbara, worked with an architect and designer as they designed the space. They divided up responsibilities, each taking on an area—such as equipment or furniture—so that they could balance the workload. They were able to repurpose most of their old millwork, a commanding design element from the old office, for the new office. Dr. Draper knew a millwork expert from her neighborhood in Atlanta. "It was updated with modern hardware with a sleek European look, and it all works well together, thanks to our designer," Dr. Draper says. "He knew how to do what we wanted, and it was a huge savings that looks good." The combination of modern style and wood accents carries throughout the office, also on the barn doors in place for the pretesting and special testing area. Dr. Draper recommends having a project manager as a liaison between your designer, architect and contractor. It's helpful to have a team member who can provide guidance from past experiences and won't overlook any detail. "You don't know what you don't know."
The practice shut down operations for just two days. "It was a big effort by everyone, and it was exhausting, but it was well worth it in the end," she says. At 4,500 square feet, the new office has allowed the doctors to designate more space to all of the areas that are important for the practice and its growth, including the optical, contact lenses and medical care. Now they have five exam lanes, with potential for more, instead of two. "We planned ahead so we could add more, but we wanted to keep it comfortable and homey and not too large," she says.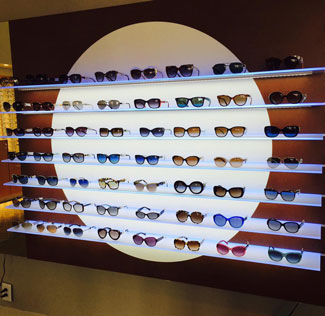 Frame inventory has more than doubled with the move, from just 800 frames to 1,800 with more options for the whole family. As InfantSEE® providers, offering no-cost exams for children under one year old, the practices draws a lot of young families, so they need a wide variety of frames to cover a span of ages and personal styles. The doctors also designated a sun center, a dispensing bar for contact lenses and glasses and a beverage center for customers and patients who are waiting.
Dr. Draper has been focused on building a dry eye clinic in the practice, a project she has been invested in for the past six months. She designates one day per week to her dry eye clinic, and patients are prescribed an individual protocol of testing, treatment and follow-up care. They've also added an OCT and visual field analyzer, two wish-list items that they never had the space for in the previous office. Now this instrumentation has its own area of the practice.
The doctors use the practice entryway for signage to promote some element of the practice and educate patients. For example, there may be a display on the new digital eye charts or the importance of sunwear. "It seems like we get one person a day who says, 'I didn't know you had sunglasses,' so we want to give them as much information as possible," Dr. Draper says.
Back when the three doctors opened TrueVision, Dr. Draper and Dr. Mays left their Lenscrafters leases to gain greater control over their schedules and flexibility with a growing family. Yet corporate-affiliated practice remained an important factor as they grew TrueVision Eyecare and still is a part of their business plan today. "It's difficult to have an instant patient base when you start cold, so I took on two rural Walmart practices," Dr. Draper says. "As we grew our patient base at TrueVision, we were able to have an income." The three doctors still work in the Walmart practices—Dr. Draper is there for one and a half days and spends two days at TrueVision. Independent contractors cover the other hours of the week. Dr. Draper says that she appreciates the way both practice settings have allowed her to spend time with her family and impact patients in the community.