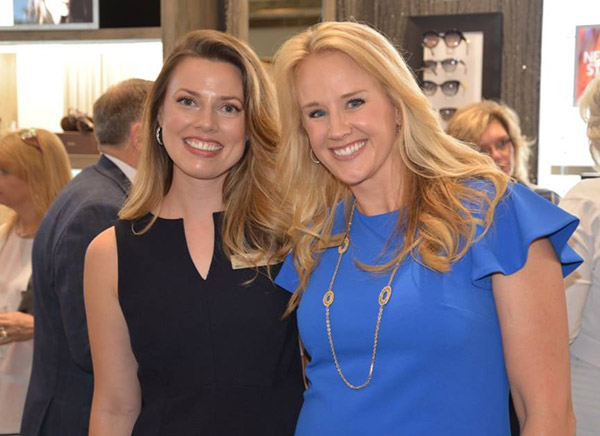 In February 2017, Belinda Dobson, OD, held a staff retreat and unveiled the plans for her new office space to her team. And after that, she could hardly contain her excitement in telling her patients. "I told every patient during his or her exam, 'The next time I see you, it will be in the new office,'" she says. "It's been a lifelong dream to build my own space. We think of our patients as family, and it's because of their loyalty that we have this opportunity."
The 13-mile move from Bryan, Texas, to College Station was years in the making, and these two towns—known in the area as the Twin Cities—have provided Dr. Dobson with the perfect canvas for practicing. She purchased her practice a decade ago, knowing that by the 10-year mark she wanted to be "invested in the real estate with my own building and be capable to grow with the demand for more doctors to facilitate patient care." So the news wasn't entirely devastating when she learned that her leased office was not going to be available for purchase. "The space was antiquated," Dr. Dobson says. "There was a disconnect between our vision for technology and being the best vs. our space being outdated. I needed a game plan."
Relocating to College Station was the next step. It's one of the fastest growing communities in the country with lots of new commercial and residential construction, and Dr. Dobson lived there while she attended Texas A&M. She found her property in 2015; it's just over an acre, with room to build an additional space for rental opportunities for another health care business such as a pediatric dentist or urgent care facility.
Dr. Dobson waited about two years for the right time to build, fine-tuning her plan for the new office over that time. "I wanted to increase the optical space to create a shopping experience that really popped," she says. "The experience should be something that patients want to do, instead of have to do."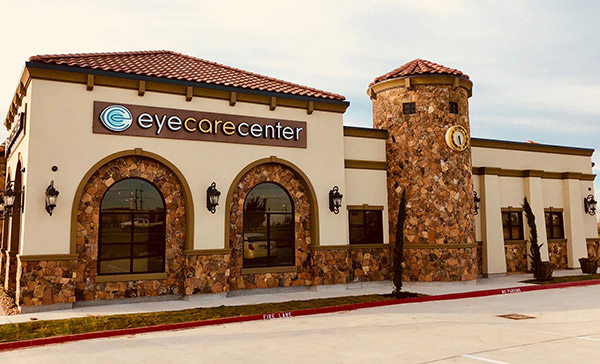 Maximizing efficiency and improving office flow were also top priorities. Simple additions, such as making sure every single room had a sink, would cut minutes from patient encounters. There's also a contact lens suite with two bars situated at different levels: the lower level is for specialty contact lens fits like scleral lenses, and the upper counter has enough room for routine contact lens insertion and removal instruction for three or four people. "It's nice to not have that happening in the optical dispensary, and it allows for more patient privacy." There's also plenty of room for her growing collection of high-tech instrumentation. One of Dr. Dobson's goals for the practice is to add at least one new piece of technology every year.
After years of brainstorming and planning, the construction process moved quickly—with a groundbreaking in October 2017 and a move-in date of March 1, 2018. Dr. Dobson welcomed Abby Zike, OD, to the team at Eye Care Center in December 2017, while construction was underway. "I was searching for the perfect match for an associate doctor for three years," she says. "Customer service is really important, and I needed someone in line with the tempo so that patients have a good encounter. She's done amazing, and it's been fun having her here."
Dr. Dobson says that the inspiration for the design of the 5,000-square-foot space came naturally. Since she loves Mediterranean architecture, she chose a Tuscan style exterior with stucco, rock and a clay tile roof. "I grew up in a ranch in North Texas, so we incorporated some fossils into our rock work outside," she says, "bringing a little bit of my history into the building."
The interior is sleek, cutting edge and modern with a touch of rustic. "I wanted it to be different than anything my patients have been around from the moment they walked in," Dr. Dobson says. "We want patients to know this is a different space, but there is consistency in our service and value." She wants to make them feel comfortable and at home, so she isn't planning any price increases at this time and she continues to stock frame products that hit all marks on the budget spectrum.
Dr. Dobson paid close attention to every detail from the optical to the smaller areas like the restrooms. "You can tell a lot about a place from its bathroom," she says, laughing. By incorporating marble and chandeliers, there is an elegance that can't be missed.
Dr. Dobson kept patients in the loop by posting lots of photos and live videos on social media as the project unfolded. She anticipates most patients will stay with her, as her new office is located just off of the highway that connects the Twin Cities. She knows that some may not want to make the drive, but she remains confident in picking College Station. "The amount of growth we've had since the move is more than in the whole time that I've owned the practice."
Building Tip: Dr. Belinda Dobson highly recommends calling upon the references when selecting a builder. She says that it would have saved her a lot of headaches and the duty of having to fire the first one she hired.