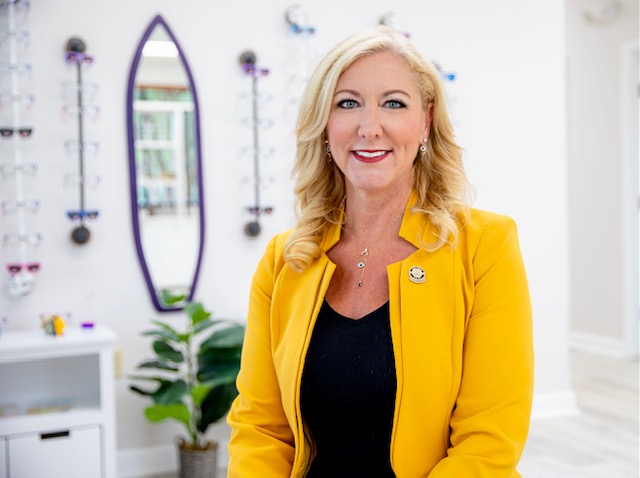 As Barbara Horn, OD, was advancing through the American Optometric Association leadership structure, the travel requirements of the role made her realize that she "needed a change," she says. "I thought that if I was going to make a change, I'm going to go somewhere where it's warmer year-round." She moved to South Carolina and became an employee for five years while she finished out her terms as president in 2019-2020 and immediate past president, a term that ended in June 2021.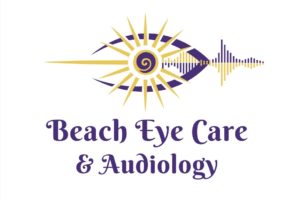 All the while, she envisioned what her own practice might look like. She's no stranger to practice ownership; she owned two practices in Michigan and has worked as an associate. But not only does South Carolina offer the sun and sand, it's also "a great state for ODs," she says. "It allows us a broad scope of practice." So she began the site search for her new practice.

A PERFECT SPOT
She looked at plenty of locations that were good– but not great. She had particular ideas in mind – and when she found the place that would eventually become the home for Beach Eye Care and Audiology, there was one factor in the cons column: it was about 500 square feet too big. Even so, she says, "I wanted it–it's gorgeous. I thought, 'What can I do to use the space?'"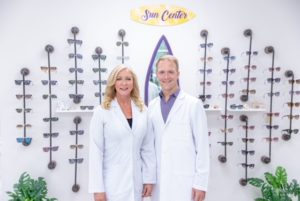 She considered other professionals who might be able to use the space and complement her new business. "I thought eyes and ears go together with a variety of conditions," and she reached out to the state society of audiologists to see if that group had a lead to a doctor who wanted to practice in Myrtle Beach. Within an hour, she was contacted by Jason Wigand, AuD.
"It was a perfect fit," she says. "I have 74 percent of the space and he has 26 percent. We share some of the marketing, and our patients see what the other offers. For example, my patients get a free hearing screen, while his patients walk through the gorgeous optical."
Plus the location was perfect – blocks from the beach and just nine miles from her house.
BEACH VIBES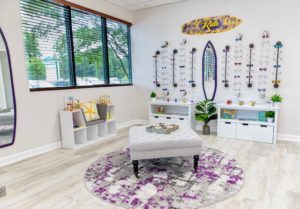 The optometry side of the practice contains a pretesting room, a contact lens space, two exam lanes, break room and a personal office. The practice logo incorporates an eye and ear theme. The office's beach theme is carried throughout – in a fun way. Boat cleats and roping serve as some creative frame boards. The signage for the frame areas are painted small surfboards. To create the mirrors on the walls and dispensing tables, Dr. Horn painted decorative wooden surfboards that she then had coated with mirrored glass. The practice has pops of color among its bright and airy feel.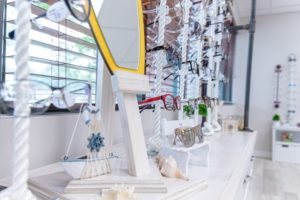 NOTING THE CHANGES
Since her time as a practice owner in Michigan and since becoming a practice owner again, Dr. Horn has been pleasantly surprised as the growth in sophistication in the diagnostic technology. She purchased an Optos, visual field analyzer, OCT, topographer, autorefractor and a new digital lane in addition to her other lane and previous equipment. Even the electronic health records have become more advanced.
She's had a bit of a learning curve. In her prior ownership roles, she was focused more on the clinical responsibilities and less on the practice management duties. To help her shorten the learning curve and get the support she wanted, she joined Vision Source before she opened. Not only did that help her stretch her budget, but it also provided her with a network of ODs – most notably the Vision Source administrator Tammy Tully, OD – and others who have all been willing to share their strategies for success.
Looking back, Dr. Horn recalls the benefits she found when she stepped out of her comfort zone. "When I opened in Michigan, I thought I'd never leave," she says. But as she encounters each new adventure in her career, it's brought positive changes. "People shouldn't be afraid of change. I'm happier than ever with this beautiful practice."