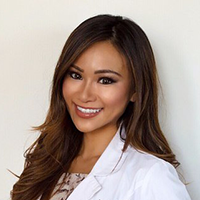 Jennifer Tsai, OD, spent a year evaluating the best spot in New York City to open her practice, analyzing the pros and cons of existing office spaces versus new construction. Ultimately, in 2019, she chose the new Hudson Yards, a huge commercial and residential redevelopment project under construction near the Javits Center and Hudson River. "It represented the type of neighborhood that would best fit my brand experience," Dr. Tsai says. "It is modern and futuristic, with a large focus on luxury wellness and lifestyle."
It was a perfect match for her vision for Line of Sight: "an optometry practice meets luxury optical retail meets wellness—a unique one of a kind experience," she says. "We want it to be an enjoyable experience for patients so they want to come in because they are excited to be there, and leave feeling happy. Overall eye health and well-being shouldn't be compromised." Healthy eyes are prioritized before there is a problem, and patients would receive a wellness report for their eyes as well as recommendations for treatments for digital strain, dry eye and myopia control.
She was on target to open by early April when the COVID-19 pandemic left her out of work at the office where she had been employed and on hiatus with her own office when non-essential construction was halted.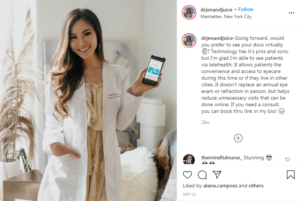 JUMPING INTO ACTION
Dr. Tsai's office space wasn't ready for patients to visit in person yet, so "I had pivot to telehealth to see patients. I realized I had a vehicle to provide alternative care."
She rolled out these services within just two weeks, and it was a success. She often had four or five patients per day, ranging from styes or infections to reordering contact lenses. It was a great way to introduce her new practice and encourage them to visit her in the office at a future date.
FINALIZING THE SPACE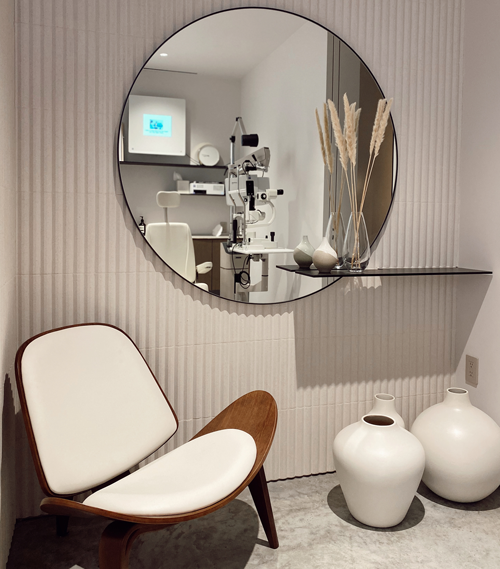 Line of Sight opened its doors in August 2020, and Dr. Tsai was thankful to be able to occupy the space finally. As she pulled the final design together, she didn't expect patients to fill the schedule right away—but they surprised her. She's had an average of 10 to 12 patients since the first day. "With the pandemic, our construction was severely delayed and we have not been up to speed on creating a proper website or marketing. But I recognized the value of providing exceptional service early on and focused on that. Because of that approach, our growth has been purely organic from word of mouth, existing patients telling their friends and family, online patient reviews, as well as a strong social media brand presence. We were initially overwhelmed and understaffed with a 3 person team for the amount of initial patient flow, but we are lucky and being busy is a good problem to have".
For the first few months, Dr. Tsai operated only out of the clinical side—her exam rooms and wellness area—as her optical was being completed in the front office. She invested in a topographer and a Zeiss Cirrus for its OCT and fundus photo capabilities, as well as its ability to provide wellness reports. "Having everything digital has made the patient experience more comfortable and modern, and patients appreciate that." Most of the experience is touchless, a mix of concepts she already had in mind combined with COVID-19 precautions.
The pandemic delayed her custom, metal frame wall for several months, yet the extra time gave her the chance to rethink her optical display plans. "Instead of offering 300-500 frames, we can make it more curated for patients. They will be more comfortable trying on eyeglasses and will have more one-on-one time."
By November, the space was nearly complete with its clean and timeless look. The studio inspiration draws from natural elements found in nature and  evokes a sense of timeless hence the name Line of Sight. "The store has shades of organic earth tones, with different shades of grey, black and white," she says. "The space is designed to elevate the patient experience; we want patients to feel like they are in the luxury of a residential home and not a typical doctor's office."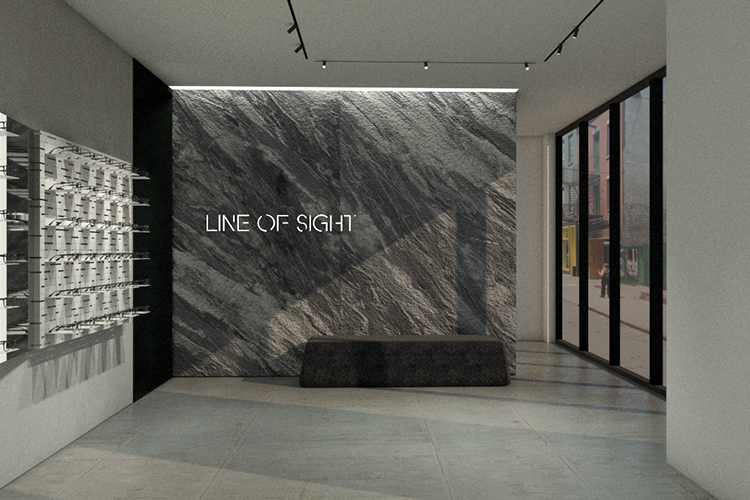 THE SILVER LINING
Despite the COVID-19 curveball, Dr. Tsai says that the timing has actually been quite right, as her brand is on target with the rapid changes occurring in the health care industry. "This year we've learned that our health is really important, and patients are realizing that includes their vision." As individuals spend more time on their digital devices, they may start to notice mild vision deterioration or strain and seek a preventive care approach. Dr. Tsai is happy to be the one to step in to provide that care. "I have a vision of how I want to practice and what I believe patients would deeply appreciate," she says. "I started from scratch to elevate the doctor's office experience to make it fun, new and inviting—starting from how it looks and feels, to the services and products to be offered."
ALL IN
Dr. Tsai has decided not to seek employment elsewhere as she builds the business. "I've focused my attention and time here instead of spreading myself too thin by working somewhere else." Her partner Jonathan brings a financial background to the business, and Dr. Tsai has also hired an optician Gil, who has years of experience in the field. With her increasing patient volume, she anticipates hiring another optician and a receptionist in the near future.
Dr. Tsai remained determined as she faced delays from the pandemic to local rioting and protests, and she encourages her colleagues to forge ahead even during difficult times. "Never give up on your hopes," she says. "Learn to pivot and adapt to surroundings, and you will grow."