Charlotte Love, OD, says that she envisioned herself as a practice owner 5-10 years after her 2019 graduation from the Michigan College of Optometry. But after seeing the tremendous need for eye care services on the rural Big Island of Hawaii, she accelerated her timeline and opened Aloha Love Eyecare on June 18, 2022. Her mission is to provide eye care for your 'ohana: from keiki to kupuna, the Hawaiian words for children to elders.
The process began about a year earlier when Dr. Love was discussing a collaboration with an investor. But their visions didn't align; he was focused more on the optical side of the business, while Dr. Love knew a business could thrive with comprehensive eye care services for the whole family, as well. The island of Hawaii is underserved medically; it can take over three months to get an appointment with a primary care physician. If a patient needs specialty care, such as emergency retinal surgery or a corneal specialist, they must fly to Oahu for those services.
She decided to pursue the venture on her own, connecting with iCare Advisors for guidance. Her advisors introduced her to a realtor based in Texas who studied traffic pattern, foot traffic and square footage to make recommendations for Dr. Love as she searched for a location. Ultimately, they found an ideal space where she could reach locals and tourists, right next door to a Starbucks, in Kailua-Kona, Hawaii. On Halloween 2021, Dr. Love, signed her lease and was on her way to opening the practice.
The 1,300 square foot former retail store had been vacant for several years, so the space was gutted for a fresh start. The process of building and permitting moves a bit more slowly on "island time," so Dr. Love was thankful for her general contractor David Rawls at BenchMark Construction. His expertise and connections kept everything moving along.
Dr. Love describes the office style as a combination of an island feel mixed with a medical boutique. She incorporated different shades of blue and natural woods, and there are surfboards hanging among the optical displays. The neon sign that proudly displays "Love Aloha" is sure to catch your eye when you step into the space. "I love design, decorating and color," she says, adding that she wanted to be an interior designer when she was a child. "My mom is an art teacher, and my dad is an engineer. I'm a mix of art and science, and it was fun to be creative."
Decorating the space did present a set of challenges, she says. Dr. Love worked with a design team, Karina K Studios, based in Chicago who recommended pieces of furniture and décor, yet many of the manufacturers could not ship to Hawaii or the shipping cost doubled the price of the item itself. "There was a lot of compromise, but I'm happy with the final product. It was a unique situation."
Dr. Love had a few pieces of must-have technology to start: a Maestro OCT for photos, an autorefractor, a visual field, a topographer for specialty contact lens fits and an edger to cut glasses on site. "There's only one other place on the island that cuts glasses, and we can get a few tourists a week who lose their glasses in the ocean. People are excited that we will be doing that."
One of her two exam lanes are furnished for now, and she hopes to add a second doctor to the practice in a few years. For now, she plans to use the second room for specialty services. "I love working with kids, ocular disease and low vision," she says. She found her passion for low vision care during a rotation in a low vision clinic in Detroit. "There aren't any low vision specialists on the island, so people here just don't get the care." That's been especially challenging in the past few years as many of the state's services for the blind are still suspended due to COVID-19.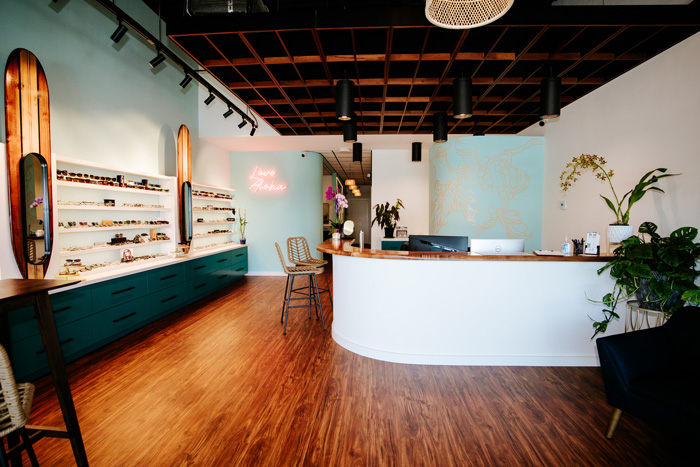 She's still investigating the best marketing strategies for spreading the word about her practice. She's had a few patients follow her from previous places of employment, but not too many since she was on the other side of the island, about 1.5 hours away. Word-of-mouth referrals, known as coconut wireless on the island, have a strong impact. She's been experimenting with other ideas on social media and also in person. "My backdoor is by the Starbucks drive-through line, so I put up a chalk sign that said, 'Can't read the Starbucks sign? Call for an appointment." She said that brought in a few phone calls and laughs.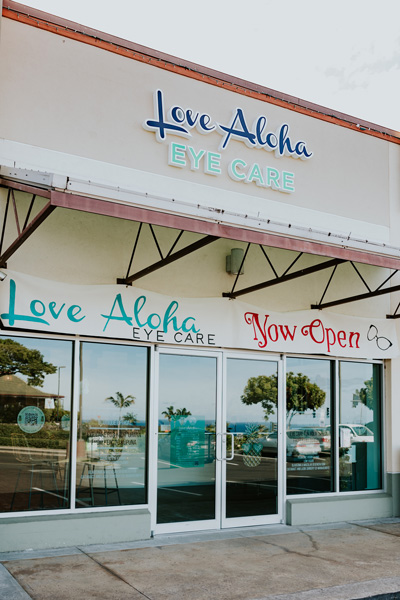 Dr. Love's genuine passion and enthusiasm for her mission is evident within moments of speaking with her. "Being able to build this mix of medical eye care plus fashion and design is literally a dream come true," Dr. Love says. As she builds her practice, she continues to fly once a week to work on Maui. "It's been a lot of hard work and hustling jobs, but I hustle because I love it."