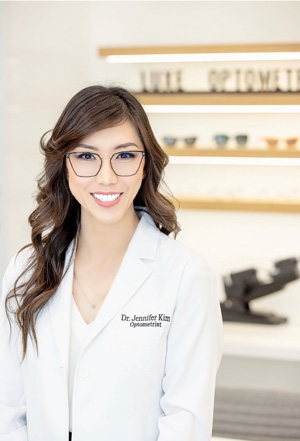 Who knew that pancakes could lead to private practice ownership? That was the case for Jennifer Kim, OD, who says that when her daughter requested birthday pancakes from Corky's Kitchen and Bakery in Claremont, California, she found her future practice location.
They walked around the plaza after breakfast that morning in March 2022 and came across an empty storefront without any signage. Dr. Kim inquired at The UPS Store next to it, and she learned that the former tenants—a Super Cuts hair salon—were negotiating an exit so the space had not been advertised yet. She got in touch with the landlord who loved the idea of adding a health care provider in the high-traffic area. With anchors in Starbucks and Whole Foods, Dr. Kim couldn't pass up the great company plus excellent visibility off the freeway.
RETURN HOME SPARKS OWNERSHIP INTEREST
Dr. Kim and her family had recently moved back to southern California where she grew up after six years of living in Michigan near her husband's family. After years of working for others in a variety of settings, she had decided it was time to pursue her plans for practice ownership. She had been searching for a location, yet found that many local buildings were outdated. She also looked for potential practices to purchase, but no businesses of interest were available to buy. The birthday celebration led her to an area she hadn't considered, and just a few months later in July 2022, she signed the paperwork to sign her lease.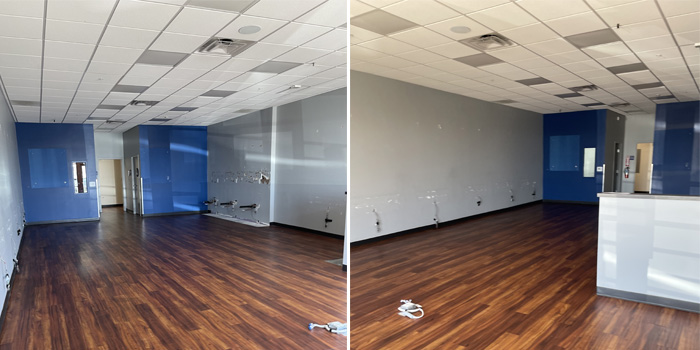 The space was gutted to create a cold-start practice that would set itself apart from other practices. Dr. Kim chose a palette of gray and white with black accents to create a modern boutique style optical and space that felt clean, light and bright in her 1,100 square foot office. "It's not a lot of space, so I have to think about making it feel big when it's not." For example, high ceilings and open light windows would give the illusion that the narrow space is bigger than it is. Wooden floating shelves to warm up the space, and glass cabinets display high-end products.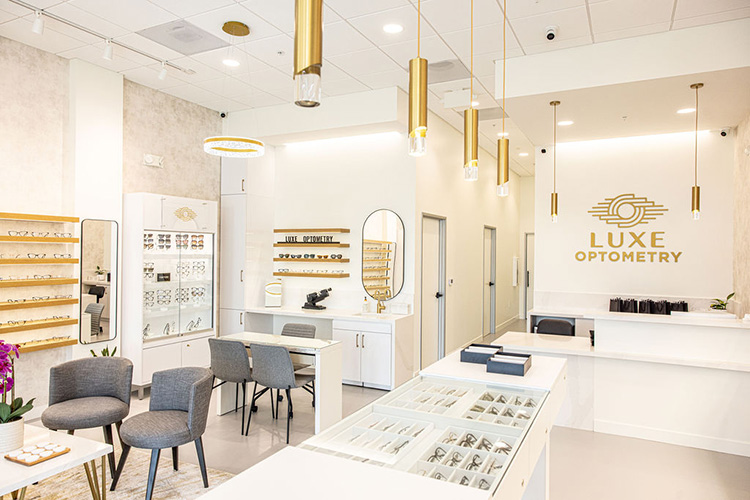 Everything is automated, digital and paperless with instrumentation that seamlessly takes results and adds them to each patient's chart. That was a top priority, she says, to make the process as efficient as possible. "From working in many different places, I learned the nuances of what does and doesn't work," Dr. Kim says. "These efficiencies in the patient experience are a wow factor." In addition to a well-integrated system, she wanted educational tools and technology such as the photography capabilities from Optos. "You can show patients their eyes in a way they haven't seen before and monitor and show changes over time."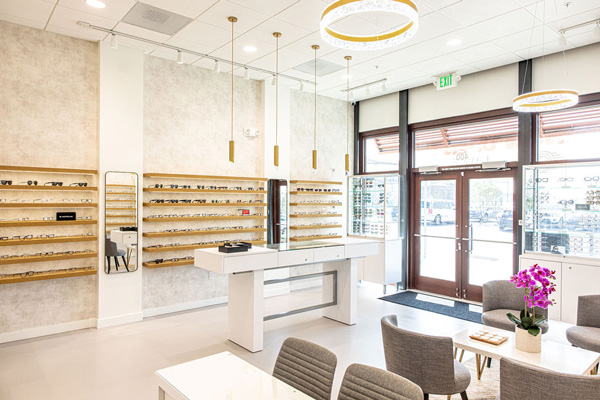 An in-office edger was another choice for the patient experience, a commitment to being there when "life happens," she says. She recalls encounters with parents who just had their child break their eyeglasses. "It's heartbreaking to say that they have to wait two weeks when you can't see." It's another way to wow the patient with a fast turnaround and replacement pair.
She has two exam rooms with one built out with equipment and furnished for now. The second is to accommodate future growth and the ability to expand into a dry eye or myopia management specialty down the road if her patient demographic seems to be a good fit. She's also added a finishing lab to help create a quick optical turnaround whenever possible.
FULL SPEED AHEAD
While it took time to feel ready for ownership after her 2011 graduation from University of California, Berkeley, School of Optometry, Dr. Kim says that she's confident in this new venture with a new mindset. In February, she left Warby Parker where she was working to focus full-time on setting up and training her two staff members; she previously worked with both. "The perks of working at multiple places is making wonderful relationships with amazing people," she says. "They are super talented with a wealth of knowledge and years of experience in private practice. They've been in the trenches, and it's been helpful to lean on them as I'm still learning."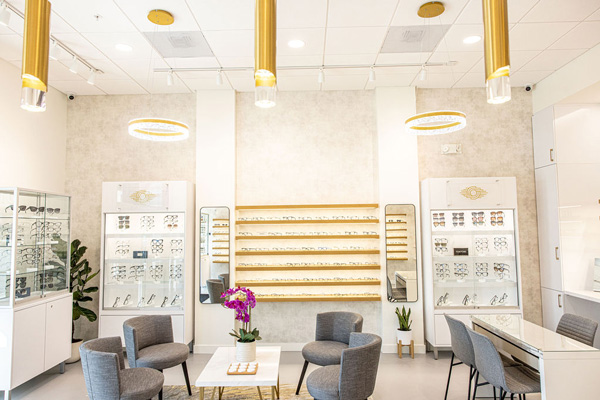 Dr. Kim officially opened her doors in March, and she celebrated the grand opening of LUXE Optometry in March and a ribbon cutting in April. She's thankful to the guidance from the team at iCare Advisors for helping her through the opening process. Since she was previously working as an independent doctor, she was able to keep her patient charts and is contacting them for their annual eye exams to let them know of her new location. She plans to visit local businesses, schools and health care providers to introduce herself, and she's hiring help to focus on her digital marketing.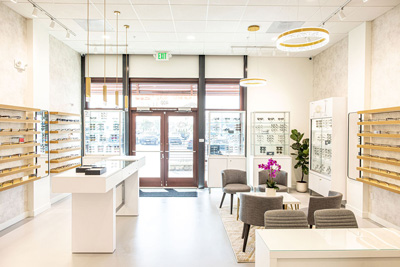 "In the first few months of opening, I've had such a supportive response from the local community who always comment on how great their experiences have been with our office," she says. As she anticipated, patients appreciate the convenience factor in stopping at her office when they travel to or from work on the neighboring freeway.
Dr. Kim is thankful for the genuine referrals from her patients to their family and friends. Some patients have already been back a second time to purchase more pairs or new sunglasses. "We're proud to provide the highest quality of eyecare and optical products to our patients, and they appreciate the difference in better quality," she adds. "For example, we made it a point to have a variety of nose bridge styles in all of our eyeglasses, and people really love our wide selection and luxury brands."
Follow the practice page on Instagram @luxeoptometry