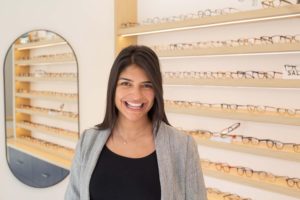 Azzrah Thobani, OD, worked in a variety of environments from an OD/MD office to a LensCrafters location in New York. Her experience in a small woman-owned private practice gave her the final push to start thinking seriously about opening her own practice. "The ODs I worked with gave me a lot of courage and confidence to pursue what was on my mind for years," she says. With that, she moved to Chicago, Illinois, in April 2021, where she reached out to iCare Advisors for assistance.
She immediately got in contact with a real estate broker who introduced her to several locations, based on her preferred patient demographic and saturation. One location especially stood out due to its completely raw space. "The place was literally an empty box. There was gravel on the ground and hardly any walls built, but the flexibility and freedom were what attracted me. The natural light that beamed through the tall windows was also a great push," she says. The unfinished space allowed Dr. Thobani to negotiate with the landowner; she did not have to pay rent for the first five months.

With a hard deadline set, she immediately got to work on Eye Care by Design.
A COZY INSPIRATION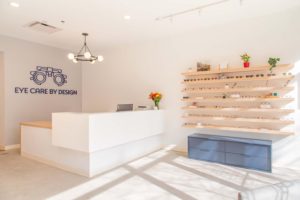 Dr. Thobani looked on social media platforms and optometry practice designs to have a sense of what she wanted or didn't want in her space. "Together with my design team, Karina K Studios, we decided that it was smart to go for a design that will not go out of trend in the next few years," she says. To accentuate the natural sunlight, Dr. Thobani settled on fresh, neutral tones with a pop of deep navy.
She and her husband managed the design process together, and he then took over much of the construction phase. He's also been integral in managing the financial component of the component, Dr. Thobani says. "I honestly couldn't have done anything without him – he has been incredibly important throughout the process," she says. Together with her husband, Dr. Thobani scouted for mills that would make the flooring and furniture. "We settled on a warm, ivory-colored wood to create a warm environment, and because it complements the deep navy," she says.
TWO DIFFERENT STYLES

As patients move between the reception area and the optical into the exam rooms, Dr. Thobani decided to install two different types of floors. The exam lanes have laminate vinyl flooring while the optical and waiting area has polished concrete flooring. Another distinguishing feature is the furniture. The exam, contact lens and pretesting rooms incorporate mostly white and navy cabinets while the optical area uses mainly wooden furniture.
"I wanted the optical space to resemble a boutique, allowing the patients to feel as if they're in a retail store rather than a clinical office," she says. To bring more attention to the eyewear displays, she added playful art elements to the shelves with the help of her optician, such as prints bought from Etsy and mini succulents. Several plants also adorn the waiting room. "Because our practice has a lot of sunlight, I thought they'd be the perfect addition to add a bit of liveliness to the office," she says. Three big, gray plush chairs circle the waiting table to give patients a comfortable place to sit and view the optical area.

"We opened our office in mid-February, so I'm still in the learning stages of managing a private practice. Even after working in different practice modalities for 12 years, things feel new but definitely exciting," Dr. Thobani says.