Liza Stremick, OD, spent her first month after opening Eyes on Burdick spreading the word about the vision therapy (VT) services she was now offering in her hometown of Minot, North Dakota. She connected with local occupational and physical therapists through community presentations, as well as other interest development groups and volunteer organizations to increase knowledge. The effort has paid off, Dr. Stremick says, resulting in many referrals. "The network we've built already has been great," she says.
DISCOVERING A PASSION
Dr. Stremick says that her optometry school lessons on the connection between vision and learning struck a chord and paved the way for her career. "My mom was a teacher, and I always loved school," Dr. Stremick says. But "some kids hated reading, and now I think, maybe not—maybe they didn't like it because of their eyes." While Dr. Stremick personally didn't need VT as a child, she was familiar with the struggles as myope who often needed a stronger prescription every year. "My vision changed a lot, and every year, the new glasses made a big difference."
Dr. Stremick graduated via a virtual ceremony from Arizona College of Optometry, Midwestern University, in 2020. She spent three months with her family in Minot before relocating to Kentucky for her residency. During that visit to her hometown, she says she realizes that she wanted to come back home to practice optometry and VT. "No one else here was doing VT, so I had to bring it to someone else's practice—or why not open my own?"
DREAM TO REALITY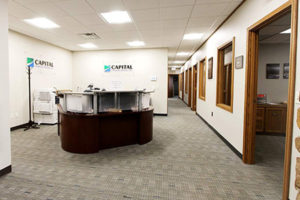 Dr. Stremick says that she's thankful for the two realtors in her family who helped her get started on a search for her office even while she was away completing her residency. "They sent me the best locations, and I narrowed it down from there." She wanted to move into an existing structure with an easily accessible location, and she found the home of Eyes on Burdick in February 2021 in a professional center.
Construction was underway in July 2021. A few walls were removed to open the office, and changes in lighting, flooring and painting refreshed the space. "We wanted our office to be very welcoming," Dr. Stremick says. "We want patients to feel good when they are here." She also didn't want a cookie-cutter space, yet one that would stand out and make an impression. She incorporated oranges and blues; there's a dark orange feature wall behind the blue front desk with unique light fixtures above the optical. The dispensing table is a high-top bar.
She opened her doors on November 2, 2021, with lots of room to grow. She's furnished one of her exam lanes with a second on standby. She also has two rooms designated for VT, incorporating the VTS 4 Computer Orthoptics Liquid Crystal Automated Eye Exercise System. This therapy technology allows her to test patients and also provide therapy treatment. "It's super versatile with lots of options." Dr. Stremick also has a special pretesting room where she added Optos technology—"I couldn't imaging practicing without it"—another one of her must-have technology purchases for opening.
Dr. Stremick says that while her initial love of VT started in caring for children, she has enjoyed expanding her services to help adults and those with traumatic brain injuries.
As Dr. Stremick and her optician are forming relationships with new patients, she looks forward to building her team in the future. First, Dr. Stremick says that she plans to add a vision therapist. Her long-term goal is to have a second doctor on board to provide even more care for her hometown community.