Trishelle Barton, OD, was 20 weeks pregnant with her first daughter when she made the move back to her home state of Kansas in 2014. She planned to open a practice cold when she got there. The Pacific University College of Optometry graduate had worked in Oregon and later Colorado; during those years, she was mentored by Carol Marusich, OD, and Ronald Bateman, OD, both leaders in developmental optometry. "With these two mentors, I learned how to individualize my treatment and look at each patient based on his or her needs," she says.
Colorado had felt close enough to home until Dr. Barton found out she was pregnant. "Your perspectives change," she says. "Being able to be in the same town as family when you are raising a child is a huge factor." In addition, her two sisters-in-law own a building there where, conveniently, they run an optometric billing company. "It's nice to have them as an expert source, and they help me with my billing," she says.
Having a family connection for the space allowed Dr. Barton to move forward at her own pace. She started working in a corporate practice to supplement the family income while work was underway for The Eye Studio. Her husband's background is in commercial construction, so he began working on evenings and weekends in the space. He completed most of the core construction, starting with the dry wall, then installing the tray ceiling in the optical and building all of the office's cabinetry. He eventually quit his full-time to focus solely on the practice construction, she says. "We kept our overhead really low and didn't take out any loans, and, because of that, we are hitting our goals faster than we perceived."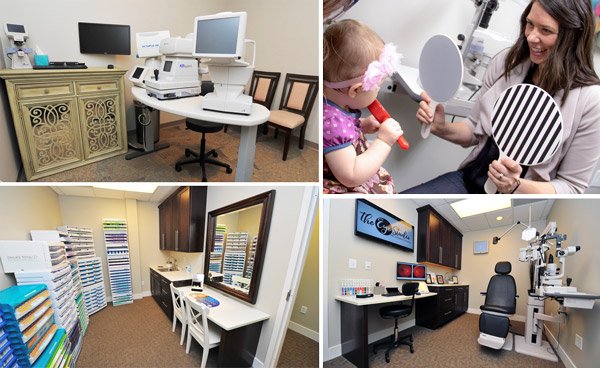 Dr. Barton led the way with design ideas: she wanted a high-end boutique that felt classic, beautiful and calming. The walls of the optical and open area of the office are painted with darker gray and pewter tones accented by white cabinets. "I've always loved Tiffany blue, so we added that for a pop of color." She was very specific on all of the details down to the type of trim she wanted around the doors. "It's not your basic commercial construction; it has the feel of being at home." The exam rooms are gray with dark cabinetry. "The nice thing about doing the construction together was that we would start with an idea and we could change it, and the design grew into the space," she says.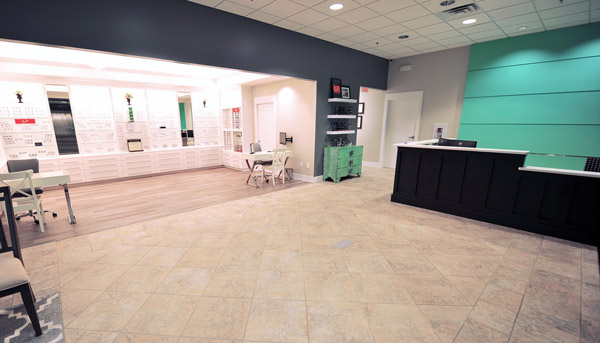 From the start, she bought an autorefractor and autophoropter and a visual field and fundus camera. "I love the photos and having those for my patients," Dr. Barton says. On her wish list: an OCT and equipment to outfit a second exam room.
Construction took about a year with an expected open date in summer of 2016. But a few months earlier, in April, Dr. Barton found out she was pregnant with her second daughter. "I was due in December—the busiest time of the year," she recalls. So they adjusted their plans, starting with a soft opening—instead of a grand opening—in the summer so that it would be easier to take a maternity leave. Dr. Barton's husband joined her team in a full-time management position, and when she returned to work in February 2017, they were ready to kick things up a notch.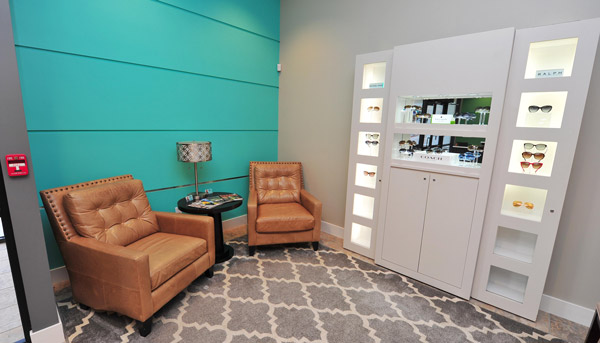 The practice is still in its infancy, but Dr. Barton says that she's impressed with the growth so far. She's in her own office three days per week and continues to work in a corporate setting for another three days. "I've been too busy to market, so it's been a lot of word of mouth," she says. She attends community events and focuses on individualized care. "I can give patients tools to make their lives easier, such as computer glasses for the person who spends nine hours a day on the computer. My first exam with a patient is very thorough as I learn what he or she likes to do and develop a customized plan."
Dr. Barton, who started her career as a vision therapist, sees patients of all ages for primary care and also completes developmental workups, assessments and diagnoses. She's referring out for vision therapy (VT) to another mentor and her own former doctor and employer Pat Pirotte, OD. Dr. Barton saw Dr. Pirotte for her own VT as a college student, and it led her from being an art history major toward a career in optometry. "I saw the changes it made in my life and the lives of others," she says. "He's helped me throughout my career, and I know my patients are in good hands," and then they return to her for follow-up care. Her five-year plan includes bringing VT in house. She provides many exams at no cost: to infants through the American Optometric Association's InfantSEE® program and to 3-year-olds through See to Learn, a Kansas-based public service program that offers a vision assessment. "The last thing I want to see is a child with an issue that could have been prevented and diagnosed early on," she says. "I don't want those kids to fall through the cracks."
As she approaches one year since returning from her maternity leave, Dr. Barton says that she's enjoying the flexibility that ownership and optometry has to offer: lets her build her own practice at her own pace and the ability to bring her small children, including one who is still nursing, into the office if she needs to. Dr. Barton says, "Looking back, it's been hectic, but I wouldn't change anything."