Spanning from downtown Chicago, Illinois, to the residential west side, Glimpse Vision was opened by Carrie Roitstein, OD, and her partners in 2017. Both practices feature a luxurious color scheme of gold, gray and natural wood, and allow Dr. Roitstein to serve the community she lives in.
TWO SPACES, ONE MISSION
The Gold Coast location took over space from a neighboring real estate office of about 1,100 square feet. The practice now sits between a busy shopping district with many restaurants and bars in the heart of Chicago's historic Gold Coast neighborhood. The location features decorated black pillars out front, and offers lots of foot traffic as it is just a short walk to Navy Pier.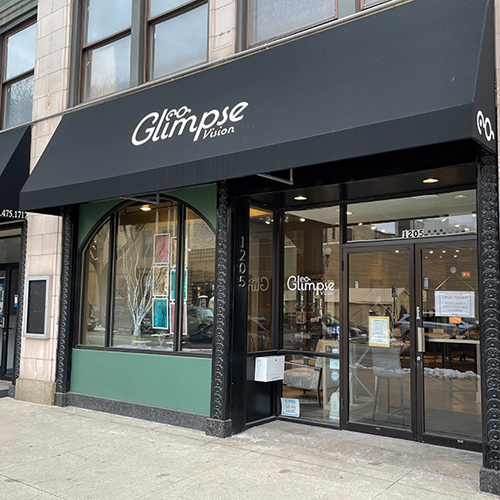 The Hinsdale location sat as an empty 1,200 square foot building surrounded by "bustling restaurants, shops, cafes and salons. We wanted to be a part of the action, with plenty of foot traffic, summer music and street parking."
"Since what we do is centered around delivering the highest level of customer service, it was important for the practices to be in areas that would allow us to participate in local events to grow the business and relationships with patients," Dr. Roitstein says
PURPOSEFUL SPACES
Design and decorating both locations were a team effort. Both practices are "compact, but purposeful," Dr. Roitstein says, and follow a "warm and inviting feel, with a similar vibe to being in one's home." Each office has one exam lane, a pretesting area, a contact lens area, a dedicated storage room and space for the optical. Warm wall colors were brought into the optical, with each location sticking to a similar theme but featuring slightly varied pieces.
Glimpse Vision focuses on personalized luxury products and services. Dr. Roitstein practices with an integrative approach to eye care with certification in the field of nutrition and wellness. The optical boutique showcases independent eyewear brands offering unique hand-crafted eyewear to clients looking for something special. The spaces create an inviting space for patients to enjoy the experience.
The display cabinets for frames were purchased from Crate and Barrel, and the optical chairs are from Room and Board. Most of the shelving are custom pieces from Ikea, Dr. Roitstein says, created to maximize the space. They also found rugs, lamps, décor and accessories from local independent businesses.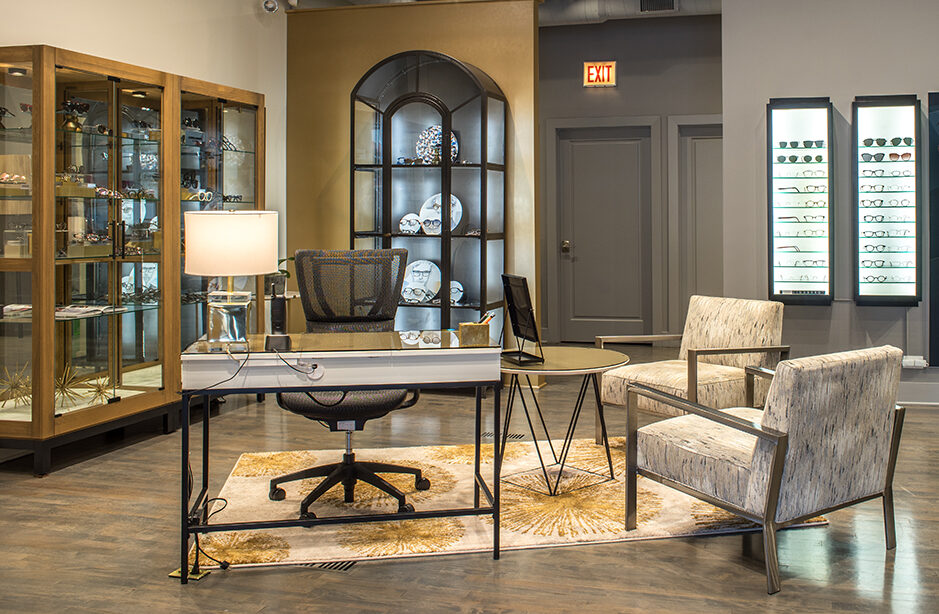 NEW NAME, SAME GREAT SERVICE
While Dr. Roitstein now has steady patients that continue to grow at both locations, she says, the Glimpse Vision branding wasn't always Glimpse Vision. The practices were originally under the name EFP Opticians. The name was changed after Dr. Roitstein and her partners realized patients were having a hard time remembering the practice name/initials, so a new logo and brand was created with some help from a designer friend. Now, she and her team provide integrative comprehensive eye care, with a special focus on a personalized eyewear shopping experience.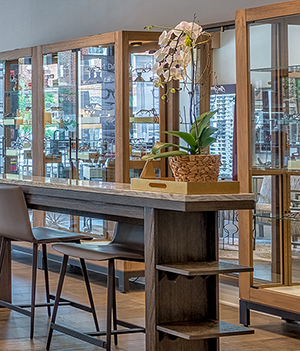 To see more about Glimpse Vision, visit their pages:
To view more design inspiration stories from WO, click here.