The demands of being a full-time mom to two young children and a full-time practice owner compelled Mona Sandhu, OD, to make a difficult decision and sell her practice. In 2008, she decided that running her 10-year-old practice—even with the help of an associate—was taking a toll on her children. The 1995 graduate of New England College of Optometry had opened the practice in British Columbia, after she and her husband moved back to his home town.
Dr. Sandhu did continue to work, one or two days per week during school hours or on Saturdays covering at several offices as her children grew. A few years ago, she opened Clayton Heights Optometry, providing professional eye care services inside an established, independent optical. "I thought it would be great to just focus on eye exams and not worry about the retail or the business side, but I realized after a year that it wasn't for me. I didn't have the same excitement I felt as I did having my own practice," Dr. Sandhu says. "Optometry is more than just eye exams. It is also the follow-through with recommendations that really go hand-in-hand with the retail side." In her own practice, she could transition the flow from the exam room, where she advised patients about the types of lenses and treatments that are best, and have that message follow through in the optical. "It provides a complete patient care experience."

As her daughters now enter high school and university, Dr. Sandhu felt the pull to open her own, new practice again. She identified her space in October, after considering a few areas for the perfect location. She chose a unit within a new, pedestrian-friendly marketplace beside an up-and-coming neighborhood. "There are new townhomes and development all around it, and I could envision my new modern practice fitting in that complex." To focus fully on the new venture, she also left the optical where she had been working. The lease, permit and construction process took a few months, but by March, the space was hers to design.
As her own interior designer, Dr. Sandhu worked out the details with a planning designer and her contractor. The focal color is a Tiffany blue/turquoise with wood accents, much of it repurposed wood from a lumber yard and pallets, which kept costs down. A wall of the reclaimed wood will be featured behind the reception area. "I want it to be a happy, welcoming place," she says. She looks forward to providing patients a place where they can get a high-tech, comprehensive eye exam and transition into a warm and welcoming retail environment. Patients can expect to feel comfortable with the recommendations she and her staff provide, without feeling the pressure of a sales pitch.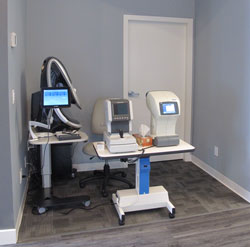 Dr. Sandhu had invested in some equipment while she was at the optical space location, but she essentially started from scratch in terms of new technology. She looks forward to adding digital instrumentation to the optical area to modernize the dispensing and fitting of eyeglasses. She's also adding Optos technology. In her previous practice setting, she had only one exam room that also doubled as an office and storage space. Now she'll have the space to add pretesting and diagnostic equipment, as well as her own office.
To improve the patient experience, she included individual zone controls for the heating and air conditioning. Past experiences revealed that sometimes patients in the exam room were freezing because the temperature was set to cool the large optical. "I can control everything to make it more comfortable for myself, the staff and my patients," she says.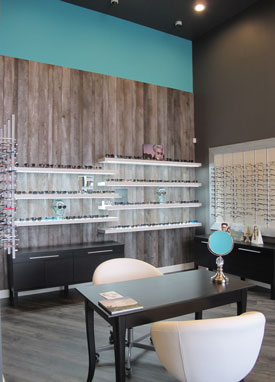 Dr. Sandhu opened her doors earlier this month. She says that it's been exciting going through the overhaul of the space and selecting the new design. As opening day approached, she was eager for all parts to tie together and to share the final result with her community.
Dr. Sandhu credits her contractor with keeping the construction process under control and helping her create the look she wanted within budget. "It's so important to have a good contractor with whom you can communicate, even on the weekends. She adds that she found him online and chose him specifically so she could support an independent contractor and fellow small business owner. "With all of the challenges with leasing, construction and permits, that good working relationship has been really important."
Looking back, she says that while it was hard to give up her first practice, she has had no regrets about the decision that she and her supportive husband made to be with her family. Dr. Sandhu greatly cherishes that time, being involved with the kids' activities and serving as president of the Parent Teacher Association for two years. Now that they've gained their independence, Dr. Sandhu is ready to come full circle with her own office. "I'm really looking forward to opening the practice again," she says. "Having your own practice is very fulfilling."