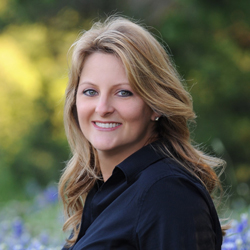 Stacie Virden, OD, FAAO, opened her practice in 2000 in what she calls a "luke-warm start—I bought a practice from a retiring doctor, and the number of patients he saw in a week, I could easily see in a day," she recalls. "His wife wanted him to retire, and he didn't, but he finally gave in." It was a great deal; the cost was a fraction of what she would have to spend on equipment and a build out.
With a focus on quality care, Dr. Virden decided to not accept insurance plans at first. "I was fed up with insurance dictating everything, but we almost went broke. People gripe about insurance, but patients follow it." So she added vision and medical plans as the state legislature made changes to allowances. Waco Vision Source in Waco, Texas, began to flourish from there.
A TIMELINE OF OFFICE GROWTH
The practice is in an office condo community with five buildings, and the office has grown to now occupy two of its suites. It was a process that took some time though, she says. In 2006, the practice bought the first suite with almost 1,900 square feet, which felt luxurious moving from 750 square feet of leased space. "I remember turning a cartwheel in the room that would become my personal office," she says, laughing.
But by 2009, they had already outgrown the new space. In 2011, the space next door became available for lease only. "We took it, and literally cut a hole in the break room wall to get from one side to the other." All administrative offices and storage were moved next door, allowing the original space to be 100 percent patient care.
Finally in 2014, they got the call they'd been waiting for—the second suite was now for sale, although at a premium because "they knew we had to have it or move ourselves." As the sale was being finalized, Dr. Virden and her husband started their tour of Texas optometry offices. "If any of our friends had built or renovated in the past few years, we visited their offices to get ideas."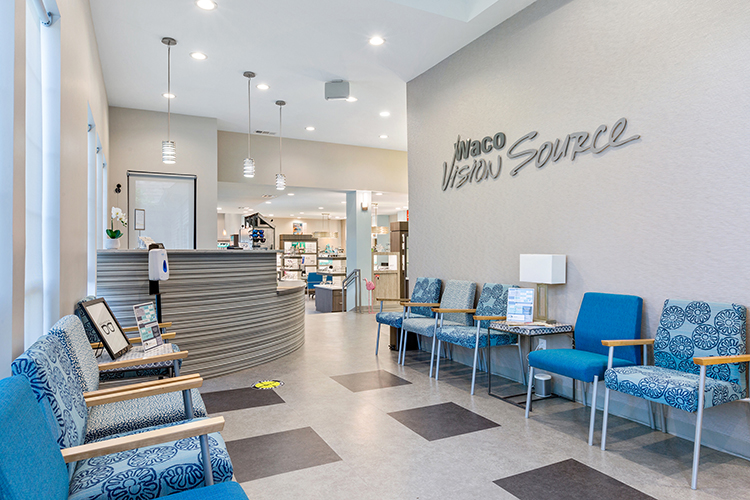 Dr. Virden was also doing a good bit of consulting work, so she was seeing the inside of a lot of practices across the country. They used the ideas to formulate how to tie both suites together, as well as how to manage in the 1,050 square feet space across the parking lot, where they would have to move into for five months during construction.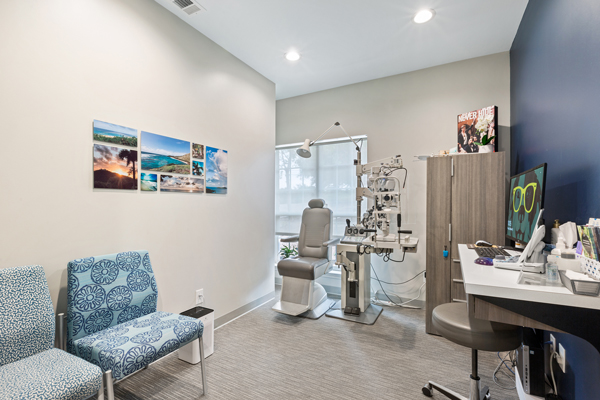 "The previous space had been Texas-casual—heavily textured walls, taupe with white trim and slate floors. It felt like a sunroom or sitting on someone's front porch. After 15 years, I was sick of all of the brown—I wanted that to go away," she says, laughing. Her vision for the revised space was inspired by the beach and that feeling you get when you go on vacation, she explains. "When you walk into the spa and feel your shoulders relax; that was the direction we took."
HITTING A DETOUR
They moved back into the expanded space of more than 3,400 square feet in May 2019. The rest of the year was a bit chaotic adjusting and adding a new associate, she says, and then the COVID-19 shutdowns hit in early 2020. Then, as they were still trying to realize the full potential of the new space as they entered 2021, historic freezing temperatures hit Waco, leading to the bursting of frozen pipes in their space. The optical, kitchen and back offices were left with tremendous damage.
Now she faced the challenge of renovating that space again, but Dr. Virden was also forced to drop down to having one doctor in the office at a time. " We couldn't have a full schedule because there was nowhere for patients to go."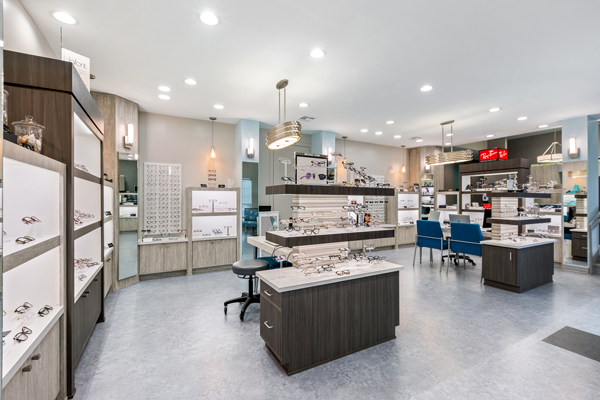 COVID-related staffing challenges within their insurance company led to delays on the front end, and nationwide material shortages along with regional contractor staffing issues drug the renovation out from its six week estimate to almost six months. By August 2021, replacement cabinetry for the optical had finally arrived and the office came back to life.
Most of the optical was restored to its pre-flood state with the movement of some tables and chairs from the original design. "Our designer had put a  'boyfriend-waiting' chair by the optical door, but it was too far away from shopping so no one used it." That chair was integrated into another space, and a new children's area is now located prominently near the door. "We realized that with kids' glasses scattered in between adult frames, it looked like they were an afterthought. As we expand our myopia control practice, we know we need a space just for them."
MOVING AHEAD
Dr. Virden is pushing through despite the challenges she's faced, paying attention to the pulse of the business to look for opportunities for growth. In the past, the practice has boomed with the addition of insurances, an associate doctor and expanded staff; the latter was a leap of faith when Dr. Virden took a closer look at the number of phone calls and annual contact lens supplies being missed and patients waiting for someone to help them. Those ah-ha moments have helped guide her through. "We also lost my mom to COVID in the middle of all this, and I've been asked many times how we kept going. But we really didn't have a choice, because the practice, our team and our patients are so interwoven into our life. It is all part of our family, too, and you keep doing what you have to do."