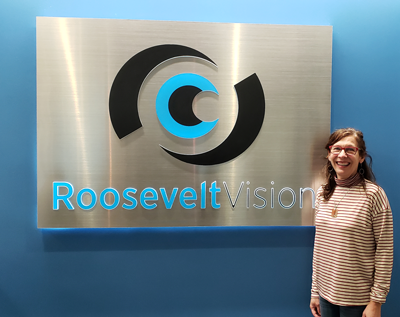 Barbra Dey practiced optometry in Ireland, the United Kingdom and Australia before moving to the U.S. in 1994. Having considered a career in engineering, Dey decided that the eye-care industry was more suited to her outgoing personality and better aligned with her desire to travel, allowing her to work as a locum by using her qualifications to learn about optometry practices in different countries.
After landing in Seattle, Washington, and ready to settle down, she took a technician position at Northwest Eye Surgeons (NWES), a large ophthalmology clinic. She quickly moved up the ranks and was promoted into her favorite role thus far: training and managing technicians in their multiple locations. In 1996, Dey passed her boards but was unsuccessful in getting her license.
While disappointed, Dey found her role at NWES challenging and rewarding and over the years, she became very active in the ophthalmology world, from lecturing at conferences to sitting on the board of the technician training school at the local community college. Still, it became clear to her that her opportunities for advancement at NWES had come to an end. It was then she decided that eye-care administration was the next logical step for her.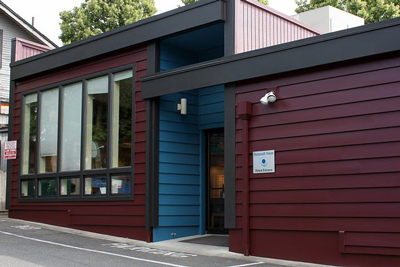 In 2009, an opportunity finally presented itself. Dey was asked to join Roosevelt Vision in Seattle. The practice, founded by Robert Jamieson, OD, in 1949, had a long history and deep roots in the community, but it was in need of some modernization. Dey was brought in to help implement electronic health records, develop a new financial system and roll out more consistent staff training. With her engineering brain and passion for numbers and finances, it was a perfect job and "a lot of fun," she admits. For over 11 years, her innovative leadership and the excellent clinical reputations of the optometry team have helped the business thrive. Today, she serves as CEO of the company.
FINDING A NEW HOME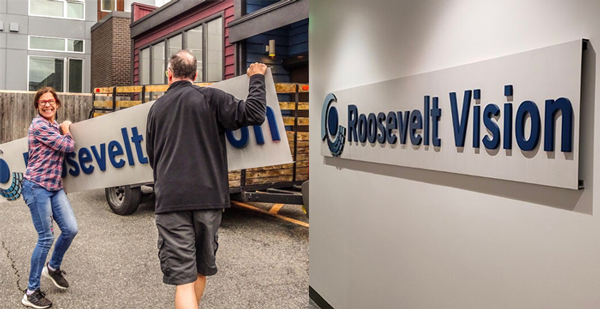 The original home of Roosevelt Vision was handed down through the family to Scott Jamieson, OD, the founder's son. The building was old and earmarked for development. Dey and the practice partners—Michael Samek, OD, FAAO; Kathy Yang-Williams, OD, FAAO; and Rachael Henrie, OD, FAAO—would need to relocate. Dr. Jamieson had already stepped down as partner and was approaching his retirement right along with when the lease would expire in the summer of 2019. Dey recalls first considering a space just five blocks from their original office in a pedestrian-friendly neighborhood. The close proximity was a plus, but the space was spread over two floors. An architect did a mock-up design, but Dey says, "The layout was like a square peg in a round hole; my gut feeling was not good."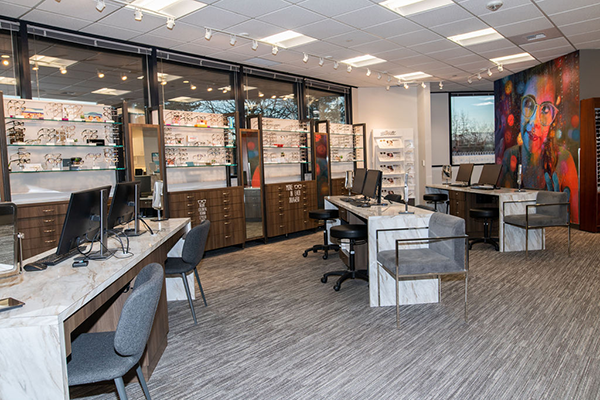 Then they visited the newly remodeled Salal Financial Center, nestled among a cluster of medical and dental buildings, including the Polyclinic and Kaiser Permanente. There was an abundance of free parking and the new light rail station just a few blocks away, due to open in 2021. She knew they had found their new home.
Dey hired Pulcon Inc., two brothers who are patients of the practice, as their contractors. "They had completed work with other businesses like ours, had a great reputation among their clients and we knew they were the perfect fit for our build-out project." They were easy to work with and built a dream space with room for their new technology including 10 exam lanes and rooms OCT, visual field analyzer, topographer and two retinal cameras, along with two screening stations with autorefractor/keratometer and non-contact tonometry.
Dey credits the design of the space to the work of Dr. Yang-Williams and their interior design team from FREIHEIT Architecture. "I give Kathy the most kudos," Dey says. "She worked tirelessly to make sure everything was just perfect."
THE FINISHING TOUCHES
In April 2019, they relocated to the new space. Tired and burned out from this huge project, Dey says that they decided not to rush to buy art to fill the space. They would start seeing patients and add those details later.
Waiting turned out to be the perfect decision. The many pieces acquired in the past few months have added personality to the space, building upon the theme of bringing a bit of Seattle inside. "It feels like we are home," Dey says.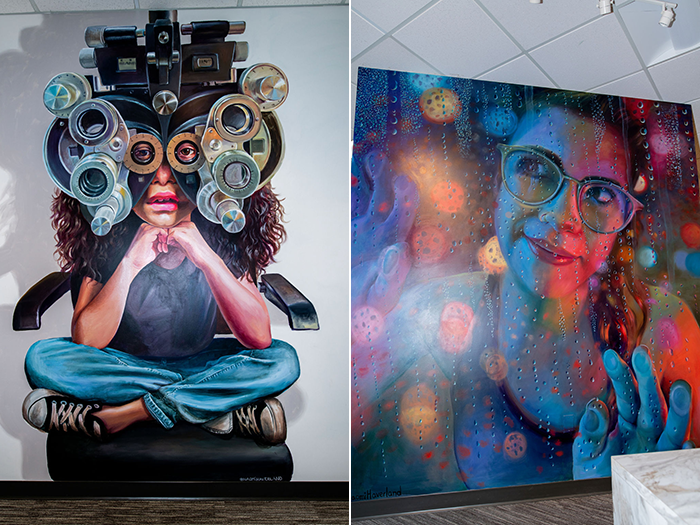 There are two floor-to-ceiling murals painted by Naomi Haverland. The inspiration for the murals came from Dr. Samek's visit to the Redmond chalk festival. The first, at the entrance to the optical department, is of a girl with her hands on the windowpane looking out at the rain, symbolic of their damp climate. The second is of one of the staff member's daughters behind a phoropter, which runs along the hallway to the exam rooms.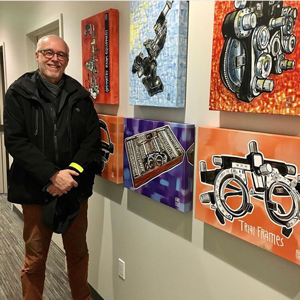 The unique ophthalmic equipment art found in each exam room was created by one of the practice's patients, who had posted his drawings to his Instagram page after an exam. Once the art was brought to Dey's attention by colleague Carissa Dunphy, the team commissioned him for custom pieces. They've also added some interesting retro poster prints by Italian artist Paola Casagrande, and they were even able to snag the old signage from their former office as a tribute to the past. Read more about all of the artwork at the new office.
FLEXIBILITY FOR FAMILIES
Family was always a priority in choosing this profession, and Dey is proud that Roosevelt Vision is a lifestyle practice: each of the doctors on the team works a 10-hour shift, three days a week. "We have five mothers on staff, with kids ranging from just a few months to 16 years old," she says. That arrangement helps parents juggle their children and career, allowing them to come in more recharged. It was particularly helpful this past year with changing schedules and new responsibilities due to COVID-19. Dey maintains a full-time schedule now that her children are teenagers, but she enjoys the option to work at home every Monday.
LOOKING AHEAD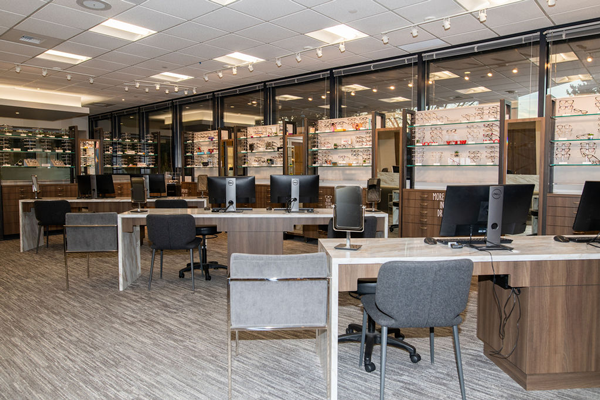 In October 2020, the practice notified VSP that they would no longer be an in-network provider for them as of Jan. 1, 2021—no small feat considering almost 50 percent of their patients have that vision plan. Instead, Roosevelt Vision now acts as an out-of-network provider for all discount vision plans. "In an expensive city like Seattle, Roosevelt Vision could no longer sustain the level of reimbursement for care and products and still provide the exceptional patient experience that we are not willing to compromise," Dey explains.
She also points to her highly trained staff and their belief in the mission and core values of the business, as the reason for the smooth transition away from vision plans. "Their ability to incorporate our mission and values into their explanations to our patients has resulted in these patients remaining loyal to our practice. As our mission statement says: Roosevelt Vision is committed to providing our community with the highest quality eye health and vision care in an ethical and compassionate environment, and we will always remain true to this!"