It's been 16 years since Avani Patel, OD, FAAO, completed a successful buyout. She moved the business across town in 2008 to its current location in a stand-alone, owner-occupied building and developed her brand by incorporating Alamitos Eye Care, an Optometric Corp.
The space recently underwent a renovation with the help of her husband and practice COO, John W. Osborn II, and contractor friends. "We've been in this location for about eight years, and most of the décor was from the previous location and was getting tired," Dr. Patel explains.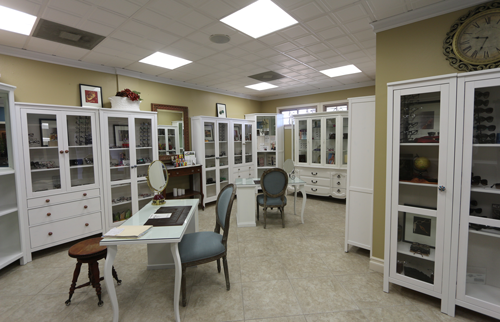 Osborn says that the remodel displays two distinct characteristics for the first and second floors. "The first floor, where all the regular, daily activities of her practice are carried out, is a shabby-chic style," he explains. They drew inspiration for this floor from local retail stores in the Long Beach, California, community. "There is a lot of very creative work going on around here, as we are close to Los Angeles and Hollywood," Dr. Patel says, adding that this part of the office is a representation of her own personal style.
The second floor caters to a value-line sector of the optical business executed in a rock n' roll theme, as well as the in-house lab, archive and storage areas and his administrative office, Osborn says. Osborn, a musician for more than 40 years, says this area reflects his own passion for music. "We pulled together my collection of guitars and music memorabilia, and voila, 'The Studio at Alamitos Eye Care,'" Osborn explains of the chosen name for the upstairs space.
They also created a custom space for Dr. Patel to hold presentations in the office with a drop-down screen and ceiling mounted projector. Dr. Patel works closely with institutions in the area for her work as a Fellow of the American Academy of Optometry in low vision. During the day, the screen is often used for playing music videos, and there is regularly music playing throughout the office during the day and after business hours end at 6 p.m.
The total renovation project took approximately eight weeks as they completed parts piece by piece. Dr. Patel picked out furniture and cabinetry, and corner cabinets were custom made to match by a friend who is a carpenter. "A few antique pieces, like the piano stool optician seating, were borrowed from our home collections," Dr. Patel says. Osborn adds that the remodel has been well-received in the community. "We support many arts, sports and academic programs partnering with our local school district through advertising and sponsorships, and the response to our updated look has been unbelievable," he says.