When Samantha Hornberger, OD, opened her own practice in her hometown, she wanted it to feel like home for her patients, too.
What she created is a practice with an informal and comfortable vibe, with a mix of colors plus pillows and repurposed furniture. "I wanted it to be very homey and relaxing," she says.
She did it all with her eye on her budget. She opened cold in 2013, in the small community of Bright, which is a few miles north of Lawrenceburg, Indiana, a town on the Ohio River, where she grew up. She leased about two-thirds of the second floor of a small office building, and the landlord helped with the cost of completing the practice interior.
The color scheme is mostly gray, yellow and teal. The flooring looks like wood but is actually a durable linoleum. Most patients think it is wood flooring, which is what Dr. Hornberger initially wanted to install. The chairs in the waiting area are a brown wicker, with colorful pillows and cushions that are a lot cozier than molded plastic and metal seating often found in waiting rooms.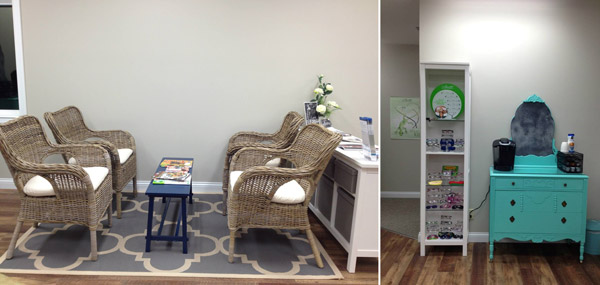 For frame displays, she initially thought about using frosted wall-mounted displays but says, "I really wanted something that looked more like a piece of furniture." She found what she wanted while walking through an IKEA store, where she came upon tall white cabinets, with three lower drawers and glass doors above. She left the doors off and put new pulls on the drawers. Her father, Bill Sanders, built the frame trays to fit in the cabinet drawers, creating more space for storing frames in easy access.
As the practice has grown the number of display cabinets has increased; she started with about 350 frames and now has about twice as many.
The brightest colors in the practice space come from some repurposed furniture. There is a bright yellow dispensing table, and a teal-painted and old-fashioned chest of drawers that serves as the coffee area for patients. "I wanted the design to look updated but inviting," she says.
Dr. Hornberger is a 2005 graduate of the Indiana University School of Optometry. Having her own practice has always been her plan, but she spent the years before opening in Bright working for other ODs at other clinics.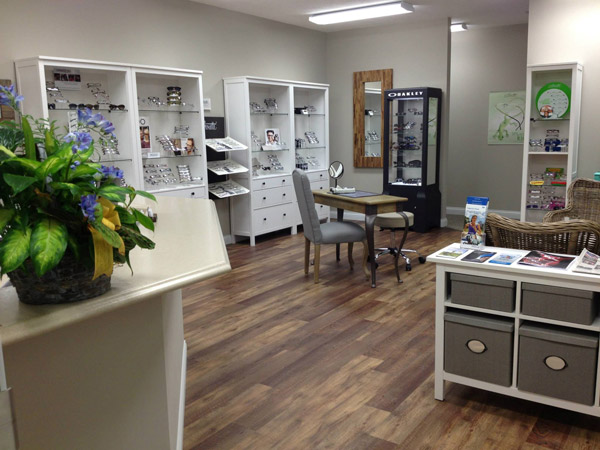 Her husband, Brad Hornberger, is the practice business manager. He's also an Indiana native. The couple has two children, ages 10 and eight. The practice design is what she wanted and so is the level of care. "When your practice is in a small town, you have to be comfortable with treating everything," she says. "I see a lot of kids, and I also have patients on Medicare."
That requires investments in equipment. "We've set ourselves apart just by technology," she says. The practice has a retinal camera and added an OCT unit a few years ago. "Everything we do is very health-oriented. We provide full medical optometry care. It's not uncommon for me to hear from patients that, 'Gosh, I've never had all this before.' To me, I don't know any other way to do it."