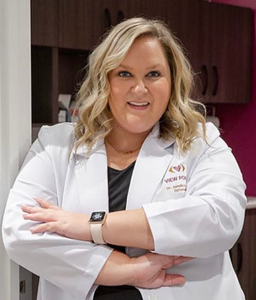 Janelle Driedger, OD, says that one of the first questions that potential patients ask when they call View Pointe Vision + Style is if she is accepting new patients. In Winnipeg, Manitoba, in Canada, "it's difficult to get a medical doctor, so that is something that we put on all of our advertising."
She's also the first neighborhood optometrist in approximately 30 years, and her presence has been a welcome addition since she opened the office in July 2019.
MAKING MOVES ON HER FIVE-YEAR PLAN
Becoming an owner or partner was part of Dr. Driedger's five-year plan as she graduated from Southern College of Optometry in 2013. Dr. Driedger considered an opportunity to be one of several partners in a larger clinic that would involved a slightly longer timeline, yet she realized that her voice wouldn't have as much of an impact there. She contemplated her next move while she worked in a hospital setting, gaining valuable experiences with ocular disease. Working in those two settings boosted her confidence, and she set off to open a practice on her own.

Dr. Driedger began her search for a space in July 2018; she wanted to open the practice in the suburb where she lives. "I would go out and scout on my own," and she found the space before her real estate agent did in December 2018. In a small strip mall, it's located next door to the neighborhood 7-11 convenience store. "It's been there for 40+ years, and everyone knows it." There's a mix of some foot traffic plus many cars driving along the route to downtown.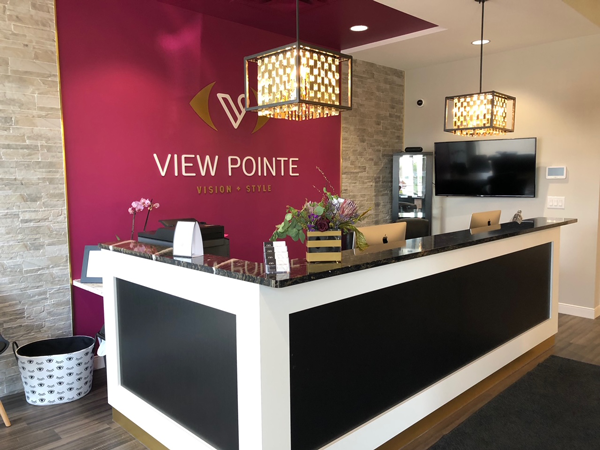 There was some work to be done before Dr. Driedger could get into the space as the strip center was reworked. Her office was formerly the back of a bank and the front of a tailor shop merged together. By April 1, 2019, she had possession to start the work inside.
PEACEFUL YET PRODUCTIVE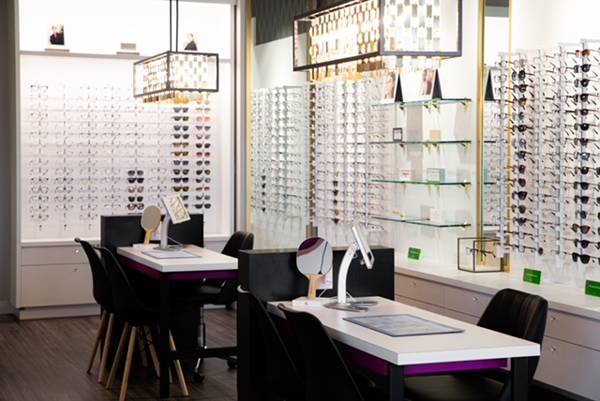 The optometrist was the only doctor that Dr. Driedger was not afraid to visit as a child. In fact, after shadowing at his office and his words of encouragement, she had decided she wanted to pursue optometry by the time she was 12. So she knew that View Pointe Vision + Style had to be warm, bright and welcoming. "I wanted my office to be a representation of my personality—stylish but not so upscale that people wouldn't feel comfortable." It also had to complement the medical side of the profession. "In Canada, there are not as many ophthalmologists as in the U.S., so it's important to have all of the technology so we can treat as much as possible without having to send people downtown." Must-haves at the start were an OCT, retinal camera, visual field and on-site edger.
Dr. Driedger turned to her best friend from optometry school Kristin Reed, OD, who opened Modern Eyes in Omaha, Nebraska, two years before her. "She looked over my design and told me the things that she wished she had done differently." Then Dr. Driedger's designer and architect pulled it all together. "She totally understood my vision, which was awesome."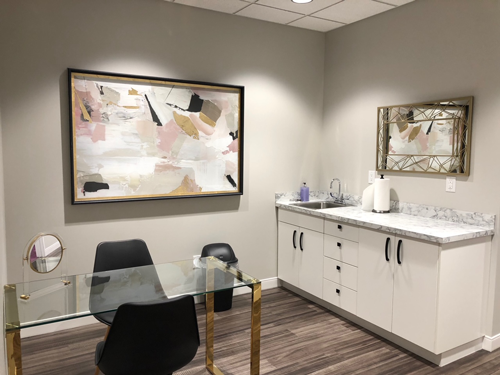 The local construction team transformed the 1,700 square feet but one part of the old bank had to remain—the vault. "We couldn't get rid of it, so we changed into an office."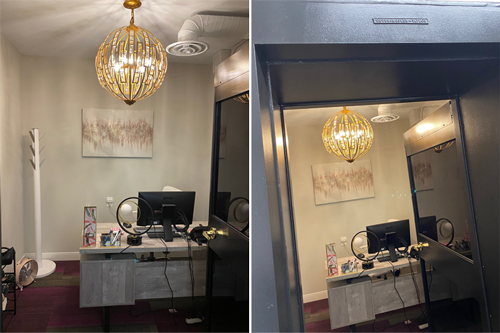 BUILDING A FOLLOWING
Dr. Driedger says that about 100 patients followed her, which was a surprise since she had previously worked 30 minutes away. She's done it all in terms of marketing to new patients—from mailers to pictures on bus benches and street signs and Google ads. She's delivered business cards to local businesses, and one of her newest staff members is ramping up the practice's social media. Those direct mailers have had the most impact. "For so many years, people went to email, but now people are ignoring their emails because there are too many," she says. "They have a tangible item that they can stick on the fridge as a reminder." As a result, they were very busy from the start.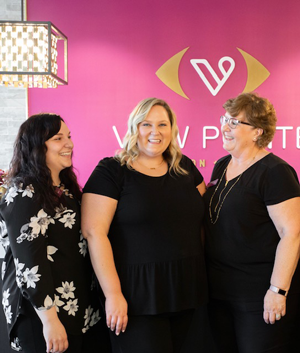 Business has slowed down a bit due to COVID-19, but she continues to work with her team to generate new business; her "New Year, New You" campaign is currently in the works. Individuals are gaining even more interest in supporting locally-owned companies, so that has been included in her marketing efforts, as well.
JUMPING HURDLES
Dr. Driedger is thankful to her team, which now includes three staff members as well as support from her mom, who is retired and helps out when needed. Dr. Driedger credits both her mom and dad for pushing her forward and giving her the courage she needed to start this venture that has been full of interesting twists and turns in its first year. In November 2019, just a few months after opening, the pipes burst leading to the 7-11 Slurpee machine next door, and it destroyed half of the optical. That incident left her to close her doors for several weeks.
Then in March 2020, she closed up shop for eight weeks due to COVID-19. And since late 2020, most of the businesses surrounding View Pointe Vision + Style have been under a second shutdown. Thankfully, this time she was able to stay open. "We are lucky to be essential because many businesses can't be open," Dr. Driedger says. "If we can get through all of this, we can get through anything."