It's been three years since Deeba Chaudri, OD, relocated her practice in the newly opened flagship LensCrafters store in New York City, yet the new office design continues to make an impact on herself, her team and her patients. Her store was the second to incorporate a new, sleek design, and Dr. Chaudri says that she appreciates how the modern look complements her own personal style, including features that she may have picked herself: eliminating the use of carpet and the bright shade of orange for the walls, for example.
Perhaps the feature most favored by Dr. Chaudri and the staff is the giant window in the front of the office. "I love that we have that window," she says. Her former space was in the back of an office. "You didn't know if it was raining or sunny out, and having this window brings a lot of daylight into our open space. Even our patients seem happier."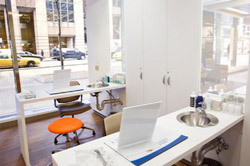 The clean and organized atmosphere goes from the reception all the way through to the exam rooms and contact lens area. Dr. Chaudri says that she's thankful for all of the little details that LensCrafters considered, such as cabinetry of just the right size for inventory of contact lenses. "In our old office, we had racks and trials were all over," she recalls. "The cabinets in the new office were measured appropriately for contact lenses, and everything is enclosed except for the two stations and sinks."
Every so often, Dr. Chaudri still receives comments from patients in her former office about the positive change in design, noting the brightness and airy environment. New patients to the practice regularly tell her that she has lot of space for Manhattan. "The rooms are a bit larger, so you aren't on top of the patient, and everyone feels more comfortable," she says.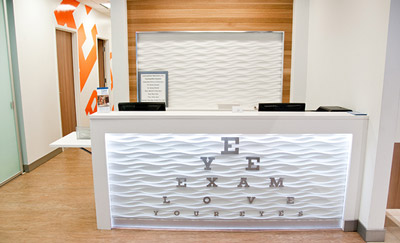 There are three exam rooms in this new office, with two fully equipped currently. This will allow room for growth. "We have hopes to fill in a third doctor one day soon," she says. Dr. Chaudri and another OD work together throughout the week, and residents from State University of New York College of Optometry cover Saturdays and Sundays. "We have them rotate very year, and they gain experience that they don't always see in residency," Dr. Chaudri says.
* * * * * * * * * * * * * * * * * * * * * * * * * * * * * * * * * * * * * * * * * * * * * * * * * * * * * * *
Can Your Patients Find Your New Office?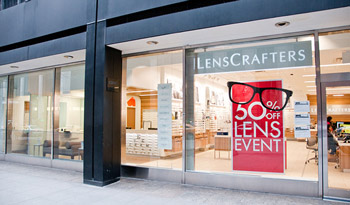 Dr. Chaudri tried to reach her patients via postcard and email to let them know that she had moved, but she says that one of the biggest challenges was getting her patient base—and even potential patients—to know that she had moved. "There was a delay of about eight or nine month before we showed up in the new office on a Google search," Dr. Chaudri says, which was a huge disadvantage with the number of people who are looking for an eye care provider online. She recommends starting the process of updating online platforms early.
Dr. Chaudri says that she does appreciate that LensCrafters corporate team consulted with her throughout the search for a new office, which took nearly a year. "We wanted to be close enough so that we wouldn't lose our patients. Many patients don't have a car and need to walk," she explains. A move more than two blocks away could be the end of a patient-practice relationship. An office space was selected just a block away, and Dr. Chaudri and the staff worked together to move in two days and be up and ready for business.