Eyewear is a trending fashion statement, providing both vision correction and special touch to one's appearance. L'Optique, a luxury eyewear boutique, has been serving Asheville, North Carolina, with its unique and niche-curated eyewear since 2001. Janice Gibbs, CEO of L'Optique, always dreamed of opening four eyewear boutiques; she's on track as she recently opened her third location in Greenville, North Carolina. With the help of her two daughters, Hannah Schauer and Sarah Jane Moore, Gibbs is one step closer to her goal.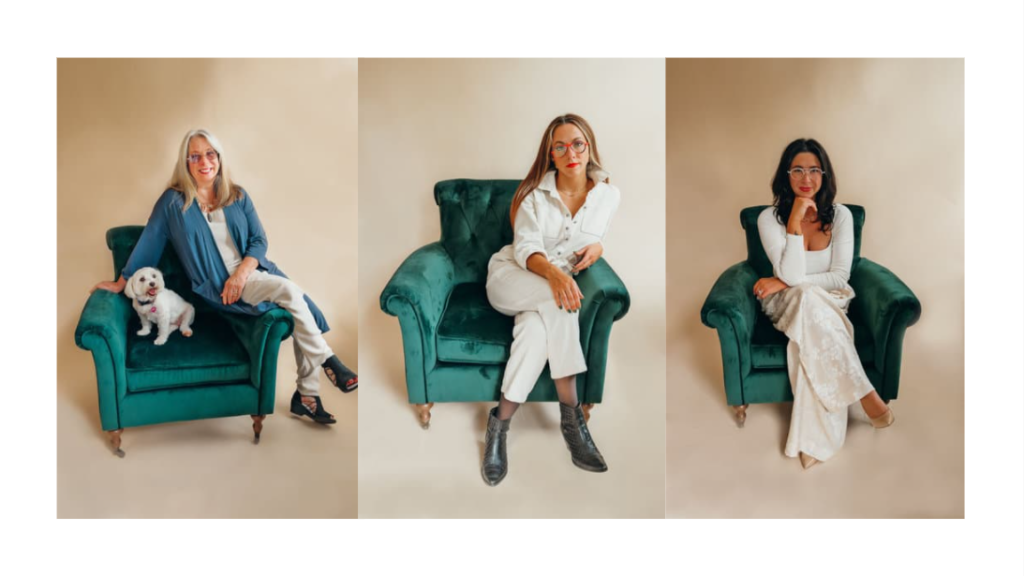 SCOUTING THE PERFECT LOCATION
When Gibbs realized that customers were traveling about 60 miles to her Asheville L'Optique location from Greenville, she knew it was the perfect place to open her third location. By the end of April 2021, she had a signed lease and was projected to have a grand opening in June. Although the opening was pushed to August, the entire construction process did not have many obstacles. Out of the 10 sites she and her daughters scouted, the first one was the perfect fit. "It was a stroke of luck, as if it was custom-made for us. It had the right size, the perfect distance from the main street and the price was within our range," Gibbs says. It had a warm and welcoming atmosphere, and the previous tenants were also a mother-daughter team.
The only obstacle the trio experienced was gaining permits because the location has to adhere to both North Carolina and South Carolina laws, doubling the paperwork and applications," Gibbs says.
ART DECO INTERIOR DESIGN
However, all their hard work paid off, and they were left with a beautiful space. Integrating L'Optique's signature green color, the Greenville location is painted with emerald and forest green walls. Lighting and furniture accented with gold outlines and marble countertops complement the green and give it a clean, Art Deco look. "Asheville has the most Art Deco buildings in the U.S. aside from Miami, Florida, and we were inspired to bring that element to Greenville," Moore says.
Nature is also an important theme. The Greenville location is decorated with various plants, contributing to its green identity while balancing the ambiance. With the boutique's high ceiling and tall windows, the sunlight creates a vibrant, gleaming effect in the office.
GAME-CHANGING EYEWEAR DISPLAYS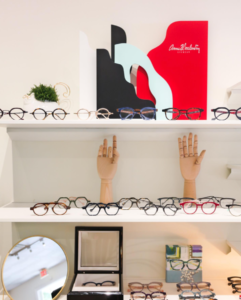 The most crucial feature of L'Optique is its eyewear collection. A customer should not expect to find mainstream brands in the boutique, but rather a unique, niche selection that cannot be easily found in competitors' locations. Gibbs says she mostly picks small, independent European eyewear brands to carry in her store and prioritizes high quality.
Eyewears are placed on shelves without a lock or glass barrier so that they are easily accessible to customers. Unlike typical optometric offices, L'Optique does not use any frame boards. "Personally, the frame boards I experienced never really looked clean and organized because they would easily break," Schauer says. In addition, frames are separated by their manufacturers because customers tend to gravitate towards the same designer if they had a good experience, she says.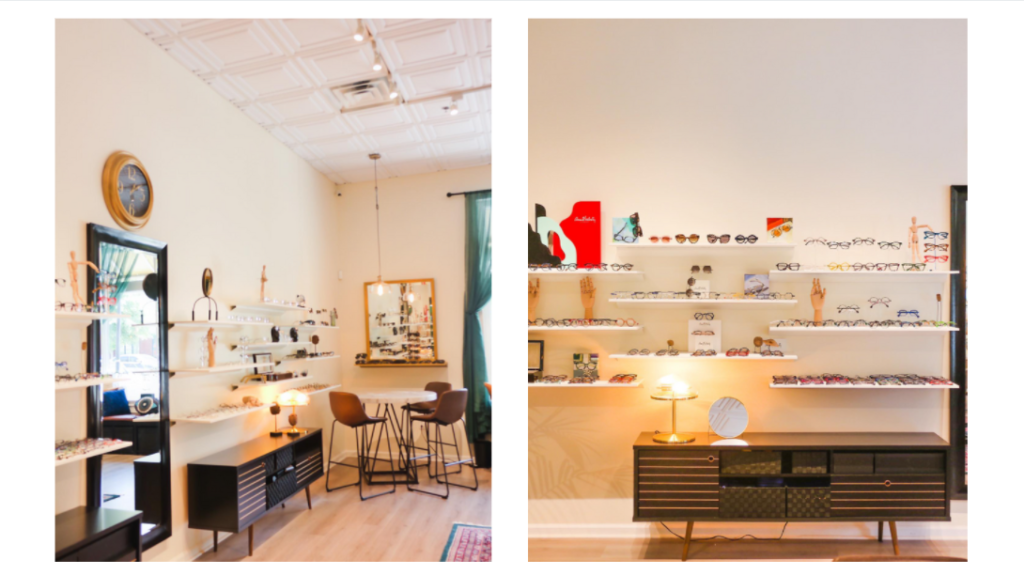 JUGGLING MULTIPLE RESPONSIBILITIES
Maintaining three locations is not an easy task, but with the help of her daughters and highly experienced Greenville staff, Laura Wright and Cara Draz, "it's becoming easier and easier," Gibbs says. After 20 years of juggling stores, Gibbs now has the chance to focus more on her personal life.
"We're excited to open Greenville L'Optique and to witness its growth in the coming years. Staying true to our slogan, 'Eyewear Like Nowhere,' our goal is to introduce customers to high-quality and unique eyewear that they won't see in other optical offices," Gibbs says.