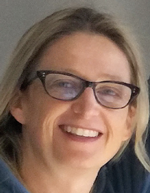 When Susan Reimbold, OD, decided she wanted to open her own practice, she had a design in mind for how the showroom and exam room should look. The challenge was finding a way to build it without creating a mountain of debt.
So she took on an eight-month effort to design and build it the way she wanted. It was a huge undertaking, from designing and building the entire dispensary—including frame boards and the engagement table—to fully automated phoropter systems, LCD charts and posterior and anterior digital imaging systems, all integrated with electronic health records. Today her practice in Alpharetta, Georgia, north of Atlanta, is open and thriving with the motto Exceptional Care Through Innovation.
After she found the 1,800-square-foot space along a major road in this affluent suburb, she enlisted help from family. Her father, Ed Reimbold, helped design, patent and build the 22 frame boards; her husband, Glen Carter, helped create the wiring for the display lighting; and her daughter, Avery Carter, sanded and wallpapered. She also counted heavily on architect Mike Melugin, a friend's husband, and Tobin Nelson from Buy Ophthalmic equipment, all of whom helped her stretch dollars through innovation. Colleagues Judd Briggs, OD; Robin Wright, LDO; Kristy Gleaton, LDO; and Jonathan Woolfson, MD, provided encouragement and input into the design.

The savings from the do-it-yourself approach were significant. Her family built and installed the IKEA cabinets in the exam room. The lighting she and her dad designed and built for the displays cost about $1,000 instead of an estimated $26,000 if she had gone to an outside builder. She also designed and coded reimboldeye.com, her website, saving thousands. "It takes a lot of money to start a practice. I saved so much by designing and making these displays and the lighting. It allowed me to allocate funds to frames and other necessities," she says.
She reaped savings and control over the design, but she says she spent a lot of grueling personal time and energy. For example, she and her father moved the frame boards, weighing 250 pounds each, by themselves from his basement to her practice. And on one memorable Friday night last fall, she got a call on her way out of town from her builder, telling her that the layout for the practice wouldn't work because a major beam supporting the building was in the wrong spot.
"I turned around and went back to the practice and started moving floor studding," she says. They moved around the metal stud frames on the floor marking where the rooms would be until everything fit. "It was just cords hanging from the ceiling and metal studding on the floor," she says. They made the lab and exam rooms two feet smaller and the showroom two feet bigger. They borrowed chairs from an outdoor Starbucks cafe to simulate exam chairs. It was an all-night affair, but it paid off. "By Monday morning they were putting up the dry-wall," she says.
"I opened the practice to provide personalized customer care and use innovative technologies and outside-the-box thinking. I hope to avoid becoming a commodity by developing a welcoming practice with a family feel. I strive to succeed by connecting and caring for each and every one of my patients."