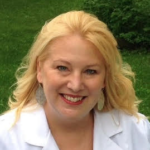 Gangsters, ghosts and glasses—oh, my!
Shawna Heddinghaus, OD, has it all at her Benld, Illinois practice, Fireside Eye Care. The practice resides in a historic home that Dr. Heddinghaus and her family first found as their own residence. They lived there for nine years before converting the space into her practice.
The former Fireside Inn and Restaurant is rich with history, as is the town of Benld. The restaurant was a high-end dining establishment below a small inn. During the years of prohibition and due to the town's access to Chicago, as well as its coal mines, it became a hot spot for illicit alcohol production stills. The small rural town played host to many Chicago gangsters coming and going during these years, allegedly including a household name familiar to many: Al Capone. According to the original owners, who sold the property to Dr. Heddinghaus, and the former frequenters of the inn, there has been some—shall we call it—inexplicable activity in the practice, particularly inside the macular degeneration room that used to serve as a bedroom. "We do have odd things happen," Dr. Heddinghaus says of the dedicated exam space that was—according to lore—the bedroom of the matriarch whose progressive vision loss forced her relocation to a downstairs bedroom.
RETROFITTING FOR MODERN TIMES
As with any older house, Dr. Heddinghaus often finds herself busy with upkeep. Along with the practice, her patient base is "fairly aged," and she adapted much of the infrastructure of the building to make it accessible for wheelchairs, walkers and mobility-affected patients. "We had to add a ramp and make the bathroom ADA accessible," she says.
Along with the practical challenges came the challenges of how to make an old tavern into an optometry office. "We converted our entryway [to a] check-in desk; we converted the inner dining area to our waiting room," she says. The room that had been her family's personal dining room is now the optical. Of course, no prohibition-era tavern would be complete without a bar—which still stands. "We kept the bar and made it our dispensing area," she says. "People often ask, 'Oh, what are you serving?' It never gets old," she laughs.
On the other side of the house was a bedroom and garage, which have been turned into a contact lens and specialty testing room and two exam lanes. There are also three restrooms downstairs as well as a fully working kitchen. Former upstairs bedrooms are now a lab and a conference space for staff meetings.
PRESERVING HISTORICAL CHARM
When it came to the design, Dr. Heddinghaus knew she had something unique in the property, and she intended to keep it that way. "I tried to keep it to the period," she says. "People ask, 'Is this original?' I try to make it so they wouldn't know." Her staff and patients alike remark on their love for the space. "It's been very nice and very homey. Everyone loves to come." Dr. Heddinghaus' husband is an architect, and they did all the construction themselves. "It was helpful to bounce the ideas off of him," she says.
Finding a space may be daunting to doctors looking to open their own practice or move, but Dr. Heddinghaus has a few basic pointers.
First, she suggests a space with good feng shui. Not everyone can have the ghost of Al Capone hanging around, and of course she doesn't claim that she does, but a space with a positive and efficient flow for patients is key.
She also urges owners to consider their patient population's needs. "As a population ages, you have to keep in mind what's accessible for patients."
Finally, she knows a happy staff makes for a positive work environment. "I feel like your staff needs to have a spot they feel like is home to them," she says.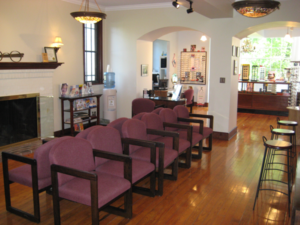 Dr. Heddinghaus' property is the last house within her city limit, but is still only half a mile from the downtown area of her city. She has found success in growing her patient base simply by offering the scope of services she offers. "Patients love having a practice that offers testing and co-management for refractive surgery in a unique area," she says—as her practice is midway between Springfield, Illinois, and St. Louis, Missouri. It means that they can stay closer to home for most of the eye care needs.
Another source of help for Dr. Heddinghaus has been her Vision Source membership. "It has been very helpful because I am a small practice in a rural setting, but I'm very progressive in my thinking," she says. "I like to be cutting edge in how I practice, and Vision Source has been very helpful to me."